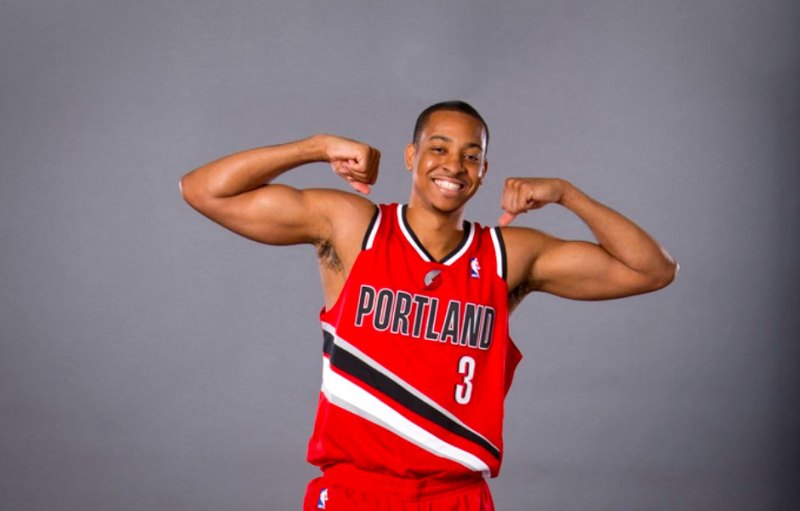 Athlete Eats is our recently started monthly column where we speak to professional athletes about their favorite spots to eat when they are in their home city as well as on the road. If anyone knows the best spots to eat in a U.S. city, it's going to be one of our sports stars.
Today, we are showcasing C.J. McCollum, the rookie shooting guard for the Portland Trail Blazers. After an impressive showing in the NBA Summer League, the talented twenty-two year old has been sidelined with a broken foot. McCollum is anxious to return to the Blazers, as they have taken the league by storm with a mix of young talent and great team chemistry and currently sit atop the standings in the NBA's Western Conference.
We chatted with McCollum, who was a journalism major at Pennsylvania's Lehigh University, about living and eating as an NBA rookie in Portland, one of America's rising culinary centers.
Where are you in your rehabilitation process?
My foot is coming along fine. I had a CT scan this morning this morning and I'm just waiting to get the results and to have my doctor review them (Note: McCollum was cleared for three-on-three practice after this interview was conducted). But my rehab is progressing.
You must be anxious to get on the court, then? The team has been playing really well and has been the kind of "feel good" story of the league so far.
Yeah, I'm definitely anxious to get back out there. It's hard to watch when the team is doing well, so I just try to keep my spirits up.
Is there an overall good vibe in the locker room? It seems like you guys have a good chemistry during the game and in interviews afterwards.
Everybody gets along pretty well. You know, they say that everything is good when you're winning, so we really don't have anything to complain about right now. But I think we have a tight-knit group and that all the guys are enjoying themselves right now.
Portland has become a very food-centric city. When you first got to town did people give you lists of places that you had to hit?
People gave me a lot of recommendations for places to go. I've been trying to get out as much as possible, but it's tough right now during the season. I try to eat out at least one night a week somewhere so I can get a sense of the Portland vibe.
What are some of the places that you've been to so far?
OK, here we go. I've been to Tasty n Sons, Henry's Tavern, Jake's Famous Crawfish. I really like McCormick & Schmick's. I haven't been to Oba yet. I'm about to go there.
No Voodoo Doughnut?
Nah, I haven't been to Voodoo yet.
Maybe after the season?
(Laughs.) Yeah, I think so.
When you're on the road, do you go out a lot or is it more of a room service type of thing?
I've done some eating out on the road, but it's more a room service type thing. I try to eat lighter.
During the season is there a certain diet you follow? I know a lot of teams have nutritionists and a lot of players try not to eat unnatural sugars.
Yeah, we have restrictions from our nutritionists. I don't have unnatural sugars and I stay away from caffeine. I try to stay away from anything greasy or fried, which is…it's a process.
What was the hardest thing to cut out of your diet?
I'd have to say fried chicken and a lot of the greasy kinds of pork dishes.
Is there anyone on the team that you go out to eat with?
We mix it up. I went to Departure [in Portland] with Damian [Lillard]. That's a good spot. I've been out to eat with Myers Leonard. I go out to eat with my strength and conditioning coach, Ben Kenyon, as well. You know, the guys that like to go out to eat will go out to eat.
You were a journalism major at Lehigh and you've written for a bunch of publications (Sports Illustrated, Sporting News, Maxim, ESPN.com) already. Is there someplace you've always thought about working for if you were a full-time journalist?
I haven't really thought about one particular place. I was always more interested in being in front of the camera and being a sports broadcaster. But I honestly would feel comfortable writing for anyone.
Who are your favorite sports broadcasters?
That's a tough a question! For play-by-play, I have to say that I like the guy who does the Brooklyn Nets games…
Ian Eagle?
Yeah, Ian Eagle. I really like him. And then in terms of analysis, I would say that I like Jalen Rose and Magic Johnson. And I think that Charles Barkley is really funny. But, man, that's a tough question.