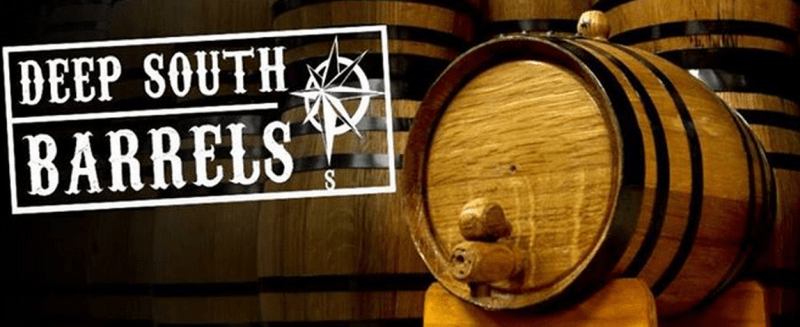 Oak barrels are magical. Put something inside of them, and with a bit of patience they spit out something drastically better. The only problem is that aging is traditionally done in 55-gallon oak barrels, so unless you're a winemaker or distiller with 55 gallons of booze to spare, you typically don't have the resources you need to age your own spirits. For this reason, barrel aging has been out of reach for the average consumer – until now.
With a line of smaller, more manageable casks, Deep South Barrels hopes to make barrel aging a possibility for the average Joe. The company sells a variety of charred oak barrels, ranging in size from the ultra-miniature 1-liter, to a beefy (but manageable) 20-liter.
What's the advantage of aging in smaller barrels? Well, aside from the fact that you can carry one of these badboys without using a forklift, small barrels are better simply because they speed up the aging process. The reason bourbon makers leave their concoctions in barrels for 8 to 12 years is because with 55-gallons of whiskey, it takes a long time for the booze to extract tannins and vanillins from the charred oak. With a smaller barrel you get a higher surface area to liquor ratio, so the chemical reactions needed to mellow your hooch occur more rapidly. Therefore, all those wonderful oaky flavors that would take years to achieve in a full-size 55-gallon barrel can be achieved in just a few months with a barrel that's only one or two liters.
According to Deep South Barrels, a two month steep in one of their awesome, desk-sized 1-liter barrels is roughly equivalent to a full year in a 55-gallon cask. That means you could start with moonshine, and in just over a year be drinking bourbon that tastes like it's been aged for eight. And you can use it on more than just whiskey, too – barrel aging works wonders on all kinds of drinks, including rum, red wine, tequila, and even root beer.
Check out DeepSouthBarrels.com to learn more or to order yourself a barrel. If you'd like, you can even have yours custom engraved to add a bit of personalization.
Editors' Recommendations