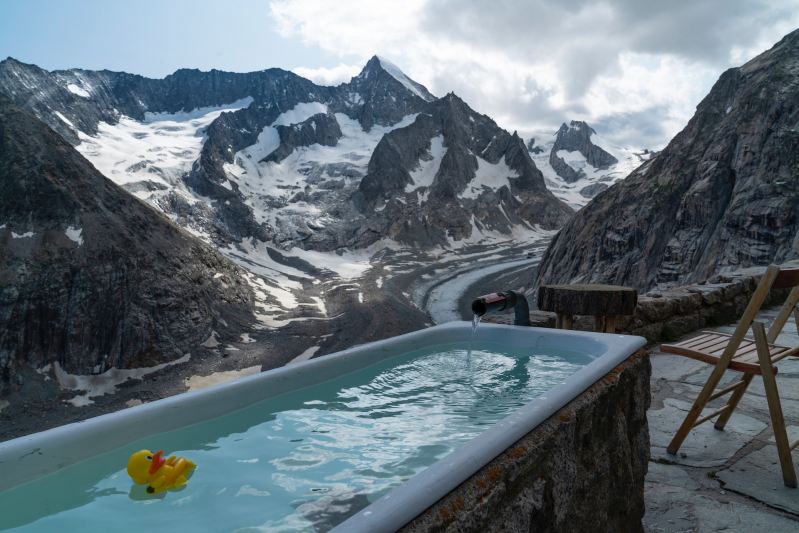 If you're an avid fitness enthusiast, taking an ice bath at home or going for a cold plunge might have crossed your radar as a potential post-workout recovery routine. Or you might be on the opposite end of the spectrum and are looking for a great way to wake yourself up in the morning. If you want something more hardcore than a shower, taking a cold plunge (especially when paired with a sauna) is a great way to invigorate your senses and boost your wellbeing.
There are a ton of options out there, but we've got you covered. This list compiles the very best ice baths and cold plunge tubs of 2023. To determine which one is best for you, consider the size, material, portability, ease of drainage, and safety features like slip-resistant surfaces.
Here are some cutting-edge ice baths and cold plunge tubs that are sure to wake you up to the amazing benefits of cold therapy.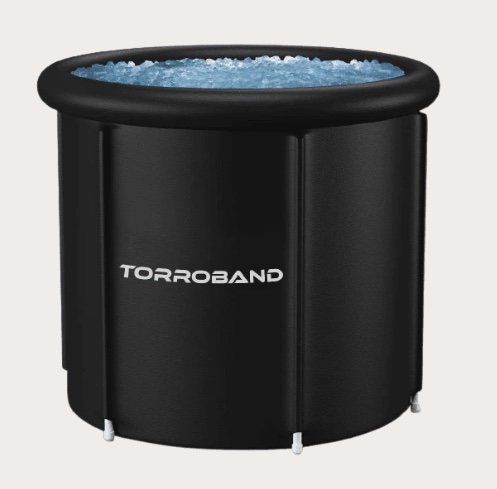 Torroband
The Torroband is made of leakproof material and features a light-weight, foldable design for easy transportation. It has two layers of extremely thick PVC and foam cotton for insulation that retains temperature for up to three hours. Pick this tub up for around $240, add water and ice, and you're good to go.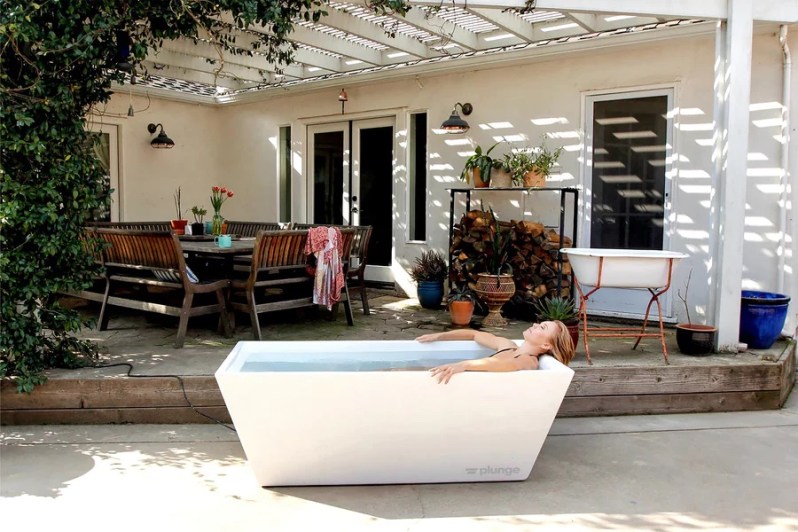 PLUNGE
If you don't want to keep buying and lugging ice, the PLUNGE ice bath is one of the best luxury options to choose from. This is probably the most beautiful ice bath on the list. That said, it's on the pricier end at a whopping $4,990. This baby can cool to 39 degrees Fahrenheit, and it comes with an insulated spa cover to keep the debris out.
Michael Phelps Chilly GOAT Cold Tub by Master Spas
Luxurious, ergonomic, and intelligent perfectly describe the Chilly GOAT tub, which has built-in WiFi, so you can conveniently set the temperature from a smartphone before getting in, multiple temperature options from cold to hot, and a bevy of additional features. For example, LED lights provide a soothing ambiance, while its thoughtful and striking design allows you to kick back and enjoy the experience. It's remarkably easy to care for, as well, with a filtration system and UV to keep the water clean with minimal chemicals. You can cool the water without ice, thanks to a self-contained cooler, down to 40 degrees, or if you want to relax more, heat it up to a soothing 104 degrees. Moreover, it comes with an insulated cover that has safety locks, so you can seal and lock it up safely if you have little ones. The beautiful wood grain finish on the exterior ties it all together and gives it a uniquely modern and fresh appearance. Master Spa's renowned durable construction, reasonable size, and easy installation make it one of the best options for any home gym, spa, or fitness center.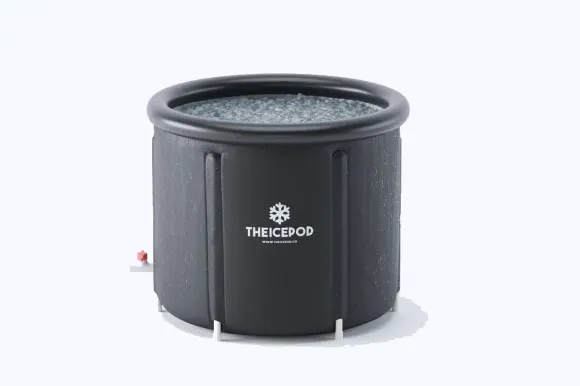 IcePod Chiller Pro
If the PLUNGE is too pricy for you, consider the IcePod Chiller Pro, which looks similar to the Torroband with a durable, leak-proof tub, but with a water chiller attached. The chiller can bring water down from room temperature to about 41 degrees Fahrenheit, which is pretty good. The IcePod goes for around $1,150 for the tub and the water chiller.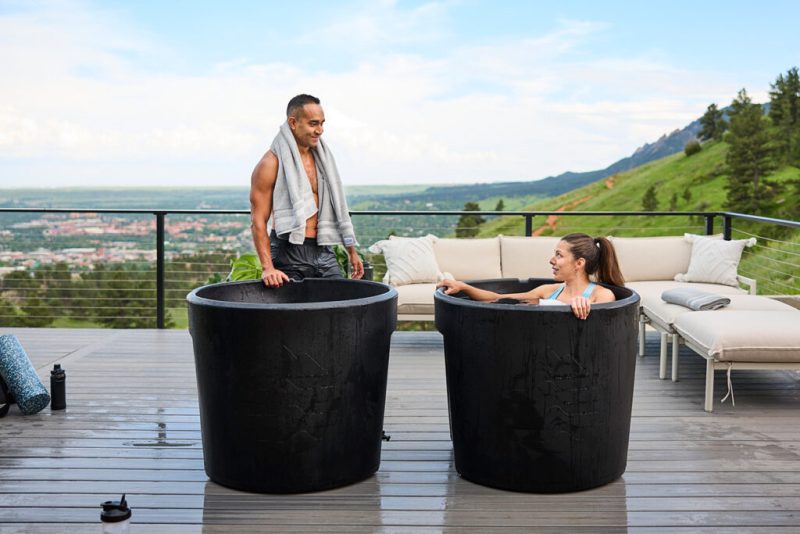 Ice Barrel 300
Sustainable options are always on our radar, and the Ice Barrel 300 stands out as a fantastic option. This ice bath tub is made from recycled plastic material and insulated with polyurethane, so it's durable and lightweight. It has a small seat inside and a lid to go on top. If this sounds like the home ice bath for you, you can pick one up for $1,200.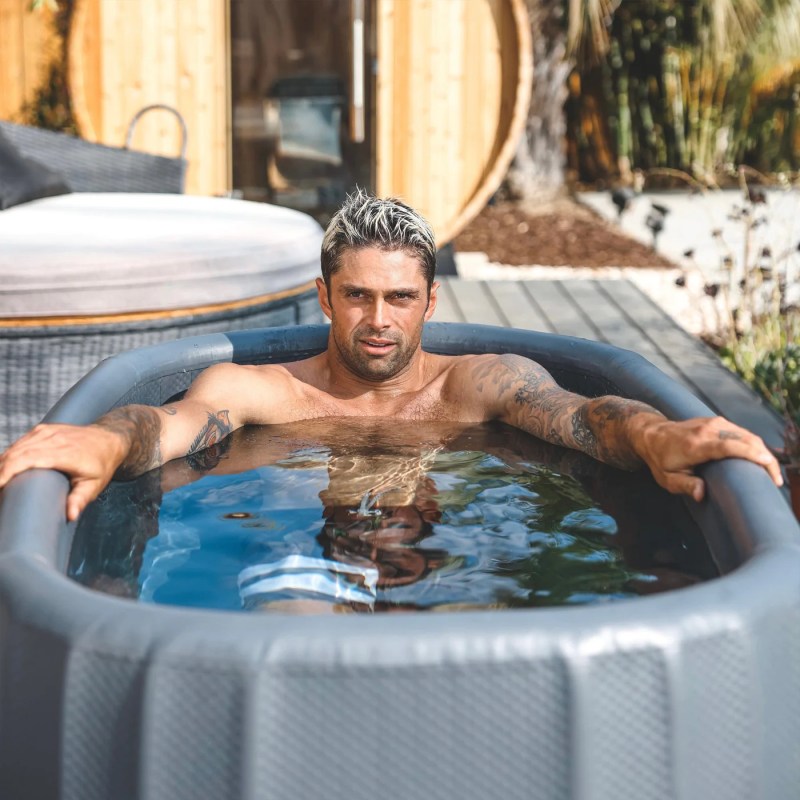 Tru Grit Inflatable Ice Bath
Travelers are sure to appreciate the Tru Grit Inflatable Ice Bath, which is available for $1,000. It weighs only 38 pounds and can be deflated, rolled up like a sleeping bag, and shoved into its carrying case in just a few minutes. With designated drain and fill ports, Tru Grit is compatible with most garden hoses and includes a cover, pump, slip-resistant mat, and repair kit.
Redwood Outdoors Pacific Cold Plunge Kit
If you're looking for a wood-toned option to match your infrared sauna, consider the Redwood Outdoors Pacific Cold Plunge Kit. With a wooden exterior and a stainless steel liner, this ice bath is perfect for a cold plunge at home — that is, if you can cough up the $6,500 to purchase it. While expensive, the Pacific Cold Plunge Kit hides away its deluxe heater and chiller inside a closed unit that looks like a side table. You heard that right: If ice baths aren't your thing, you can turn the Cold Plunge Kit into a hot tub.

The Viking
For $6,000, the Nordic Wave offers a sleek, minimalist option in The Viking. This ice bath comes with a chiller that has multi-stage sanitation and filtration systems, so you never have to worry about water quality. The Viking comes in three colors: Charcoal gray, arctic white, and nordic blue. In the package, you'll find everything you need to get this tub up and running out-of-the-box, including a lid and a step stool.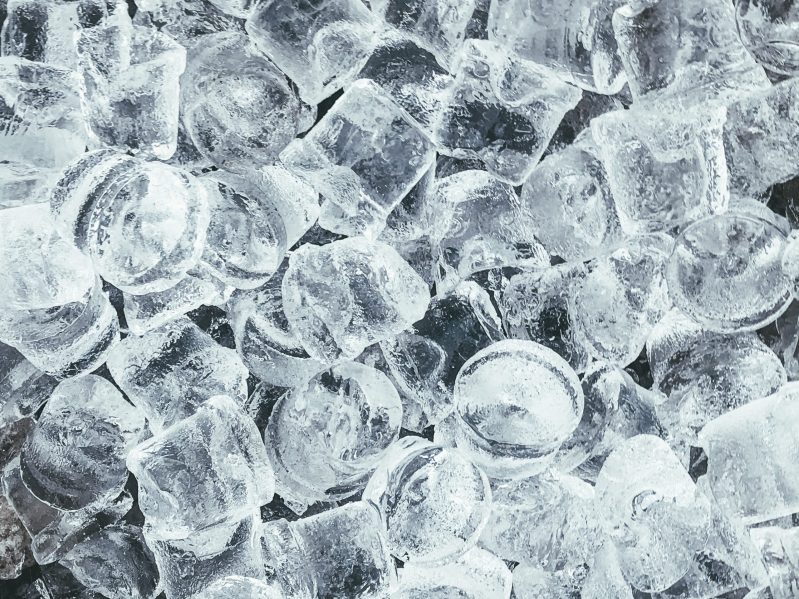 Conclusion
Whether you're an elite athlete seeking peak performance or a health-conscious individual searching for a good recovery routine, there's an ice bath for you. For those who enjoy an extra sparkle of luxury, consider dipping your toes into the PLUNGE. If you're constantly on the go, pack up the Tru Grit. Whatever the case may be, we hope that this list has helped narrow down your choices.
Editors' Recommendations