Troubadour Goods, a small artisinal leather goods brand from London, was founded out of a desire to craft the perfect bag. For co-founders Samuel Bail and Abel Samet, this meant a bag that could transition seamlessly between a myriad of different situations with both function and style. After developing a line of gorgeous leather products that seemed to fit this bill, Bail and Samet decided to experiment with fabric, resulting in the brand's latest offering, The Troubadour Fabric + Leather collection.
For both Bail and Samet, bringing fabric into their line of leather goods felt like a natural next step in their mission to develop bags to satisfy every aspect of a man's life.
"The F+L collection fulfills a desire to create bags that are lighter than ones we've ever made before," explains Bail. "The texture of the premium fabrics and the size of the fabrics used allows us to make designs that would not otherwise be possible with leather."
These designs borrow from the clean lines and sleekness of the leather collection while capitalizing on the lightness and flexibility of fabric to make the products look and feel less severe. To put this vision into practice, Bail and Samet collaborate with a small group of artisans in Italy who handcraft each and every bag.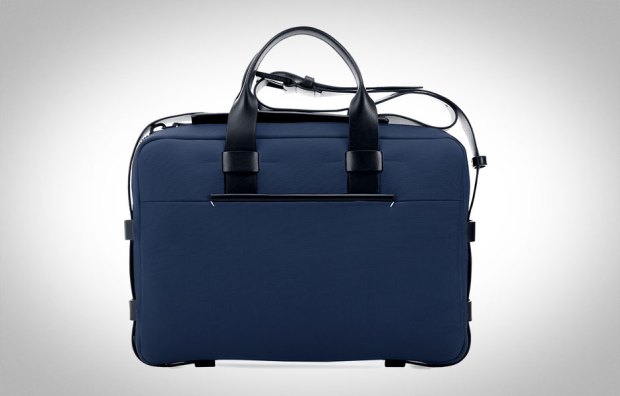 "We work with family-run Italian tanneries where the artisans' knowledge is passed from one generation to the next," states Samet. "The result is soft, smooth, durable leather that looks and feels better with age."
Related: America's oldest leather-making company makes bags that'll last a lifetime
Standouts from the collection include the Fabric + Leather Weekender (pictured above in khaki canvas and brown leather, $987) and the Fabric + Leather Briefcase (pictured above in navy canvas and black leather, $632). Both bags are smooth to the touch but structured to maintain their shape without being too heavy or rigid. The fine-quality leather lends the products their stylish aesthetic while the rivet-reinforced straps, easy-access pockets and padded shoulder straps lend them their durability and comfort.
"These are products that can go from the boardroom, to a bar, to the gym and to a casual weekend away," concludes Bail. "Ultimately, the end-goal with both the Weekender and the Briefcase is to achieve the perfect harmony between style and function."
Check out the full Fabric + Leather Collection, here.
Editors' Recommendations