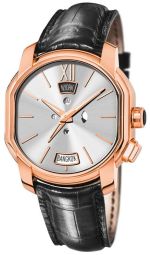 Complication can look, well complicated. Some watch aficionados like the cluttered, over the top look of a complicated watch; it looks more interesting on the wrist perhaps (and is certainly a conversation starter). But the real challenge when designing a complicated watch is to make it legible and clean. Bulgari is not known for over designed watches, but since acquiring two brands, Gerald Genta and Daniel Roth, they have delved into this realm head first. It has been a while since we saw a new piece in the classic Daniel Roth squared-off circle case. Their latest, the Bulgari Hora Dumas Dual Timezone, is both simple and complicated.
Related: Bulgari Octo Ultranero Finissimo Tourbillon
Measuring a large 45mm, this rose gold piece has a lot of open dial area. Given the space, Bulgari decided to symmetrically placed the complication windows on this piece tightly together. The numerous indicator windows display the season, home city, alternate timezone city, am/pm indicator, and day/night indicator. The Hora Domus (latin for Home Time) comes in two dial variations, black and silver, which are both great contrast with the rose gold case and hands. Black and brown straps attach this piece to the wrist with a folding rose gold buckle. The movement is an in-house Bulgari caliber automatic with a 42 hour power reserve.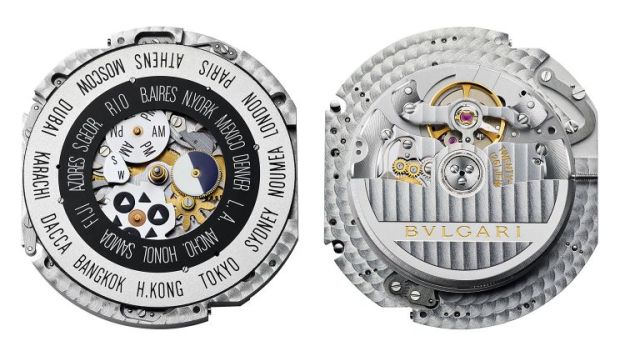 In acquiring Geraldn Genta and Daniel Roth, Bulgari has assumed a great responsibility. Two of the most distinguishable and classic case designs lie within those brands. It is Bulgari's job to utilize these designs to benefit watch nerds across the globe. Bulgari has been working hard with the Genta Octa design lately, but its awesome to finally see them start to make more interesting moves with the Daniel Roth brand. This clean and classic complication will set you back nearly $35,000. Believe it or not, it's a lot of watch for the money.