Mott & Bow, the meticulously handcrafted denim designers, have just introduced their new 4-way stretch fabric jean, "The Hester."
Unlike typical stretch fabrics which only provide a horizontal stretch, this brand new high-performance denim stretches both ways, enhancing not only the comfort of the fit, but the functionality of the denim.
Related: How to Travel Anywhere with Only Carry-on Luggage
"We're always looking to push the boundaries of innovation when it comes to what we call 'denim science,'" says Mott & Bow founder Alejandro Chahin. "Customers can't tell us enough positive things about the comfort and feel of our jeans, especially the denim that has had horizontal stretch. Creating a 4-way stretch jean that adds in the vertical component was the natural evolution/progression of our brand. We created these to stay ahead of the curve and give our customers something truly unique that they'll love wearing no matter what they're doing."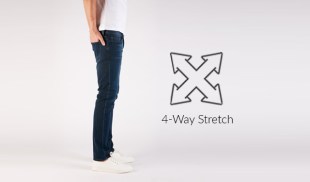 Chahin says the most difficult part of the creation process was perfecting the amount of stretch and not sacrificing the premium quality of the jeans. To do this, the Hester was put through a plethora of physical and athletic tests before they opened up production including running, squatting, biking, snowboarding, skiing, etc.
The jeans themselves are available in three fits – skinny, slim and straight. Mott & Bow offers free returns on all orders and free shipping on 2+ pairs.
They also offer a badass referral program that gets you a $30 credit for each friend you get to purchase a pair of jeans. So phone dad and tell him to get a pair.
The Hester can be purchased here for $108 a pair.
Editors' Recommendations