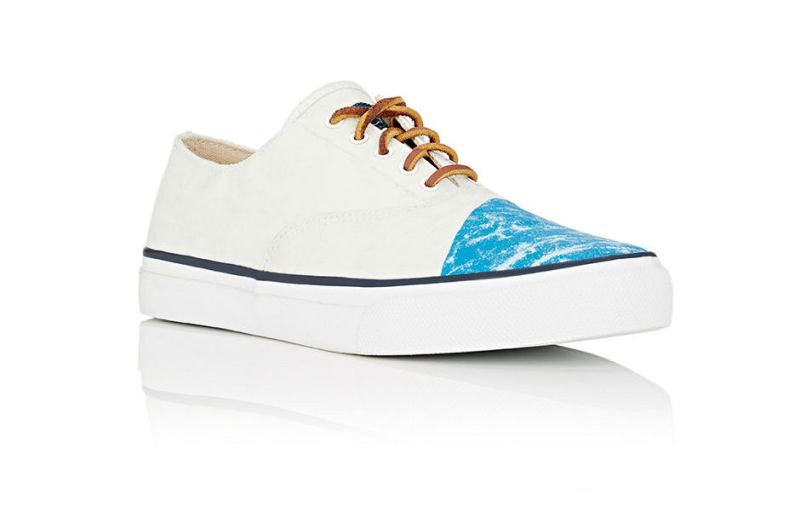 When classic shoe maker Sperry teams up with a high-end retailer like Barney's, the combination is bound to be pretty special. The two brands may have even outdone themselves this time, with the Sailcloth CVO, a Sperry perennial favorite with a neat twist – real sail uppers.
Each pair of CVO sneakers is wrapped with a piece of canvas that was actually used as a sail. Whether it was rigged to a college team's ship, or Sperry's US Sailing Team, the sneakers adopt their styling. That means stitching, patches, and coloring are completely unique to each pair of CVOs.
The CVO silhouette actually dates back to 1935, and while materials have improved, a lot of the charm remains intact. The sole is still vulcanized rubber, but with Sperry's Razor-Cut Wave-Siping shape so you don't slip around or leave any marks. That's one of the problems with vulcanized outsoles, and it's especially important here, considering Sperry's pedigree.
For the limited edition pairs, Sperry has improved the shoe with a comfortable and lightweight cork footbed, perfectly suited for wet docks. To top it off, the shoes feature rawhide laces for a more naturally inspired look. Considering the predominantly off-white uppers in the photos though, these may still turn out to be a better fit for the yacht club than actually out on a sailboat.
Of course, the real fun of each pair is seeing how each pair differs from the next. We've seen a few shoes with varying patterns between each pair before, but the combination of the intentionally mismatched patterns and the used canvas look really elevate a casual style.
The Sperry x Barney's Sailcloth CVO is only available at Barney's stores, both physical and digital. They went up for $125 on June 8th, and haven't sold out yet, but it's only a matter of time.