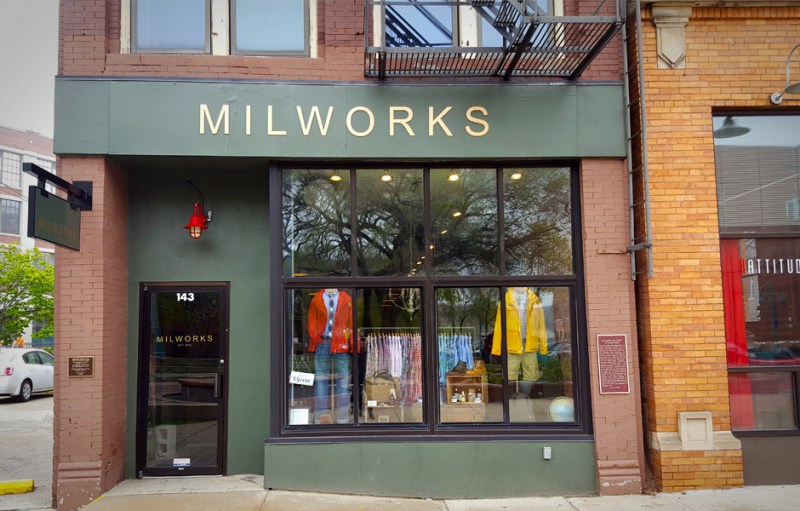 Nine months ago Milwaukee's menswear scene got a much-needed shot in the arm when the multibrand men's boutique Milworks opened its doors. Run by brothers Jason and Jesse Meyer and two New York-based business partners – a quartet that boasts nearly two decades of industry experience in fashion marketing and wholesaling – this men's goods shop carries a broad and terrific assortment of apparel, shoes, accessories and apothecary and home items that are "rugged yet refined." Last week Jason Meyer gave me the lowdown on this new Midwestern must-visit shopping spot…
What's the story behind Milworks?
It's a lifestyle concept store so we do apparel, footwear, accessories, apothecary and small goods like a lot of little unique home goods and very masculine candles. We have a little bar area that's set up in the store with fun and unique bar accessories for your home or apartment. We didn't want it to be just a clothing store; we wanted it to something where guys could come in here and if for some reason they didn't like the style of our clothing they would still find something else that they would like and so far that concept has been treating us pretty darn well.
What is the breakdown of the different categories?
It's probably 50 percent apparel, 10 percent footwear, 20 percent apothecary and 20 percent small goods.
Who is the Milworks customer?

Our customer is really all ages but we've noticed that it is definitely the 25- to 55-year-old. One of the things we've tried to do is have timeless, classic pieces in our product mix i.e. Barbour, Levi's, Filson and Alden Shoes where we wanted to go after the hipper, younger guy who appreciates those heritage brands. But just as important we also wanted to get his boss who is 50 to 60 and just knows those brands, knows they're classics and knows the quality that's behind them. We were shooting to walk that fine line between the quote-unquote cool brands like Engineered Garments and some of the Japanese brands but also having those classic brands that I mentioned before.
What are your current bestsellers?
Right now it's things like Raleigh Denim out of North Carolina. Other great brands for us are Gitman Vintage, Velva Sheen T-shirts, Alex Mill and Rogue Territory. We also really excited because this fall we have RRL coming in which I already have a waiting list for. We also have Barbour coming in this fall with their beautiful coats and accessories. We're really excited by the brand mix that we are able to bring into the store and we really feel that we can please a lot of guys with our selection.
Tell me about the look of the shop.
We were specifically looking for a modest footprint because a big part of our business is our online business. We are of the mentality that nowadays retail can be challenging so we like the idea of having a modest physical footprint but then a large digital footprint. The actual store is probably only 900 to 1,000 square feet. We wanted it to be intimate. It's fairly clutter-free and well curated. It's a very inviting store. We're in a historic building in a historic space so we have really beautiful brick walls and my brother and I are fortunate that someone in our family is a retired antiques dealer so a lot of our fixtures and tables and accouterments in the store are found pieces that we redid. It's unique but it's also very Midwestern – it's very warm and fuzzy. Our goal was the make a comfortable environment and according to the initial feedback it seems to have worked.
What is the breakdown of online sales versus brick-and-mortar?
It's definitely more physical. We're probably at 70 percent brick-and-mortar and 30 percent online but our goal is to get that to 50/50 and we really feel that won't be too far off.
What are some of the newest items you are most excited about?
Like I alluded to before I am definitely excited about RRL and more of the Alden coming in. We have Universal Works out the U.K. coming in. We're really excited about that. We really love the selection of books and magazines we carry which have to do with the whole nomadic life that is going on right now. We carry a lot of those kinds of books as well as history of denim books. We're excited about the new ones that are coming in this fall. They tend to sell out right away but they're also fun to have in the store for people to look at.
What is your price range?
The other thing that we really wanted to do what we feel is the new way to do retail, this high-low mentality. We have a vision for the store and a look we're going for that is rugged yet refined. Within that we might have something like a $165 Gitman Vintage shirt but then I also carry Penfield so we have a really great $70 or $80 shirt too. We might have that "carrot brand" that a lot of people know or they research online but then we also have other brands that a guy can buy and not get buyer's remorse. It's probably $50 to $500 in apparel. We run the gamut but it all fits our image and vision.
Where does the name come from?
Milworks is a play off Milwaukee and the "works" part of it comes from the blue collar and industrial heritage of Milwaukee. My brother and I really like that about the Midwest. There's just a lot of very hard working people here and a lot of blue collar pride and ethic here. The name plays off of that and respects Milwaukee's past and what it once was. Now it's getting very high tech like a lot of other cities in the country but there's still that kind of industrial undertone and honestly we are proud of that.
Do you sponsor any in-store events?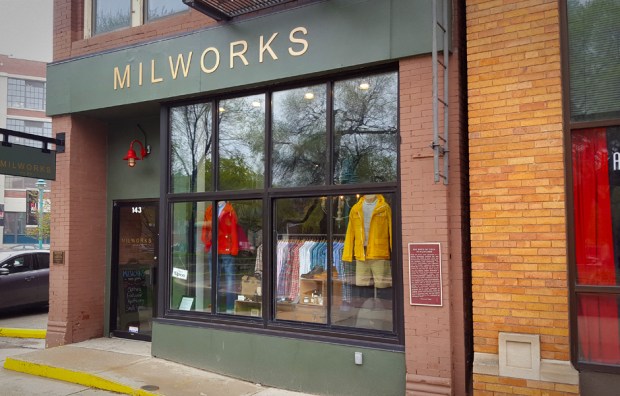 We are doing our best to offer every month an event where one of the brands comes in. Another event is one that teaches and describes things that all of our grandfathers knew how to do like How to Make A Proper Old-School Cocktail or How Wax Your Jacket or How to Take Care of Your Nice Boots. Every month we do events that either highlight a vendor and/or highlight something that in the last decade or 20 years or so we all kind of forgot how to do properly. We've had several of those already and they've turned into these great networking events for guys. That's great because the whole flavor of the store is a sort of creative environment and a community space. It's not just a clothing store. We want it to be a lot of things to a lot of guys.
What's the men's fashion scene like in Milwaukee?
It's definitely growing and as we all know men's fashion has exploded in the last five years because of the internet and the knowledge that guys have now about brands, styles and looks. What's been very, very cool to see is how educated guys are when they come in now. They know product and they know what they like a lot of times they know how and where it's made. It kind goes back to the thing where guys come in here and hang out and there are a lot of conversations to be had. That being said, the men's fashion scene in Milwaukee is great but it's really at its early stages and it's really growing in a very cool way.
Editors' Recommendations