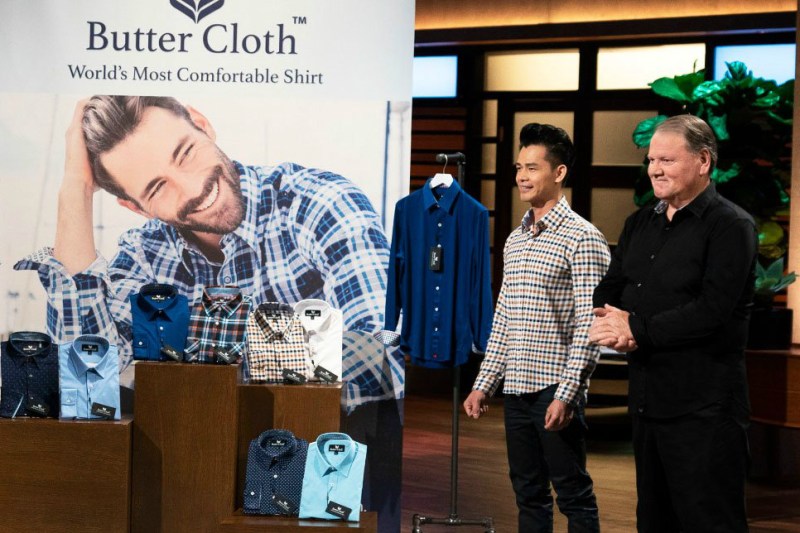 Watching ABC's Shark Tank can be both edifying ("I need that!") and frustrating ("She stole my idea!"). Every episode presents some of the strangest inventions and concepts we've ever seen, from a bluetooth "headset" device that would have been surgically implanted in your skull, to anti-flatulence underwear (See: "Why didn't I think of that?!").
If you've never watched the show, here's how it works: Entrepreneurs present their concepts to a board of "sharks;" i.e., potential investors, hoping to gain the money they need to make their dreams a reality.
With ideas spreading across industries from power generation to toys to food to pet care, it's a given that the apparel industry wouldn't be spared. The show has actually launched several retail concepts, as well as a few fashion concepts to boot. Here we've gathered some of our favorite style pieces that swam with the sharks…and lived to tell the tale.
The Shark Tank Style You Will Want to Wear
Quikflip Full-Zip Hero Hoodie
OK, who hasn't been in this situation? You head out the door on a cool day, only to find things warm up along the way. You take off your sweatshirt, tie it around your waist or leave it on the ground…then hours later when things cool down again you realize the sweatshirt is long gone. Quikflip solves that problem with its patent-pending Conversion Technology: the brand's hoodies, crewneck sweatshirts, and raincoats transform into fully-functional backpacks so they can be easily worn on the shoulders, coming in handy for stashing all the other stuff you need in a day. Each piece includes two storage compartments, including one that's small enough for a cell phone, wallet, or keys. Best of all the sweatshirts are made from comfortable premium French terry in a 60/40 ring-spun cotton and polyester blend.
DudeRobe Luxury Hooded Bathrobe
Dude. About that robe you've been wearing. It will not stand. DudeRobe brings a new level of comfort and dude-ness to your lounging experience. Adapting the fit and style of your favorite hoodie, the robe features premium sweatshirt fabric on the outside, with comfortable, absorbent terry on the inside. The robe's belt is permanently attached (solving what we think is the real problem with most bathrobes), and hits that Goldilocks not-too-short, not-too-long, above-the-knee length. DudeRobe also makes coordinating shorts and pants that may have you wearing the combo way beyond bath time.
Swoveralls Dark Athletic Grey Sweatpant Overalls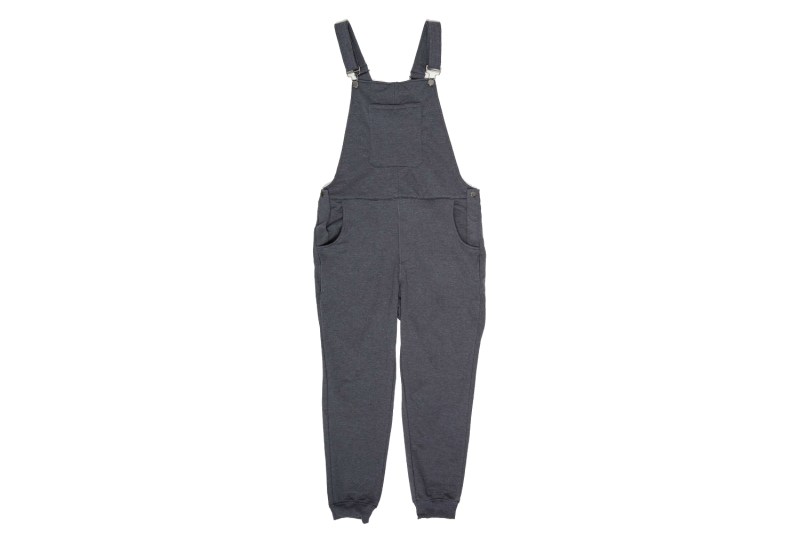 Overalls are having a bit of a fashion moment this season – is it the workwear vibe or a 1970s retro thing? We're not sure, but if you're going to wear them, wear the most comfortable pair you can find. Each pair of Swoveralls is made from…you guessed it…sweatshirt fabric (are we seeing a theme here?), knit from a blend of sustainable organic cotton & recycled polyester. Each pair is made in the USA and features a secret zipper-front pocket inside the bib. Jogger cuffs and adjustable straps, as well as side pockets and snap-side waist closures add to the comfortable design.
Best Pocket Square Holder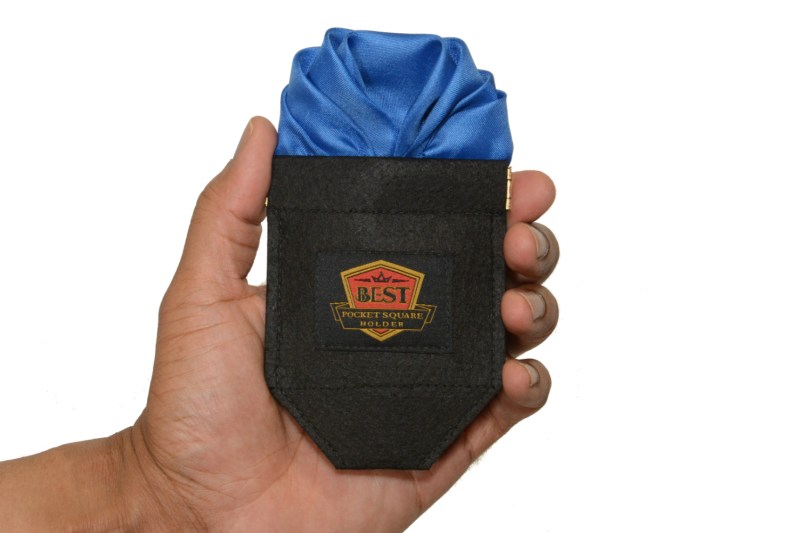 Editor's note: besides writing about fashion, I've also styled many a photo shoot, and I firmly believe that a blazer or suit jacket looks naked without a pocket square. Even I have moments, though, where, no matter how I try, a pocket square takes on a life of its own, sinking into the pocket, shape-shifting, and generally turning into a sartorial fail. The Best Pocket Square Holder is a lightweight felt "pouch" with a spring-loaded closure that grasps pocket squares or pocket rounds, maintaining the chosen shape, supporting the slippery fabric, and keeping the square firmly—and neatly—in place.
Buttercloth Stellar Shirt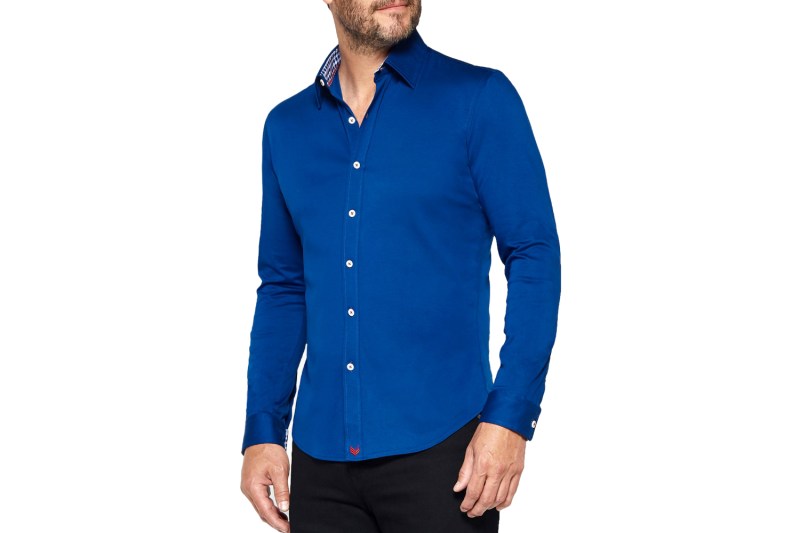 It's not often that you'll see "Barbie clothes designer" on a resume, but Buttercloth founder Danh Tran not only dressed Mattel's feminine and feminist superstar, he also designed for superstar sportswear brands 7 For All Mankind, Howe, and Affliction. For his moment in the Shark Tank, Tran introduced "Buttercloth," a 100 percent natural, sustainable cotton fabric offering six-way stretch. The shirts' breathable construction is designed to be cooling in summer and warming in winter. Fashion details include contrasting collars, cuffs, and buttons, with the convenience of built-in collar stays. There are plenty to choose from on Buttercloth's site, but we like this deep royal blue long sleeve number that will look great with white jeans, pale gray dress pants, or khakis.
Birddogs Quaker Johns Shorts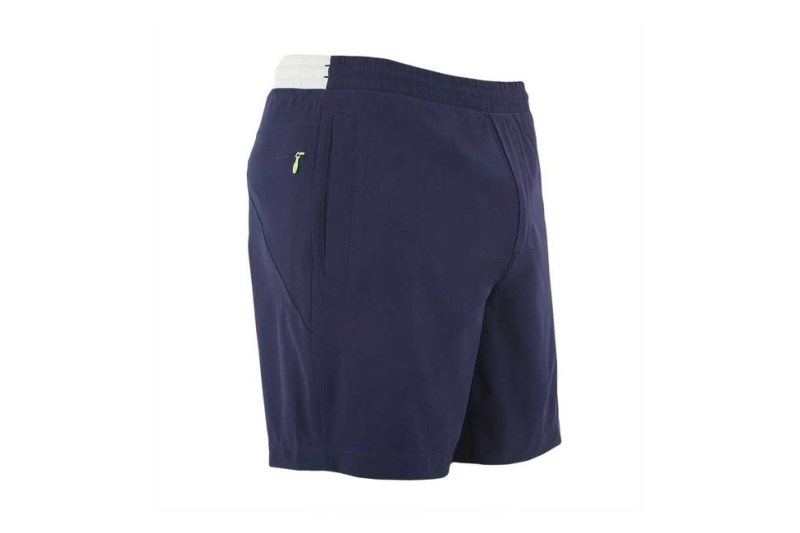 Looking for some workout shorts with an attitude? Look no further. Birddogs come in three inseam lengths: six-inch, eight-inch, and nine-and-a-quarter inches. Each pair is lined, featuring a comfy, cozy ball pouch "with enough room for a summer squash;" and features thought-out zippered pockets for wallet, and phone, as well as roomy front pockets for hands and everything else. Each pair is treated as a limited edition, so you're not likely to see yourself coming and going. What may be the best, though, is the brand's frankly hilarious, cheeky … and maybe just a tad sophomoric (in a good way!) image campaign.
Bermies Foxies Swimsuit
Bermies founder Uki Deane was looking for the perfect pair of swim trunks that were shorter than board shorts, but that could also be bought for a decent price. Inspired by his buddies' rugby shorts at a Buenos Aires pool party, Deane started designing his own novelty prints and has since branched out into shirts, shorts, kids' and women's. Each pair is made from a stretchy, breathable, and fast-drying polyester and lycra blend, featuring four-way stretch, and a mesh liner. Bermies also donates 10 percent of sales to clean up the oceans.
M Tailor Heather Gray Gingham Shirt
Like the idea of custom tailored clothing, but don't want to take the time to visit a store? M. Tailor's founders have created a high-tech solution using your mobile phone. Download the brand's app and take a full body video. The app then takes your measurements. You select shirt fabric and style, and they handle the rest. When the shirt arrives a short time later (shipping is free), if there's a problem with fit, just return it, explain what's wrong, and M Tailor will remake the shirt to fit.
Editors' Recommendations