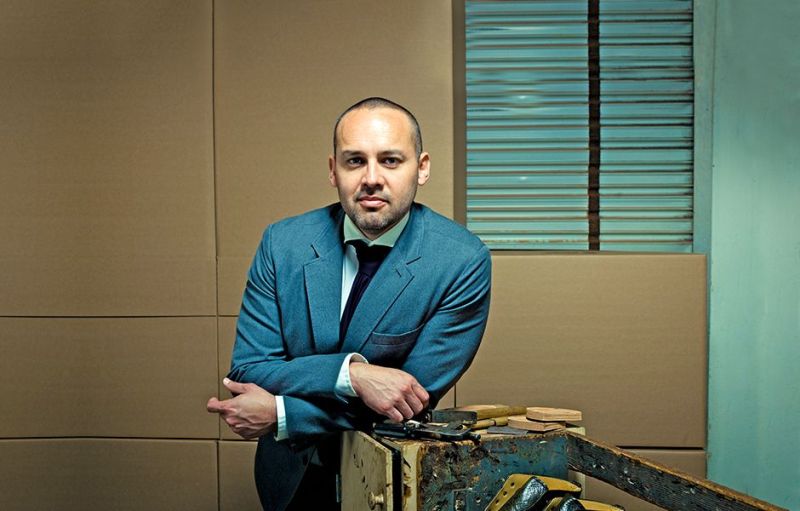 Every traveler worth his weight in carry-ons needs a great weekend bag or wheeled suitcase. After all, if the paparazzi spy you at LAX do you really want to be carrying a beaten and threadbare duffel bag? One of the hottest luggage brands on the market today is Tumi. The New Jersey-based luxury bag line launched in 1975. Known for its utilitarian black nylon carryalls, the company soon expanded to include leather weekenders, titanium roller bags and other items that made it the darling of the travel set in the 1990s. Today, the brand remains an innovator with more than 25 patents for its designs. In early 2013, George Esquivel joined as Creative Director. A shoe designer by trade– Janelle Monae, Taylor Swift and Bruno Mars are fans of his bespoke shoe line–Esquivel has been a longtime fan of Tumi, carrying their bags from his home base of Los Angeles to his factories in Italy.
Were you always fascinated by luggage and carryalls? Did you want to be in the business growing up?
I would say that for the past 12 to 14 years I have constantly been on the road, either traveling to see accounts or to fit my clients. I have been fascinated with luggage, carryalls and all things travel. When a large part of your life revolves around travel, the subject of how you pack, what you pack, what bags you use, etc., always becomes a point of discussion. Funny how Tumi always ended up in those conversations.
What kind of creative team do you have at Tumi and how do you develop styles and designs that don't look like "been there, done that?"
I work with people that love product, truly understand the craft of travel cases and bags/accessories, that also happen to be design fanatics. When we sit and discuss new ideas it always starts with things we love either in furniture, automotive, art, stationery, etc. It starts with a general idea then we get into function, then we move into aesthetics. There are a lot of round table discussions based on the needs of the bag or category that we need to work on. A lot of brands are afraid to come out of their design box so products tend to look the same. At Tumi, the evolution of the product is always being pushed so the look and feel is always moving forward yet it always feels like the Tumi DNA of design excellence and technical innovation.
What can we expect to see from Tumi in 2014?
For 2014, everyone can expect to see more of the amazing technical innovations mixed with beautiful luxe materials. To me the marriage of tech/modern with beautiful craftsmanship is the ultimate goal.
Can you give us more info about designs and ideas you have for upcoming collections?
I think more than just specific designs, it's the overall feeling and direction of the brand. The goal is to always be moving forward, stay relevant, make super functional items that also look very beautiful and chic. It's the magic of the consumer having this emotional connection and may not be able to explain why they love our bags, they just do.
What bag from your collection is your personal favorite?
As I continue to work closely with the Tumi design team, I really want to emphasize the artisanal design elements that go into a Tumi product. My design influence will be seen throughout all collections and already existing styles but updating in richer leathers and mixing with Tumi's iconic ballistic nylon material. The Santa Monica collection is totally me. The Kessler bag, originally from the Alpha Bravo collection, is a style I love to use as my carryall. This silhouette is a perfect size that we are able to introduce each season in new and mixed materials. We just previewed a new color way at the capsule show. It's a cool mix of ballistic nylon and leather.
How would you describe your personal style?
My personal style is a bit relaxed; growing up in Southern California really played a big part in that. At the same I try to mix in some flavor from my travels to European and Asian cities. On a typical day when I'm traveling and working, it's a deconstructed blazer, either a polo, v-neck or button down oxford, a pair of dark blue or black jeans and a pair of my boots or shoes. California, casual with a bit of a twist.
Editors' Recommendations