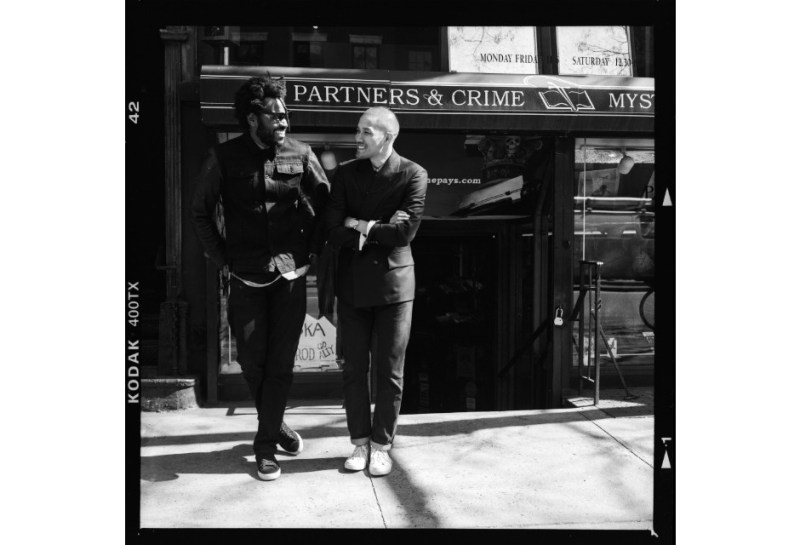 In 2008, two designers (and uber tastemakers) Dao-Yi Chow and Maxwell Osborne started a label inspired by the energy only found in New York City. Five years later, Public School is nominated for a CFDA Swarovski Award for Menswear. Not only is Osborne and Chow born and raised in New York, they are living the New York dream
Their clothing line is a modern take on classic tailored sportswear, and entirely made in New York City's garment district, which is having a resurgence after a long, sad decline with many designers preferring to produce items overseas. For Fall 2013, expect to see interesting combinations like leather and wool paired jackets, pigment sprayed flannel shirts, sleek jeans and a futuristic looking shearling jacket that will get you excited for the cold weather again. We spoke with the boys of Public School about their beginnings and why New York City is so important to the line. 
How did Public School come about?
Like how most brands start, we saw a need for something that wasn't represented in the marketplace.
How did you choose the name Public School?
We had the name before the concept for the brand. We wanted a name that represented our experiences growing up in NYC and Public School encapsulated that entire idea in two words.
What kind of guy wears Public School?
The well traveled, confident, masculine man who understands how clothing should help change moods and attitudes.
What was the inspiration for the upcoming autumn/winter collection?
Unofficially titled "When No One's Looking," the collection explored the idea of breaking things down to the essence in order to find its truest expression.
What was it like to be nominated for a CFDA?
Dreamlike…please don't wake us yet.
Tell me about each of your backgrounds related to fashion?
We're both untrained in the classic sense and cut our teeth on the job. We spent most of our career together at the menswear label Sean John. But more importantly I think we relate to fashion the way we relate to our existence in NYC. Fashion was always a platform for us to stand out from the pack and express our collective cultural interests.
Public School is made in NYC, take me through the process of that and why is it important to make your clothing using local resources?
We wanted to control our quality and more importantly make product in the same city that continues to inspire us. NYC is perfectly imperfect just like our collections, so the nuance of the city is ingrained in every stitch. In our garments you'll not only find our stories, but the stories of the multi-generational old factories in the NYC garment center.
Editors' Recommendations