Nike Air, Nike Air Max, Nike Air Zoom, Nike Shox … there's no doubt the swoosh is well-known for its footwear tech. But that doesn't mean they're settling for the status quo. Case in point: Nike React, a new foam technology for running shoes.
Well, new-ish.
In late January, Nike announced that the company will reinvent a foam first launched in its basketball division in June 2017 (the Hyperdunks worn by Golden State Warrior Draymond Green) for running shoes. The project began when Nike met with its elite and recreational pavement poundersto ask what they wanted improved in their footwear. It wasn't the plan to use Nike React, but the latest running foam technology, Nike Lunarlon, didn't seem to meet the requirements desired by the runners.
In fact, nearly no foam could. Runners wanted better cushioning … but also lightweight shoes … and long-lasting soles. The only issue with this wish list is that the properties oppose one another.
"Materials are soft because they absorb energy," says Nike in a release, "On the flipside, hard materials give the most energy return. That's why typically foam can provide cushioning or energy return. And why it can be lightweight or durable."
The debacle led Ernest Kim, director of advanced footwear for Nike Running, to take a stroll through the archives. He found Nike Basketball's React foam and thought it might be the answer. During initial R&D on Nike React, more than 400 combinations of chemistry and processing were tested to dial in on materials. After that, 2,000 hours of use by basketball players helped fine-tune the details.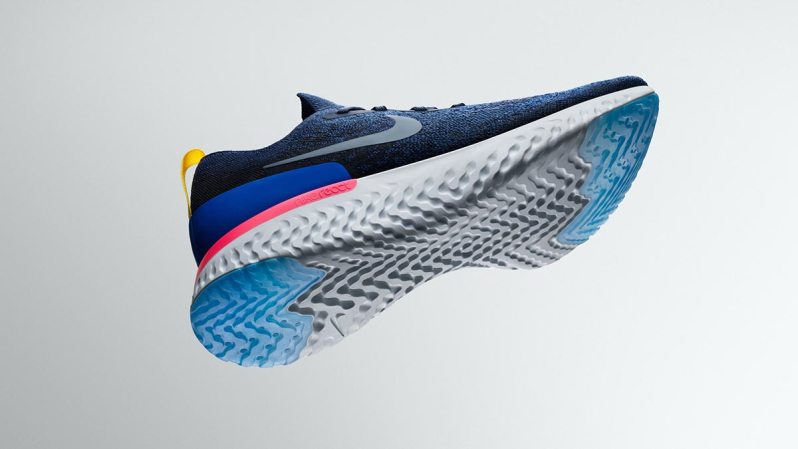 It turns out, the sensations that ballers need to play at their peak are identical to runners: durable comfort with greater energy return.
Most notable in its reincarnation from court kicks to road runners, Nike peeled away the materials that encased Nike React basketball soles, using only one piece of Nike React foam to create the midsole and outsole of its running mutation. Fitting the foam into a holistic shoe then required the collection of lab-tested pressure maps to zone precisely where runners need support, cushioning, and traction. This data was fed into a proprietary algorithm to generate the unique surface geometry that would amplify the foam tech. And you thought they were just shoes …
Then, of course, Nike tested the prototype over 17,000 miles and compared it against the latest and greatest Lunarlon tech. React delivered 13 percent greater energy return and caused one tester to say, "It felt fun — it makes you want to run."
The first running shoe to use the new foam, the Nike Epic React Flyknit (yes, it's got that super comfortable sock fitting for the body) will be released February 22. So get in line, because the shoes promise to be "significantly softer than EVA-based foams," turning the hard concrete into little fluffy pillows.
Of course, make sure to visit a specialty run retailer before going balls-to-the-wall with Epic React Flyknit. Even the best foams may not be appropriate for your unique arches and gait.
Editors' Recommendations