Chukkas can take you almost anywhere, with a nice button-up and khakis for the office, or with some straight jeans at the pub afterward. The one place they won't take you is running- you don't want to crease those nice suede uppers. Thankfully, Nike's got your back, packing a number of performance enhancements into the chukka shape you know and love.
The flyknit upper has a noticeably unique texture and feel to it, somewhere between a high-tech running shoe and a comfortable sweater. Not only does this allow the shoe to breathe and bend naturally, but Nike has used the material to it's full extent by blending colors, like the grey and blue pair pictured above. While some of the makeups aren't as understated as the traditional chukka boots that have been popular recently, that doesn't mean that they aren't just as versatile as a leather and rubber option.
Nike's Lunarlon sole is straight out of their running shoes, and slips into the chukka style seamlessly. The soft foam center helps distribute weight across the whole foot, while the white outsole has reinforced pods for better traction and a longer life. The white really pops too, especially against some of the darker colorways, like this pair that throws a dash of orange into a clean dark gray and black upper.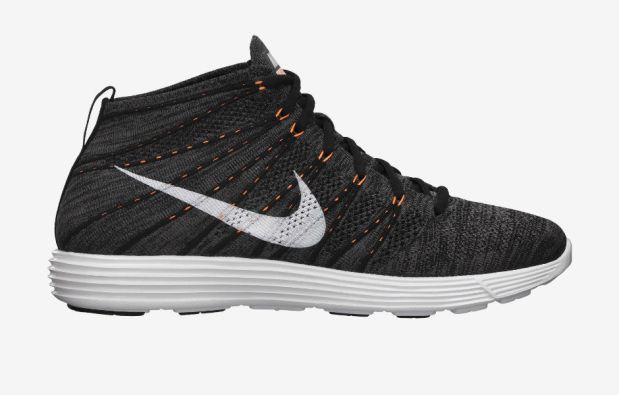 So if you're getting ready for a full day of work, a late night of carousing, or the afternoon jog in between, you can't go wrong the flyknit chukka. They come in a pleasing variety of colors, and aren't limited in quantity, so they're easy to come by at a reasonable price.
You can choose from a selection of colors at Nike.com or at local retailers.
Editors' Recommendations