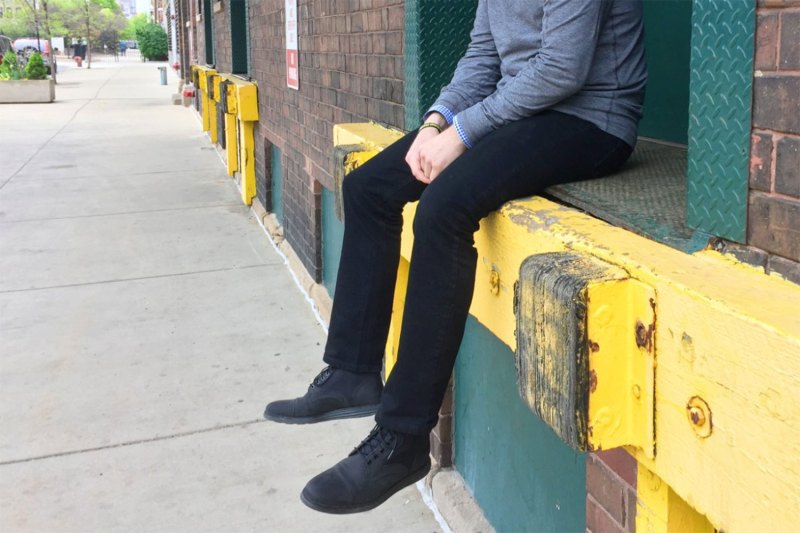 If you're a big guy with a big ass and a set of tree-trunk thighs, it can be difficult to find pants that fit just right, or at all.
Skinny and straight-leg jeans are stylish, but they don't fit around the thighs like they should. Relaxed, baggy fits are suitable for the waist but are admittedly quite the eyesore. So, what's a bigger guy supposed to do? Well, Chicago-based Mugsy Jeans has curated a pant design that is both comfortable and stylish for almost any size.
Mugsy Jeans was created with one goal in mind: to build a pair of chic pants with fabric that can be worn by skinny men, athletic men, and bulky men alike. Built true to size, the fibers spun into Mugsy's denim jeans flaunt a flexible, stretchy feel and are made out of synthetic silk and T400 denim technology.
The result? A great balance of lasting durability, a fashion-forward appearance, and unparalleled comfort in the places you need it most.
We at The Manual were lucky enough to have a pair sent to us for testing and they provide exactly what was promised. Not only are Mugsy Jeans some of the most comfortable we've ever pulled over our ankles, but the fabric is also flexible, soft, and boasts a surprising amount of hug around your legs. This form-fitting design supplies the stylish straight-leg look that gives you the thinner, more streamlined profile you desire. And the jeans work for any kind of occasion, whether you're dressing up for a business conference or dressing down for a casual day out at the ballpark.
Mugsy Jeans makes more than just jeans, too. It curates an assembly of chino pants and shorts with the same mindset to give you more options in your wardrobe for warmer weather.
Here are some of our favorite styles from the greater Mugsy Jeans collection.
Squid Ink Black Jeans
Black jeans are a quintessential piece in every man's closet because of their versatile compatibility with multiple colors and styles. Mugsy Jeans' squid-ink black comes in a true, dark black monochromatic silhouette and that coveted stretch fit to fit any body type. The company also offers this comfortable fit in a variety of colorways, from different shades of gray to dark and light blue hues.
Belmonts Chino
Our favorite color for chino pants is the classic khaki colorway. This lightweight silhouette gives you flexibility when picking shoes and shirts to go with it, as well as supreme comfort and a flexible chino fabric fit. The Mugsy Jeans chino pants are comfortable enough for a casual outing and dressy enough to wear to work.
Skyline Chino Shorts
You can go in many different directions when picking out a pair of shorts. Sometimes you need to add more color to your summer wardrobe and sometimes you just want a pair of shorts you can wear out any day of the week. For consistency, we're going to stay with the versatile picks and opt for the limited edition Skyline colorway. Boasting a faint, light blue silhouette, the Skyline shorts sport the same flexible chino fabric as the pants noted above, which makes for an extremely comfortable and breathable fit for warm weather.
Well, what are you waiting for? Grab yourself a pair of trousers with the right fit without sacrificing any style. If you're looking for more pants options, check out our roundup of the best jeans on the market.
Editors' Recommendations