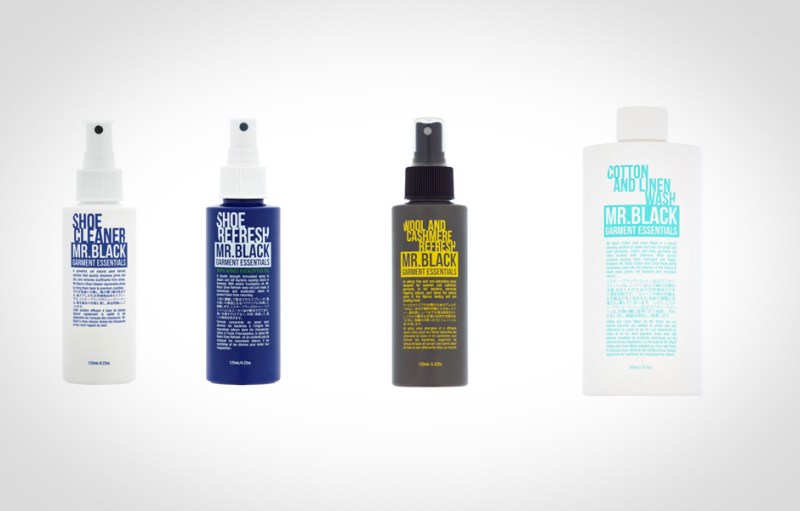 As cooler temps make their descent, our winter wardrobes are slowly jumping back into full rotation. This means switching gears when it comes to maintaining our wardrobe too. You know that smell when your favorite denim or sweater is far in between cleans. What to do?
We'd like to introduce you to Australian brand Mr. Black Garment Essentials. These all natural washes and sprays are a great option to both wash and "freshen up" your gear. Plus you can feel good about it at the end of the day. They are biodegradable and don't require water to do the job. They have a "wash" or "refresh" line for everything from your denim to your sneakers. Our favorite product for a year round staple of your wardrobe — your denim — is Mr. Black's Denim Refresh and Wash. Both are topical sprays/liquids that neutralize odors and kill bacteria. You spray or rub on the solution with a cloth to keep denim smelling, and looking, clean in between washes. Their Denim Wash can be used with or without water. Both products preserve your denim rather than take the color and shape out of them. For sweaters and sneakers we'd also recommend Mr. Black's Wool Refresh and Wash as well as the Shoe Refresh and Cleaner. They even have a spray for your workout gear to get you in between cleans.
Mr. Black shared some basic wardrobe cleaning tips that we can get onboard with as well:
Ditch some dry-cleaning. Silks can be washed on delicate, wools should be washed in cold on their own cycle and laid out to dry on a towel, and linen is a strong fiber so can also be washed.
Soap first. Start the wash cycle, then add your Mr. Black wash, and finally pop your clothes in as the machine is half way full.
You can usually wash garments with leather trim (including patches, trims, and collars).
Don't wash your jeans often, and never put them in the freezer. The freezer is for peas and ice cream only!
Check out Mr. Black Garment Essentials here.
Editors' Recommendations