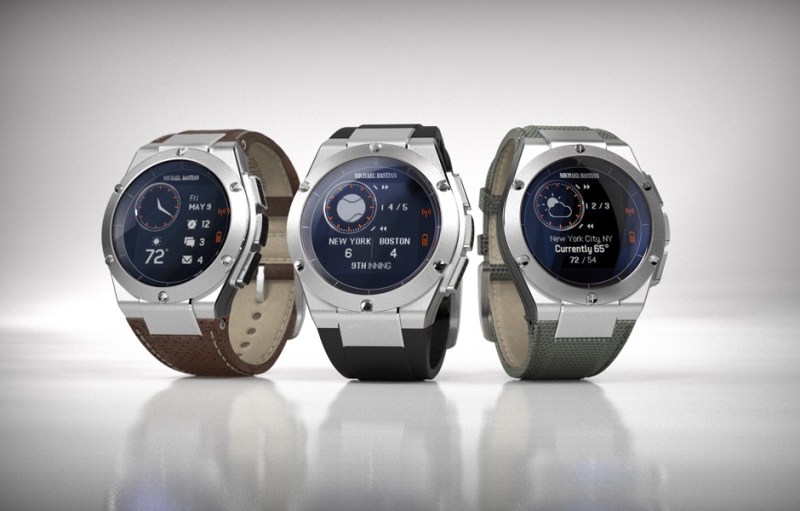 Word on the street this week is that Apple Watch won't be released till early next year. So what is a well-dressed, techno geek in the holiday shopping spirit to do? Allow us to recommend the MB Chronowing by Michael Bastian, one of the best-looking smartwatches we've seen that combines beautiful design and total modernity without the superfluous digital bells and whistles busy professionals could actually do without.
"A watch like this should provide men with quick, simple, accurate information at a glance, much like the displays and dials of a car dashboard," explains Bastian, whose luxury lifestyle brand happens to be built on the very idea of streamlined elegance.
As such, the MB Chronowing, engineered by Hewlett-Packard, features a 44-mm stainless steel case with a multi-layered finish, distinctive crown bezel bolts, a lighted chronograph, inlaid button controls, and three interchangeable watchbands in black rubber, perforated brown leather and olive nylon. The watch ($349) is also compatible with both iOS and Android devices and syncs with an app that allows users to personalize the watch interface (read: the minute you make a selection on your phone, it takes effect instantly on your watch.)
Users can quickly check the time, date, weather, sports and stocks updates, but also easily control music playback and glance at text, e-mail, and social media alerts so you're not constantly taking your phone out of your pocket to look at (something to consider if you're all suited up in cold weather.)
Fairly lightweight with automatic time-zone adjustment, 5 ATM water-resistance, and a seven-day power reserve, the MB Chronowing makes a fine impression anywhere. To celebrate the launch, Bastian also designed a limited-edition version in all-black with a genuine alligator strap, a sapphire crystal lens with anti-glare optical coating and all-black PVD plating. That $649 edition comes with a dedicated concierge line for exclusive tech support and a signature card signed by the designer. Says Bastian, "I really felt there was a need for a device that looked and felt like a stylish watch first. The smartwatch I've developed is just that."
Available from today exclusively on Gilt.
Editors' Recommendations