If the secret to winning in fashion is keeping an element of surprise, Matthew Singer just stepped to the front of that race. When the former fashion director of the Neiman Marcus Group left his post late last year, it seemed logical for him to channel his expertise in the retail biz into brand consulting. No one quite expected, however, the retail veteran (Singer also worked as a fashion director at Scoop and Bloomingdale's) to add designer to his credentials. With its simple modern silhouettes, expert tailoring, elegant functionality and Singer's savoir faire, The M. Singer Experience was recently introduced by Gilt.com and now is one of the most coveted brands of the summer. We recently connected with Singer (above left, with model) to chat about his new second act and reimagining menswear.
You spent a lot of time in retail but now are on "the other side." What made you want to switch to design?
Well, after leaving Neiman Marcus and Bergdorf Goodman, I started a consulting company, M. Singer Consulting that allows me to work with and develop brands. The design part came organically over lunch with Brooke Cundiff VP, Brand Relations Men's Home, and Kids of Gilt Group. I wanted to create the uniform for the weekend. Most of my career I have been in a suit (which I love), but wanted to design clothes that most guys could relate to and that didn't intimidate them. Fashion is not every man's favorite thing to discover. The M. Singer Experience makes it easy for them.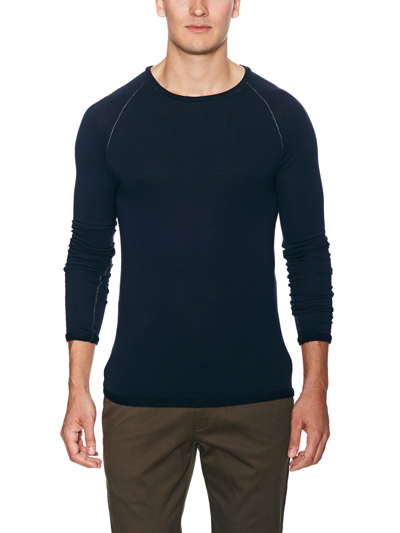 What were some of the inspirations, be it brands or stylish guys, you had in mind while conceiving the brand?
It wasn't so much about other brands or stylish guys. It was about making "every man" stylish with details that would typically be on tailored garments. In a well-made suit or trouser the stitch detail is always something I paid close attention to, and I wanted to incorporate that into the line. For example, the "Birdie" short has subtle stitch detail on the back pockets.
Having the kind of experience that you have, seeing hundreds of brands over the years, what does it take to stand out as a brand? Any advice to young designers?
Stay true to your DNA. You can't be everything to everybody. Make sure you have a path and stick to it.
We like that you incorporated the word "experience." It sounds like you approached the collection as a "brand." In your point of view how do you define that experience?
I loved the idea of using the word "experience" as to not limit what my vision is. The experience for me comes from my everyday life. The great thing about partnering with Gilt.com is their trust and confidence in that vision.
Let's get right to the collection. You kept your price points really reasonable.
The experience of doing this collection was to make something affordable, take some risks and find like-minded resources to achieve this. I searched for smaller manufacturers, who were willing to take a risk on me and create quality over quantity.My goal is to make great product for everybody.
We see that you make a "sport-shirt." What's that?
It's what I refer to our woven shirts as. Nothing fancy. I grew up referring to them as that. Guess I picked it up from my dad.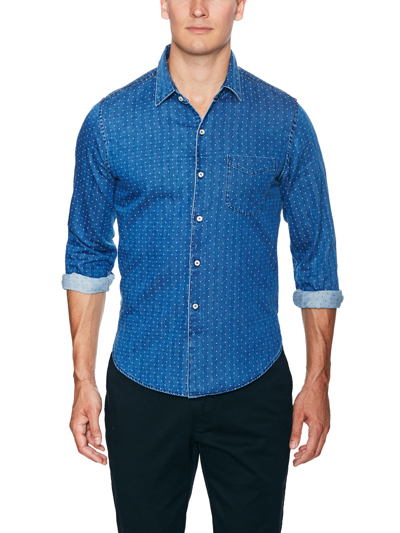 Would you say your Dad was a dapper dude?
My Dad always had great taste, sometimes traditional, sometimes bold. He always made it work.
You also make killer jackets. What were you going for here? A bit of a retro look or more the idea of utility?
Both jackets are made in cotton, but using two distinct washes and types. The inspiration came from a World War II flight deck jacket.
And what about the fit of your pants? Pants are notoriously difficult to perfect.
Agreed. It was very important to have a fit that was consistent. I intentionally used the same block ("Birdie") for all my pants and shorts, with the exception of the "Holden" pant which is a bit slimmer.
What can we expect looking ahead?
Part of our first delivery was for early fall and we'll build from that. I am looking to add color and sourcing more unique fabrics for next season.
What's your own personal style like?

I am a creature of habit, so for me (like most guys) I buy in multiples. If I like a t-shirt, I buy it in every color. If I had to describe my style, it would classic and sophisticated. I also wear a ton of navy.
And what are some of Matthew Singer's favorite things to do off-duty?
Golf, golf and more golf! I took up the game while I was in between Scoop and Bloomingdale's. My 3-1/2-year-old son started to gain interest, so it's a double whammy. Hanging with him is the best!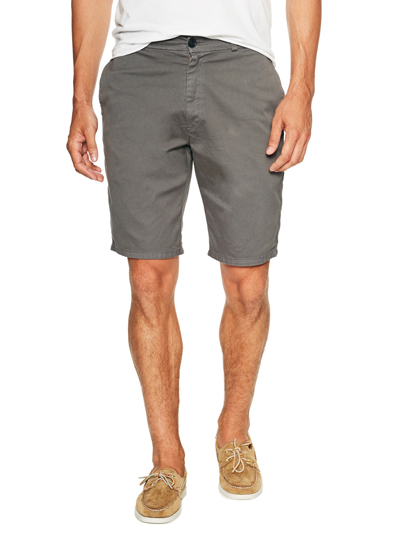 What's your newest obsession?
My sell-through of The M. Singer Experience. I am so happy when I see what's working. The line was created for every guy, so it's nice to see the positive interest.
What's the biggest pet peeve you have about the industry right now? If you could change one thing about it, what would that be?
I wouldn't say I have a pet peeve. The industry is always changing, which keeps everyone on their toes. I love that about the business. I think the way we have approached the business with MSE will change the business.
Pitti Uomo, the Florentine menswear showcase, is such a major attraction for the menswear biz these days. Any thoughts on it?
I love Pitti! It's a watering hole for the sartorial genius. As a fashion director, it was my first source of inspiration of the season. For me, it was more about all the peacocks walking around than what was actually being shown in the booths.
Finally, where do you see menswear headed? No more codes?
Menswear is having a moment which is very exciting! The rules of menswear are being broken every day.