There's magic brewing over at Freenote Cloth. For all its excellent raw denim, this new menswear company based out of South Orange County is giving traditional American workwear a cool overhaul. There's the "classic oxford" shirt, for example, made from brushed Japanese selvedge fabric with selvedge detailing on the chest pocket and custom bone buttons. The double-pocket plaid shirt designed with a hidden lined utility pocket? Its fabric is 97% cotton and 3% silk. What's even better? A 14-oz Japanese flecked denim jacket cleverly streamlined with biker panels (and no, the brand didn't just lay on cheesy zippers for effect). It all amounts to a go-to collection for pieces that don't look like they're trying too hard to be utilitarian yet exude care and craftsmanship, which is why we dedicated this week's column to Freenote Cloth founders Andrew (left) and Matt (right) Brodrick. Here, what we learned from the former makers of Electric eyewear about getting into the menswear business, the latest direction for the new brand, and what to do if you find yourself in San Juan Capistrano, California.
This is your first menswear brand. How challenging was it to switch from eyewear to menswear?
Great question! When it comes to running the business, the fundamentals are the same. The sunglass business was anchored in action sports and Freenote is living in the menswear world. We are working with a completely different set of retailers, trade shows, publications, manufacturers, and we love all the new relationships. Action sports wore us out a little with all of the nickel and diming. Having no relationships whatsoever in menswear was a huge risk, but it also gives us a fresh perspective on how we want to present our brand. My partner and brother Matt is our designer, so yes, creating menswear is much different. But that is his passion and he is damn good at it.
So is one more of a creative head than the other?
We have a team of eight which is basically split between creative and administrative. Matt and I are partners, and yes, he is the creative one while I handle administrative work. We get each other's positions and both have experience in each other's fields which helps us work well together. Internally the brand is much bigger than just the two of us, which allows us to not only develop great diverse product but also provide great service for our retailers.
Where does the name Freenote Cloth come from?
Since we are making product in America inspired by America, we knew we wanted an easy to pronounce American name. We liked "Blue Note Records," the word "freedom," the meaning of the word "noteworthy," and so on and so on. "Freenote" was put together and it rolls off the tongue. It is easy to pronounce and again we aimed to have a very American sounding name because that is who we are and what we create. We knew it was right as soon as we said it. You can spend countless hours at night thinking up crazy names, and crazy is usually what you come up with. We use "Freenote" and "Freenote Cloth," which gives a defining aspect to the name as in we make clothing. After all of this, though, it's like naming a child. Who the hell cares what his or her name is? It's about the values, the team and, most importantly, the final product.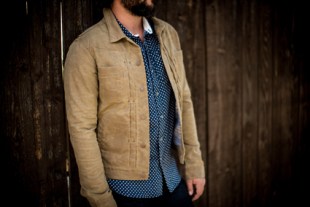 Let's chat about craftsmanship for a minute. Can you walk us through your research and production process and some of the things that happen in San Juan Capistrano?
Freenote values heritage and also anything we perceive to be solid and true in our lifetime. This keeps the research open but always centered around our country. We take inspiration from pre- and post-rock 'n' roll era as well as more recent eras such as the '80s. Matt works endlessly with our in-house pattern maker to make proper fitting product from his inspirations. You will see a lot of vintage inspiration throughout the line in every season and that includes work wear, military, and straight rock 'n' roll. All design and pattern making takes place in our San Juan HQ while all fabrication and manufacturing happens in either LA or Orange County. Everything is custom and carefully selected from the buttons to zippers to thread color to leather patches and, of maybe most importance, the fit. We obsess with the details in every product so our customers can discover new elements every time they wear it.
You design more than just denim. There are split-back twill bottoms, micro dot flannels, tees and even a Perfecto jacket. Can you tell us about these pieces, what inspired them, and where you wanted to go with them?
The split-back twill bottoms have a Bob the Butcher from "Gangs of New York" inspiration to them. Micro dot flannels have that cool California foggy morning feeling. Tees are important to us because what else do you want to wear with a pair of jeans? The Perfecto is rugged and is made to get beat up either on your bike or on the streets. My favorite piece is our Avila welder denim in 10 oz. Kuroki denim. It has a nice rock 'n' roll feel to it and is lightweight enough to wear in the summer.
What then do you hope to bring to the denim landscape and how do you go about keeping it interesting for consumers?
There is nothing we want to change to the denim landscape. There are a lot of awesome brands making a lot of great denim. We are not reinventing anything. People figured out how to make perfect denim many years ago. We bring our vibe to our product and hope consumers like the brand as much as they like the product. We do not want to sell nameless product. There are some Japanese fabrics we use that are really unique and special to Freenote which definitely keep it interesting for some, but again you don't have to be into that to like the product. We aim to keep the mission simple in that we value product first and foremost, but also would like our consumers to have an attachment or liking to the brand itself.
What are some of your inspirations right now?
Ritchie Valens's brother Bob Morales from the movie "La Bamba"—good intentions but misunderstood. He embraced that kind of lawless Classic Americana biker.
We've never been to San Juan Capistrano. Quickly, if we had 24 hours to spend there, what would we do for fun?
First stop would be Hidden House for a cup of coffee. Ramos House is second to none for brunch and a bloody. The Mission is right next to our office, which was founded in 1776 and is known as "The Birthplace of Orange County." Our favorite watering hole is Swallows and is also right across the street—a little eating, sightseeing and bellying up to the bar is what we like to treat our guest to. San Juan Capistrano is a great walking town and when you are here the first thing to do is slow down and take it easy. It's a very nostalgic and easygoing place.
Finally, some clues about what to expect in 2015.
We have some unique Japanese denim exclusive to Freenote, which will be available in one-time quick hits of 50-60 pairs. The other highlight coming into the line is more edge and more rock 'n' roll.
Editors' Recommendations