Meet Up Mondays is a new column here at The Manual where we sit down with designers who inspires us and learn more about them and their brand.
New York's fashion design landscape has never looked more exciting with a new generation of modern American sportswear brands such as Public School, the menswear brand, stealing the limelight from womenswear in winning the year's most coveted CFDA/Vogue Fashion Fund fashion prize. If there's one name you should watch out for, however, it's David Hart. Best known for his amusingly decorative ties, the Maryland native won the Fashion Group International Scholarship at the age of 17, earning him the reputation of that designer to watch. Later, upon graduating from FIT, he would work for some of the country's best known houses including Anna Sui, Tommy Hilfiger and Ralph Lauren. This past fall, Hart made the leap from neckwear to menswear by debuting his first full collection, including a footwear collaboration with Walk-Over Shoes. To some, the jump might have recalled another accessories designer entering the big leagues—Scott Sternberg of Band of Outsiders—but make no mistake, Hart's designs—clean American sportswear with a sense of dash and refinement mixed with effusive colors and prints—are all his. We spoke to Hart over the break about the year ahead for him and the quintessential elements of good style.
M: It's the start of a new year. Happy New Year! What did you get up to over the holidays?
DH: I spent the holidays in Los Angeles; it was great to get away from the cold weather. Some highlights include visiting the museum or Jurassic Technology, LACMA, mid-century modern architecture tours, and lunch at Musso and Frank with Nick Waterhouse.
M: It's also probably the busiest time of the year for menswear designers. You're gearing up for another fashion week, I gather. How's it going to be different from the last for you?
DH: This year I am really coming into my element. We are working with the best mills and factories in the world and the collection is much more elevated than before. This season I've paid close attention to the textiles and the shapes which are much more flattering than the suits we are used to seeing from other designers. I've also taken full advantage of my background in sweater design as we are very knitwear driven for Fall 2014.
M: Yes, for the guy who isn't familiar with your label, what is David Hart about?
DH: The concept of "New Futurism" has always been the underlying theme behind my collections. The clothing exudes a sense of optimism about the future through the attention to detail, construction, materials and fit.
M: A lot of people have criticized fashion week for becoming a circus. Do designers, however, have a choice but to partake of it in order to generate publicity?
DH: I think there are creative ways of generating press other than fashion shows; the Internet and social media have changed the way people view and see fashion, and it's still rapidly changing. I think that the fashion industry is still trying to keep up. Having said that, fashion shows are one of [the] ways for designers to have a platform to showcase their collections and have a sense of identity—it's an integral part of the business. I think it's more or less the exuberant amount of people around fashion week and the shows that have turned it into a circus—it's become more about the events themselves than the clothing.
M: Do fashion shows need to go on?
DH: I think they are an important platform for designers to have a voice, so yes they should go on, but editors and buyers will only attend the shows they think are worth covering or seeing. There is a lot of talent in New York and worldwide, so I think the important shows will surface and the others will fall by the wayside.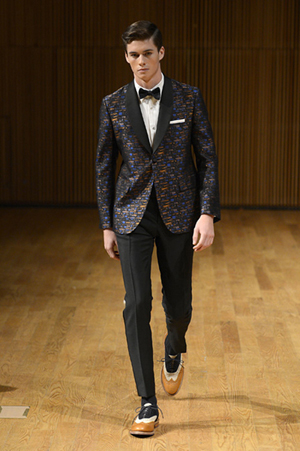 M: Guys have more menswear options than ever to shop right now. What are three items every guy needs in his wardrobe right now?
DH: A great tab collar dress shirt, a fine gauge merino wool polo shirt and a mohair suit.
M: I also see that you include an evening/formalwear component in all your collections. Are these made-to-measure and what's your advice for getting into formalwear?
DH: We offer made-to-measure services but also offer these as ready-to-wear. With formal wear it's best to keep things classic and follow all of the rules. If you do it, do it right: studs, braces, bow tie, pique shirt with a bib and the right collar. It's also acceptable to add some color or a tuxedo jacket as long as you keep the trousers black.
M: You started out with neckwear of course. Are there any (unwritten) rules to neckwear?
DH: Neckwear is a reflection of your personality. Keep things light and you will be ok. When in doubt, always wear a tie; it's the new way of standing out in a crowd.
M: Sweatpants. Thoughts?
DH: No, thank you. Or stick to wearing them for the appropriate activities, i.e., working out, sports, etc.
M: What's another style faux-pas for the "modern gent"?
DH: Athletic socks worn for any other purpose than athleticism.
M: Any overused fashion terms you'd like to retire for good in 2014?
DH: Bespoke. It's overused and not used properly. Let's please give it a rest.
M: You know that everyone loved your spring collection. Can you tell us a little more about it and if there is one piece to get what would it be, and why?
DH: The Hawaiian shirt is a must for Spring 2014—especially the ones we showed. Be mindful of the fit and the prints. No one should be caught dead in a bad Hawaiian print.
M: What's one good, perhaps hidden gem of a store you can recommend a guy to go shopping?
M: And if we wanted to run into you, where would we find you?
DH: I'm an enigma.
Photos courtesy of David Hart; portrait by David White.