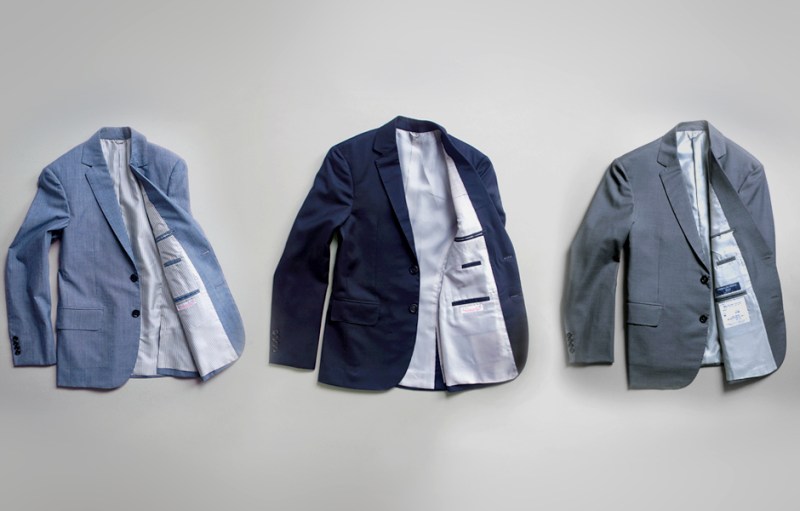 Flash poll: Are you a lean gent still searching for that perfect fitting suit? If you answered yes, you'd be in good company. But also know that salvation has arrived in the form of Brooklyn Tailors. Founded in 2007 by husband and wife team Daniel and Brenna Lewis, the company began offering custom fittings out of a Clinton Hill apartment to friends and locals who were at a loss for better-sized, well-crafted menswear. Four years later, Brooklyn Tailors opened its first store at 358 Grand Street in Williamsburg and launched its first ready-to-wear range of suits, shirts, casual pants and neckties, as prized as the bespoke line for its luxurious materials, exceptional construction and slim, modern fit. Today Brooklyn Tailors offers jackets starting at size 34 and a growing universe of dapper-looking products that channel sartorial authenticity as much as urban cool. As one of the most original voices to come out of New York's contemporary menswear scene with its suits spotted on Elijah Wood to Aziz Ansari, it's no wonder GQ recently named Brooklyn Tailors one of the Best New Designers in America this year. We spoke the tailor himself recently to learn why everyone is getting into Brooklyn Tailors right now.
You started Brooklyn Tailors in response to a void at retail for clothes that fit your frame. Tell us, in addition to the right fit, what newcomers to a Brooklyn Tailors suit can expect?
Yes, the initial spark that went off for me was that I was, as a consumer myself, utterly unable to find a suit that fit me well and was the right combination of style, quality and affordability. What was initially about solving a very specific problem for myself has now been expanded into our company's core goal—at our core we're working to create clothing that "works" for people—that fills a void in their wardrobe and represents not only great style and fashion but also a great long-term investment. We think that a newcomer to Brooklyn Tailors can expect that we'll sit down with them, learn about their needs and preferences, make them the suit that fits perfectly into their life—obviously that starts with a great fit and quality—but it's also about finding just the right fabric, details and combinations thereof. Tailored clothing isn't just about grabbing something and walking out the door with it. Whether it's custom or off the rack, we're trying to build a relationship with each individual so we can take care of them over the long term and help them on the right path to finding the perfect clothes for them.
How do you describe the Brooklyn Tailors fit? Will one look like a Williamsburg local after donning one of your suits?
I would describe our fit as slim and sharp, but also relaxed in the sense that it doesn't take anything to an extreme. Slim is good, tight is not so good, in our opinion. Slim is about fitting the body and following the lines of each person's body rather than grabbing it and squeezing it. Because slim fits have very much become the popular style in recent years, naturally a lot of guys will want to take it too far to the extreme!
We love how your website carefully maps out the different types of suits guys can own. Would the perfect wardrobe comprise one from each category then?
A person doesn't need to have tons and tons of suits in their closet in order to have a great, functional wardrobe. In fact, people are surprised that I don't have too many suits myself. I keep it simple and most days I'm wearing a solid-colored suit (usually with an interesting texture or weave) mostly in some sort of gray, blue or brown. If you have only one suit in your closet I'd recommend that it be mid to dark gray. Suit #2 should be some sort of dark blue (but not necessarily the very traditional navy, which can look too "business suit" or just too expected. Try a brighter, more vivid blue or something with a different weave such as a nailhead or sharkskin). From there you can think about maybe a subtle check pattern, maybe a brown suit. Many people think black is a must-have. It's true that it is needed for certain occasions, but mostly I'm talking about a funeral. I wear black very rarely and usually prefer a very dark gray, which can be more interesting and less severe.
Where would one really feel and see the difference between a ready-to-wear and bespoke suit by Brooklyn Tailors?
We have put a great deal of energy into creating a great fit in our ready-to-wear. But everybody is shaped differently and the fact is that no matter how great your fit is, it just won't work for every body type. So we always tell people to start by trying on the ready-to-wear and assess how it works for them. We'll give them our honest opinion as well. If it's a great fit, we don't want to trouble you with the extra time and money to go custom. That said, without a doubt, bespoke is where we're really able to do our very best for each customer and dive into the issues whether large or small. To me, the most significant difference that bespoke allows for is the ability to truly sculpt and proportion the garment to a person's body. We look at one's posture and their asymmetries. Almost every person is lower on one side of their body than the other. Some people have sloped (angled shoulders) and some people have flat (square) shoulders. These kinds of things drastically affect the way a garment sits on the body and have nothing to do with the overall measurements of the garment but rather are about the shapes and angles. So with bespoke we are able to start with a brand new pattern and re-shape things down to very minute details for each individual.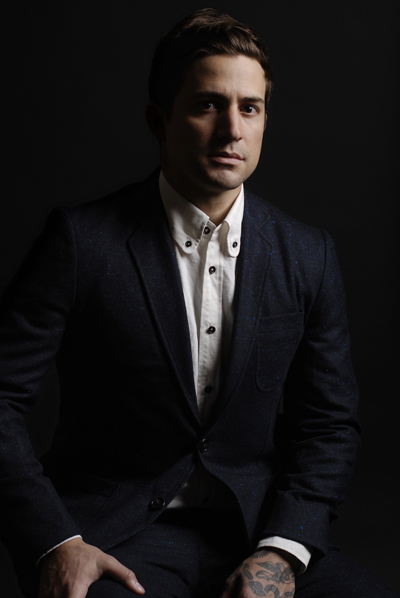 There's a bespoke renaissance happening right now in New York. What if any differences are there between American and British bespoke brands?
There are no hard rules. I'd say that in many ways Brooklyn Tailors is more influenced by an English sensibility to dressing than an American one; if simply that we are actually into tailored clothing and place a value on fit, craft, and individualized service. But I would also say that there is something distinctly American about Brooklyn Tailors. I think both our clothing and our general vibe is more relaxed, more friendly, somewhat less daunting than what you see with English tailors. It can feel a bit like an old boy's club over there, and also sometimes quite elitist. We're trying to open the door a bit wider to a more diverse audience and also make tailoring mesh better into people's daily lives and the way they dress.
Joseph Cheaney and Sanders are amazing looking footwear brands you carry and so happen to complement the aesthetic of the brand. Was that the idea or was it more about offering quality?
Great quality is the starting point for anything. There are frankly so many poorly made products out there on the market and it's a disappointment that in general in America people haven't been brought up to value craftsmanship as much as they do brand names and trends. It's amazing to me how a small number of English shoemakers have continued to survive and have truly maintained their standards and practices despite all of the pressure to make things more affordably in recent years. Sanders and Cheaney have both been making shoes in the same factory in England since the 1800s and they haven't changed much in terms of the way it's done. Truly beautiful craftsmanship, to me, is the starting point for something to be great looking/great style. That said, I've always favored the English sensibility in shoes on an aesthetic level as well. The styles are grounded in military footwear and there's a more utilitarian, tough look to them compared to what you might find from an Italian maker.
Your business is more than five years old now with a strong ready-to-wear, accessory, celebrity and wedding component. How do you now define the Brooklyn Tailors customer then?
We truly have a very diverse customer base. We see people in their teens and in their 60s coming through the door. We actually have a significant female clientele as well (we're launching a women's collection this fall). But I would say our core customer is in his 30s, has great taste and is very discerning about the things he wears and purchases in all aspects of his life, but isn't necessarily a "fashion" guy. He doesn't follow the runway shows and read up on all the trends. He's looking for clothing that reflects his great taste but doesn't overshadow him as a person or overpower. He's looking for something modern but also timeless.
Should we expect to see you doing runway shows anytime soon, now that you've been anointed one of GQ's Best New Designers of America?
No plans! Let's see if somebody invites us.
What's next for Brooklyn Tailors the brand?
We're moving into a new flagship store location! Our current shop on Grand Street is tiny, to say the least. We're moving down the block into a larger space that will allow us to show off more of our ready-to-wear collection, offer more from other brands and expand our custom fitting area.
And the thing the both of you love the most about being in Brooklyn, New York?
The amount of amazing, exciting things going on around you, on every level, never stops being amazing to me. New York city is the heart and hotbed for so many things, not just our little bubble in the clothing business. I like that New York isn't just a creative center, or just a business center, or any one thing. It's got to be the world's most concentrated and also diverse assortment of talented, hard-working, game-changing people. Brooklyn specifically has so many amazing things going on and it's really encouraging and motivating to be around people doing amazing things in their own sphere.
Editors' Recommendations