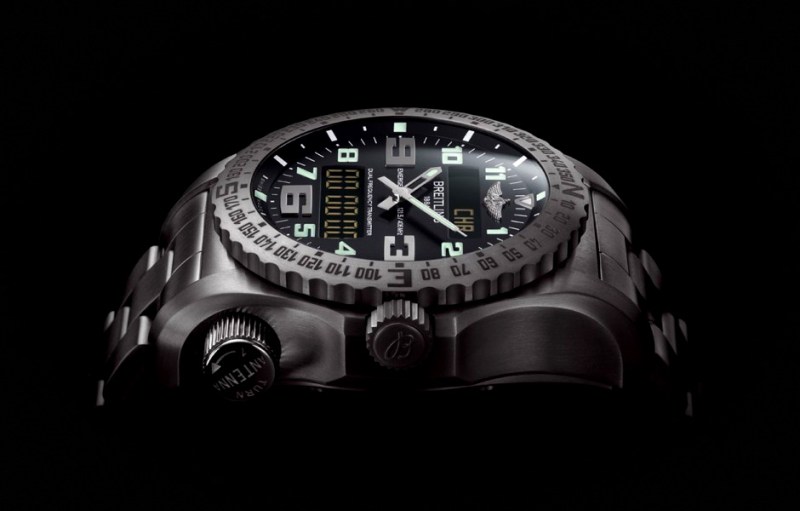 When you think watch technology what comes to mind is reduced friction, smaller parts, exotic, materials, and thinner watches. One brand that embraced a more traditional definition of technology is Breitling. In 1995, Brieitling introduced a true pilots companion; the Breitling Emergency. A multifunction quartz watch in Titainum, the piece had an added element of safety never seen before. Inside this layered movement was an S.O.S. transmitting antenna that once engaged acted as another line of emergency communication.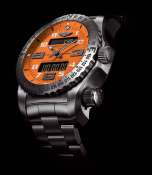 When this frequency transmitted, if heard, help was on the way.
Having helped rescue many wearers of the watch, Breitling decided it was time for an upgrade. The Breitling Emergency II is the first timepiece to have a dual frequency locator beacon. Where the original Emergency transmitted at 121.5 Mhz; the international air distress frequency. The Emergency II, with microtechnology designed in conjunction with the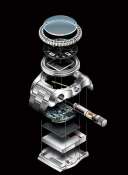 aerospace industry, now also offers an antenna transmitting at 406Mhz. This is a digital signal reaching out to the international Cospas-Sarsat system which integrates with a series of satellites for more accurate signal positioning. This lifesaving timepiece was able to meet all of the stringent requirements of the Cospas-Sarsat system including being able to transmit for 24 hours and in extreme temperatures. Although this piece was announced to the world in 2013, with has taken until now to gain the right to be sold in the United States. Due its size, much smaller than other beacons, the FCC had to be convinced that the device could work properly and accurately in tough conditions.
Made out of aerospace grade light weight Titanium, this monster of a timepiece is offered with both a rubber strap and metal bracelet. Multiple dial colors include black, yellow, and orange. With its multifunction display and analog hands, the time is always available even while using one of the numerous pilot inspired movement functions.
This kind of added safety for the adventurer does not come cheap though. The original Breitling Emergency was attainable for every pilot at a roughly $7,000 price tag. This state of the art life saver on your wrist will set you back $15,750. Pricy for a quartz timepiece yet reasonable for the added sense of safety. Don't dare pull a false alarm!
Editors' Recommendations