On Your Feet is all about that new shoe feeling- from the first time you open the box until they're worn into the ground. Sometimes we'll sift through the constant Air Jordan releases to bring you the gems other people will leave on the shelves, and sometimes we'll slide on reclaimed leather loafers from Prague, but we'll always focus on comfortable shoes with appealing and creative aesthetic. So lace up your new kicks and stand on the precipice of adventure, where will we go together?
If there's one thing Kanye West does well, it's making a lot of noise, and that's just what he's done by pairing up with the rocket ship that is Adidas Originals. While the first sneaker launch in their collection together, the Yeezy Boost 750 (the grey pair in the back of the picture below), made waves by being limited, the second launch is trying something different – releasing in greater numbers.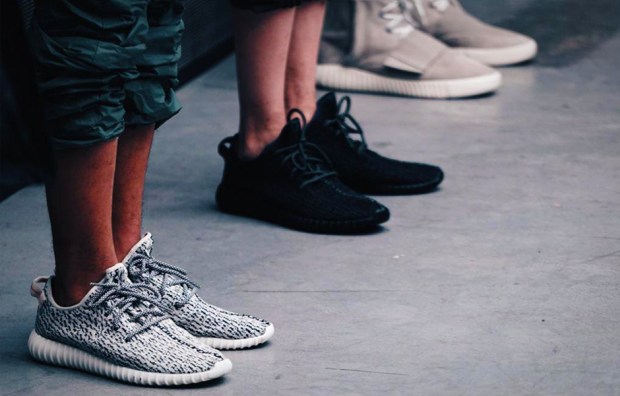 Let's be clear, these shoes are going to sell out, and they're going to sell out fast – like Watch the Throne tour tickets fast. While Adidas is no stranger to limited releases, or collaborations with musicians, the sheer magnitude of this release is a change from the norm for the sportswear brand. It's normally easy to walk into an Adidas store and pick up any of the new releases, or re-released classic kicks and clothing.
The Yeezy Boost 350 is a low top shoe with a simple silhouette. The upper is composed of a single piece of textured, black and white graphic pattern, with matching patterned laces. A suede arch bears the YZY branding that's now become a trademark of the collaboration with 'Ye, and the outsole provides the Boost portion of the name, with a special ridged pattern on the outside edge and bottoms.
Whether or not your opinion of the Yeezy Boost 350 is affected by your love (or hatred) of Kanye, the Boost outsole is no gimmick. It feels like no other shoe you've owned, with a springy, spongy feel that's designed for running, but is comfortable and supportive even in casual settings.
If you're interested in picking up a pair of these coveted kicks, you can try one of the shops below which are all confirmed to be receiving an unknown number of pairs, as confirmed by sneakernews. You should know if you do try to pursue the release that many stores will be running raffles to keep things fair, so check ahead of time to make sure you can get in on the action.
Adidas Flagship (NYC, Chicago, Los Angeles)
ACD Gallery
Addict Miami
Antenna
Athliesure
Bait
BBC
Blends/Carve
Bows And Arrows
Burn Rubber
Concepts
Champs Sports
City Gear
Clicks
Cream
Crossover
DTLR
Eastbay
East Dane/Shop Bop
Eblens
Epitome
Extra Butter
Foot Locker
Finish Line
Jimmy Jazz
J2 / SneakerBox (Vancouver, Canada)
Kicks USA
Kick Sole Provider
KITH NYC
Leaders
Livestock Canada
LESS 17 (Calgary, Canada)
MACHUS
Major DC
Moe's Sneaker Spot
Nice Kicks
Notre
Oneness
Opening Ceremony
Pac Sun
Packer Shoes
Politics
Premier
Private
Puffer Reds
Roc n Sole
Roden Grey
RSVP Gallery
Shelmar/The Vault
Shiekh Shoes
Shoe City
Shoe Gallery
Shoe Palace
Sneaker Junkies
Social Status
Succezz
UBIQ
Uptown Miami
Villa
Walters
Xhibition
Editors' Recommendations