Roman Khan and his business and life partner Jennifer Chong launched their leather line Linjer on Indiegogo three years ago and racked up $140,000 worth of pre-orders for their Soft Briefcase (retail price: $489) in about 40 days. Still following their initial tagline of "Fine leather goods without the luxury markup," the pair have found great success–2,000 men are currently waiting for the briefcase to be restocked–in their direct to consumer online shop. In addition to bags and small leather goods, the brand, which is named after the Norwegian word for "lines" in honor of its minimalistic design aesthetic, now also makes some very handsome watches.
The recently told me all about Linjer while visiting New York from their home base in Italy.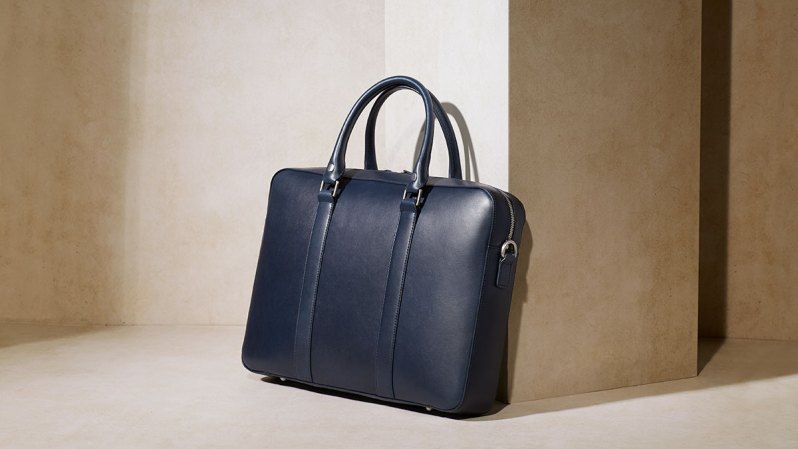 What's the story behind Linjer?
Chong: Roman is from Olso and we spend a lot of time there. I would say that the spirit of our brand is very Norwegian. We got our start a few years ago and it came of a personal need of Roman. He was working at an office job and he needed a leather briefcase for work. We was looking for a very high quality one made with vegetable tanned leather that didn't have a big logo on the front and wasn't like $2,000. And it was impossible to find. I had quit my job a few months prior and wanted to start a shoe company so I had learned a lot about leather and the supply chain and how luxury brands mark up their leather goods ten or twenty times. We decided to try to make that briefcase ourselves.
What makes the bag so special?
Khan: The retail price is $489. It has a padded laptop sleeve and various compartments. It's really simple and it ages with time to a nice patina. The leather doesn't need piping so it is really sleek. It's extremely hard to stitch versus piping where you almost glue it together. And our bags come with a lifetime warranty.
The pivotal moment for us with the men's collection was that we got picked up by some Finnish and Japanese blogs and we won the Best Leather Briefcase by Wirecutter.
Tell me about the other bag options.
Chong: For men the Soft Briefcase is front and center but we also have a Portfolio and both of them come in four different colors. We also have small goods – about four different types of wallets.
And now you're selling watches too?
Khan: Last summer we launched our watches. We have three sizes. They retail for $249. We did preorders for them and we got a million dollars in preorders for them! We've made a watch that is inspired by the Oslo Opera House. There is a fjord that goes into the city and in that Fjord they built the Opera House. It goes into the water and the ceiling is made of Italian marble and it has this really gentle 45-degree slope and you can walk on the rooftop. We took that design and incorporated it into the dial. There's a slope there.
It took off with the design community and architects and it has been a mega success. The watches are made from Italian vegetable tanned leather, crystal sapphire glass, Swiss movements and a steel case. And they come with interchangeable straps.
What can we expect from you next?
Chong: We are launching five new watch models because right now we only have two. We're going to have two automatics and one of them is going to be really cool with a power reserve. Then we have an Ultraslim series that is going to be five or six millimeters thick that's also quite cool. Then there's a chronograph and another ladies' watch. We'll launch them in mid October. They will be around the same price, $249, as the ones we already have but the automatics will obviously be more expensive. But we are hoping to retail one for less than $500. And the power reserve one want to keep under $1,000.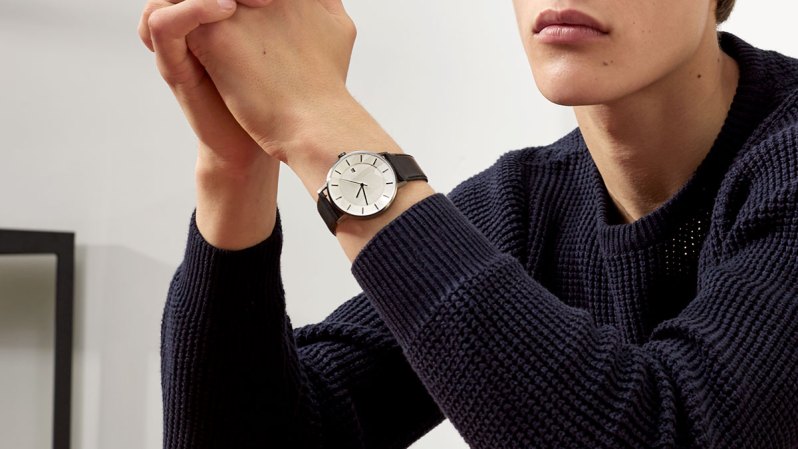 How often do you release new merchandise?
Khan: We don't release a lot of new styles. We're more of a design studio that anything else. We like making beautiful objects and we wait until they are perfect until they launch.
Who is the Linjer customer?
Khan: We're very big outside of the U.S. Only a third of our sales are here. A lot of our sales in are markets like Japan, Korea, Australia, and Europe where men are more comfortable walking around with something that is less military looking. I feel like the guy who buys our bags actually takes in an tapers his leg opening when he buys a pant or buys a tie from Drake's and follows The Armoury on Instagram.
Chong: A think a common thread with everybody is an appreciation for quality.