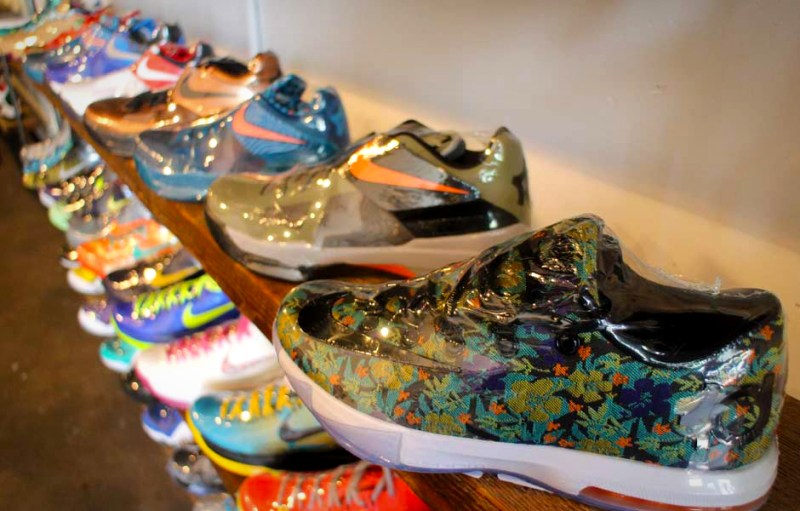 Sneakers are a hot fashion commodity right now, and if you're not in line the night before, don't plan on getting your hands on a pair of retro Jordans. The classic silhouettes that athletes wore on the court for years are driving interest in a big way, and collectors still need a way to put that hard-to-find pair on their feet.
Enter Index PDX, a consignment shop that puts sneakers on the wall for customers to buy, even the pairs that never made it to shelves before they sold out. Besides buying and selling sneakers out of their brick-and-mortar location, they also have extensive internet sales, and community events to help build support and get to know their customers. For them, it's not just about making money, it's about building a central location for sneakerheads to gather around.
Owners Terrance Ricketts and Mike Nguyen carefully authenticate every pair of shoes consumers buy, applying an expertise honed through more than 15 years of wearing and collecting. If you're looking for a great pair of kicks you can't find anywhere else, look no further than Index, located in downtown Portland.
The Manual recently sat down with co-owner Nguyen to get the full scoop on how Index PDX came to be, the store's hallmarks, and what drives the business.
How did you guys get started doing this?
Terrance and I have been best friends since second grade. We actually met while I was shooting hoops on the court wearing some Jordan Playoff 8s my mom bought me and we've been hanging out ever since. We grew up collecting Jordans — whenever our parents would buy us some — and once we got our first job working at a gas station together in the late '90s, we had our own money. That's when we really started getting involved with buying sneakers. Then in 2005 or 2006, we realized we needed to find another way to get shoes, since all of our money was going toward them. We started an eBay account and did that successfully for a little bit, and our friends caught on and asked, "Hey, could you sell my sneakers? You guys have a successful name."
Two years ago we decided to open up a shop and bring it to Portland. Terrance lived in California with his girlfriend at the time, and [consignment stores] are pretty big down there with shops like Flight Club and Rif LA. Portland is the mecca of shoes, it's home to Nike and Adidas, and we thought that was pretty cool. We wanted to bring something dope to our city, so we decided to open up a brick-and-mortar store to bring out all the sneakerheads. There was nothing like it in Portland. We took some trips down to San Francisco, I visited Terrance a lot, and we even went to New York to check out Flight Club and other shops back east. We wanted to see how they did it, what we liked and didn't like about it, and incorporate those ideas into our own.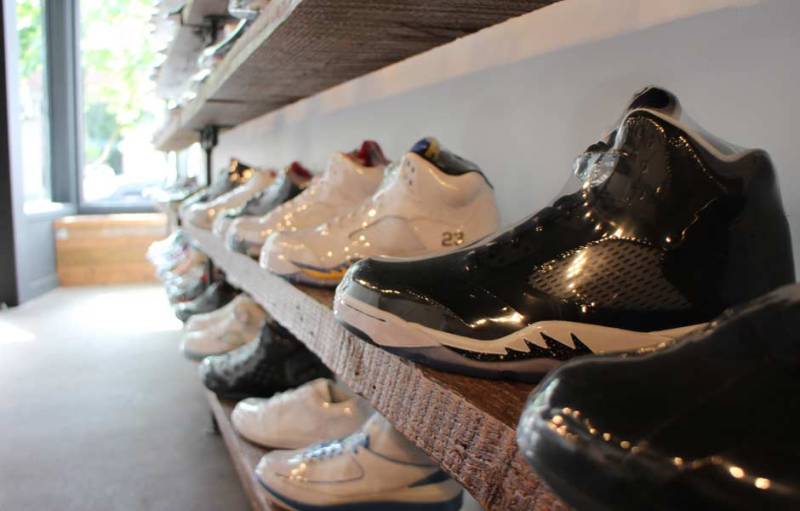 Has the sneaker community responded well?
They have–we've actually had a great community response. When we had our grand opening party, it was packed shoulder to shoulder. Social media has been a huge help for us, especially Instagram and Facebook. We've received a great outpouring of support after we joined a local sneaker community group on Facebook called "Sneakerheads of Portland." We've enjoyed getting to know people and becoming a part of the community. It's not just people coming in to buy and sell their sneakers.
[The shop] has definitely been really big here and outside of Portland as well, which is awesome for our community. We get a lot of visitors from Canada, from Europe, from New York, and we're really humbled when they tell us they want to make sure to stop by when they're in town. There's a big sneakerhead community in Portland and I think a lot of people don't know about it outside the city. They think Los Angeles and New York are big-timers — which they are — but we have a lot of sneakerheads here, too.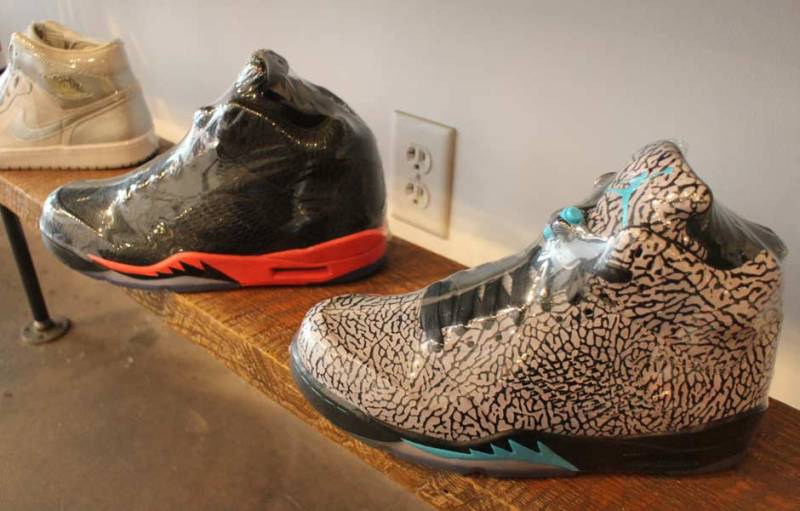 Can you talk a little bit about how your business model works?
We give our customers options. The first option is to consign their shoes. They set the price, but we help them set a value if they have no idea. We then take a commission, usually about 15 or 20 percent. They can do that route, or we can do the buyback route, where we'll buy the shoes outright from them. We give customers the option of either, although we're particular about what we buy back and take for consignment because we have limited space. It just depends on what they bring in. The biggest difference is, if they need money immediately, we can give them cash. Or they can wait and yield a higher return on their investment, but they have to consign them and wait for them to sell to get paid.
Is there a big difference between the two? How do you set prices?
The buyback price is usually cheaper than what we consign them at. There's no price guide or anything we base it off of, other than how hot a shoe is and how fast we think it will move. We've been around shoes and pricing them for around 15 years, so we have a good sense of how to price stuff and how high we think the market value would be. We try to keep [prices] reasonable, as opposed to bigger consignment shops like Flight Club. They can yield that return for a reason, mostly because Flight Club are the originators of consignment shoe sales and they're located right on Broadway in New York City. We try to give our customers low-to-medium market value.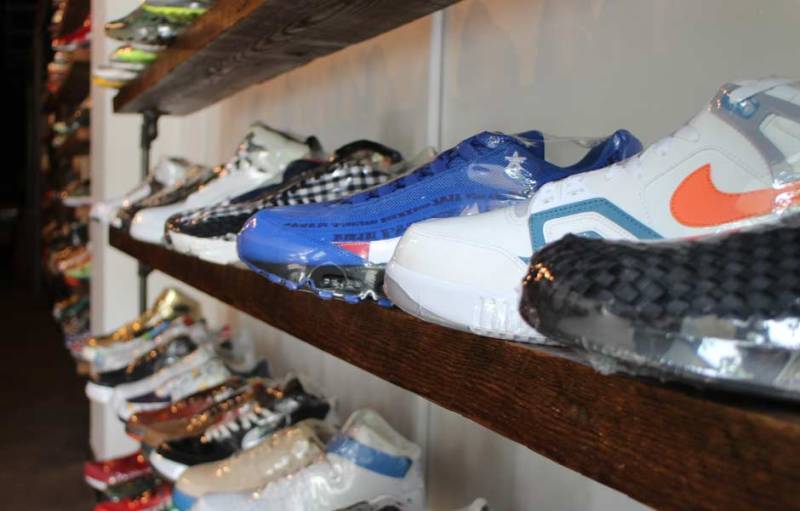 How do you make sure everything on the shelves is authentic?
We do a lot of our homework on fake shoes and early release shoes. There's been a jump in how high the quality of unauthentic shoes are in the past couple years — they now look pretty close to the real deal. We need to know what hot shoe is coming out that we should pay special attention to. We take detailed pictures of sneakers we know are super authentic and we compare every little detail against the pairs that people bring in. Every time someone brings in their shoes, it's a bit of work to process them, but we want to be thorough with our customer and ensure they what they get from us is 100-percent authentic. We put a lot of time and effort into the process, and we'll spend hours and hours just researching the new fakes to look out for those little details when they come in.
Sometimes shoes come in that are unauthentic, and we have to break the bad news to the customer that the shoes are fake and we won't take them. Matching them up and making sure everything checks out takes a lot of work, especially with fake quality getting better and so many early-release pairs on the market. They'll come out a couple months before the initial release, and some places will have full size runs. We don't accept any early release shoes, we don't even look at them. We'll check them out if you want to bring them in after the release date, but that's just how we do it.
I know it's a tough question, but do you have any personal favorite sneakers?
The Jordan 11s, especially the Concords. The patent leather on those shoes is iconic and they're an instant classic. I love the 12s as well, and the 3s are a classic model that I can wear every day.
Any advice for people who are just getting into sneakers?
Just wear what you like. Enjoy them for whatever color or feature you like, and not because everybody else likes them or they're hyped. Don't feel like you have to have the rarest shoes, either. If you come in wearing a pair of shoes you like and they're your favorite, that's awesome.
Index PDX is open every day of the week in downtown Portland. Additionally, you can check out what's currently for sale on the Index PDX website.