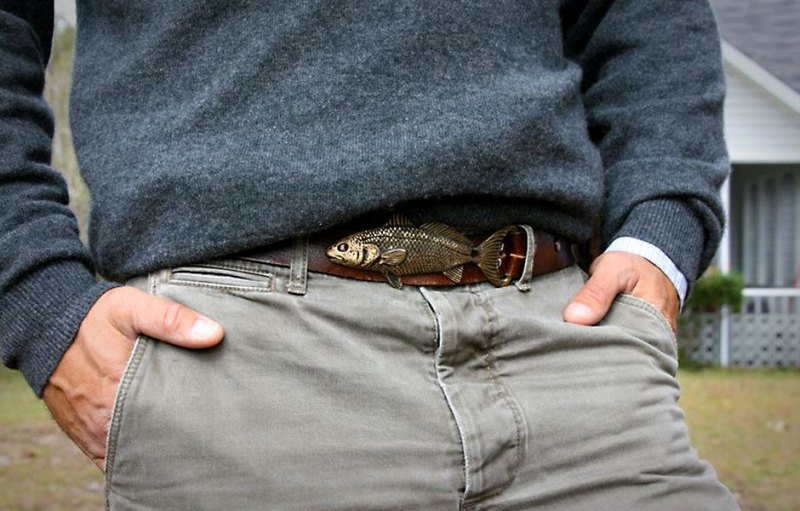 Summertime and the living is perfect for fly fishing. It's a passion for S.C. artist Tom Mauldin, and he's combined his love of fishing with a desire to create a unique product that looks great and is functional too.
Related: How to Choose the Right Belt
His Charleston S.C. company, HookNHide, offers a fish belt buckle, that doubles as a bottle opener. "Years ago, I bought some reef sandals that had a bottle opening key made into the soul of the shoe. I wasn't too fond of that because it seemed like a health hazard, but I was fascinated about taking something fashionable and thought about how I could emulate that into a design with some functionality," said Mauldin. "I played with a belt buckle design using designs of the fish I love to catch, and found I could make a bottle opener."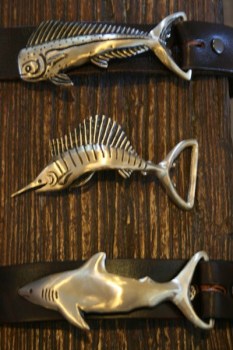 Mauldin designs the buckles and then has them produced at a foundry in Mexico where workers pour the Tumbaga metal—a mixture of silver, gold and brass. "I wanted to have something that has the color of silver and gold with the bright patinas, but using brass to make it strong enough to open a bottle."
Each buckle retails for $90 with the exception of the rainbow trout buckle selling for $105. They are all handmade, hand brushed pieces individually stamped with the HookNHide brand and number. There are currently six different fish to choose from. The latest one, Tarpon, has been the top seller.
Leather belts are also offered on site and have an easy snap system where you can access the bottle opener when needed, whether you're at a party or out on the lake fishing.
"I started the company almost nine years ago," said Mauldin, "But it wasn't until last year that I thought, 'You know what, I'm going to take a crack at the Southeast Wildlife Expo." That decision proved fruitful as the CEO of Orvis visited his booth and placed an order for rainbow trout buckles, which are now featured on the Orvis website as well as in its sporting gift catalog.
"Negotiating the deal with Orvis propelled me into saying 'I'm all in,'" said Mauldin. "It's been truly amazing. It's the American dream when you can come up with something very special and put the Law of Attraction out there and believe in what the Universe can do."
Related: Patagona's Simple Fly Fishing Kit Takes You to the River