You may know the belt experts over at Beltology for their work in creating an innovative belt that is both stylish and comfortable (especially since we covered them here). Crafted from various materials, every belt is interwoven with stretch to allow for an adjustable fit every time. With over 40 styles in their new spring and summer collections, it's only fitting that we go to the experts to help us debunk a few common belt misconceptions.
Tips For The Right Belt For Every Occasion:
If you're unsure which belt to wear when, Beltology co-founders Andrew Heffernan and Anna Lundberg are here to help debunk a few antiquated belt myths that may be effecting your style and comfort.
MYTH: Put Your Belt on Last: Your belt does not have to be an afterthought. Select a belt and then build your outfit around the style, color, and material. A belt can have enough personality to define a look or can can be used as a subtle way to provide detail to an otherwise bland outfit. See the Thermal in Navy as way to spice things up.
MYTH: Black and Brown Leather Belts Go With Everything: Don't limit yourself to black and brown there are many other neutrals that are just as versatile. Consider the Litmus Leather in Grey as a great intro and then expand into a few more adventurous leather colorways.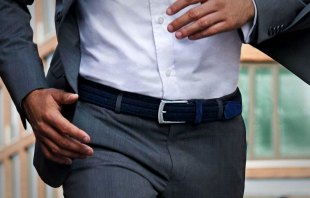 MYTH: Always Match Your Belt With Your Shoes: A recent survey revealed 65% of men believe you should match your shoes with your belt. Our answer to this outdated style rule is to stay tonal- try to match your belt with your pants. Colors should be a transition item between your shirt and pants. While we're at it, no need to perfectly "match" colors, different shades of the same color can look just as polished. The Interface in Black is a great bring a more modern look to your traditional black suit.
MYTH: A Leather Belt Is the Only Option For Formalwear: Approach a belt like a tie. Not every tie has to be silk to be considered dressed up. Likewise, not every belt needs to be leather. Natural textures are a subtle way to show your personality. Consider wool, waxed cotton, linen and rayon to spice things up. Check out the Double Helix waxed cotton belt in brown for a new way to look smart. Remember, no matter the material, each Beltology belt is woven with stretch fibers.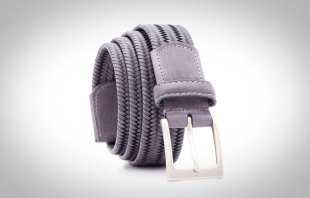 MYTH: All Belts Need Pre-Punched Holes: That thinking should stay in the Bronze Age when belts were first invented. Today, Beltology's manufacturing capabilities and premium fabric options provide a much better fit by allowing the prong to pass threw any section of the belt strap.You demand everything else in your wardrobe to fit perfectly, so why not your belt? Try the Basis in Black if you need help getting started.
Now that you know the rules, click below for a chance to win one of Beltology's stylish waist cinchers. Giveaway ends April 18th.
Editors' Recommendations