For those of you with imperfect vision and dated eyeglass frames – or those blessed with 20/20 sight who merely require a shades upgrade – the just launched brand neubau eyewear is now available worldwide to provide a modern look that won't torture your temples. Made of lightweight metal or plastic, this new mid-priced spin-off collection of on-target fashionable specs from longtime-respected Austrian brand Silhouette is appropriately named after Neubau, a district of Vienna that is now the center of that city's creative scene and home to numerous companies, shops and bars that champion the arts, music and all things cool.
Related: The 10 Best Sunglasses of 2016
Available at independent optical stores in either prescription vision or non-prescription sunglass models, neubau eyewear's glasses currently come in 12 styles but the assortment, which boasts the same high quality materials and careful craftsmanship that made Silhouette famous, will quickly expand in the coming year.
Brand manager Daniel Liktor recently shared this new collection's story – and the reasons why you should cop a pair – with me at its global launch in its hometown of Vienna (where the beer, pastries and schnitzel totally lived up to their lauded reputation, btw)….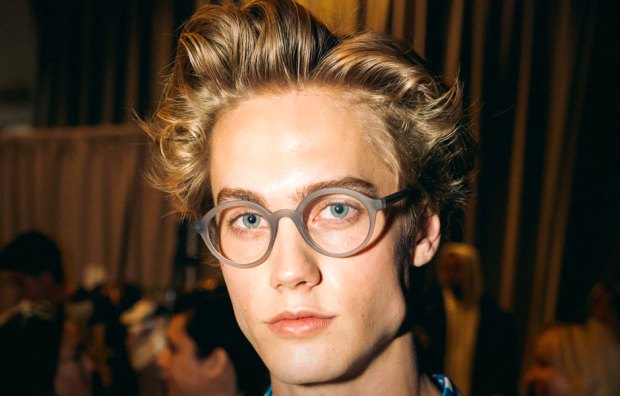 Who will wear neubau eyewear?
If you say it in general, you would name him as a millennial. But because millennials are a certain age and we don't want to stick to a certain age. We think it's better to talk about lifestyle and mindset that people share which is more into design, architecture, art and cultural direction. If you do this you don't have to talk about age. It is an adult consumer with a certain educational background. And you have those people everywhere if you travel around the globe.
And you named the brand after your city's hippest neighborhood where neubau eyewear happens to be located?
We belong to an Austrian company and are Austrian and have a certain heritage in that. Our office and our production are here so all the frames are made in Austria and the idea was to stick to that. The people we want to reach live in urban surroundings. It has to be urban and Austria is kind of limited in terms of urban options. You have Innsbruck, Salzburg and Vienna that are globally known. Salzburg is a bit old-fashioned, Innsbruck is very sporty, which we are not, so the last one was Vienna. The hipster/boho district is Neubau.
The brand is very fashion-forward but really anyone can wear it. Was that on purpose?
Yes. The idea was to kind of start in kind a commercial way so not to get too edgy and sharp in terms of design. It's always nice to have really edgy designs but you don't sell them so what we have as our starting point is a commercial collection. We've pimped it with some marketing pieces like the round "Sigmund" and the "Patrick" but overall it's pretty commercial. We play with color but it's still design-driven, unique, high quality, wearable and sellable.
Speaking of names, the styles are all named after actual company employees?
Each style is named for persons who work for the company. We picked mostly people who work in production and you can see videos about them on our website. For the "Linda" we have videos of Linda working which underlines just how handcrafted they are. It shows in-house competence so we named the glasses after our guys who produce the stuff in Austria.
How many styles do you offer?
The opening collection has 12 styles, only optical. Six of them metal, six of the lightweight polymer plastic. And in October there will be another three optical plus sunglasses. In year 2016-17 we will more than double the portfolio. The 2017 designs are already done, the prototypes are already there and we will launch in January, April and in August and October. We will enrich the whole thing and the portfolio will grow up to almost 30 pieces.
Tell me about the materials neubau uses.
The metal frames are made of lightweight stainless steel that is a bit lighter than the regular one. It's very durable and flexible. And in the plastic ones we use a certain polymer. We don't use acetate, which many in the industry do. We have our own technique. It's very lightweight, comfortable, durable and keeps its color. That's very different from many companies out there. But the most important thing is the lightness and perfect fit that we have for everyday wearing comfort.
Finally, why should a reader of The Manual buy a pair of neubaus?
I think you guys in the U.S. like European produced stuff. And here is one reason: If you want to have a pair of glasses that are premium quality made in Europe under really fair social circumstances that give you a perfect fit, a cool style and at a fair price you should buy it. And it's different. It's independent and not too big.
Photos courtesy of Lord Ashbury
Editors' Recommendations