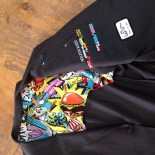 We recently stumbled upon Brooklyn-based "Free, Or Die," a custom menswear brand that started this year. The founders, Briams Beltran and Ryan Link, run the brand out of their Bushwick Loft. We love the new kid on the block at The Manual, so we decided to check it out. They invited us over to design a custom "Free, Or Die"blazer at their Bushwick haberdashery (Cocktails included of course).
The brand offers a wide range of materials for both the exterior and interior of your blazer as well as custom monograms. Our favorite options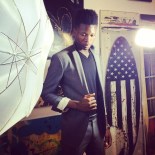 were the interiors, which included patterns resembling vintage pin-up art. You can even throw in a matching pocket-square that comes sewn as the pocket interior so you'll always have it. To our surprise each blazer comes complete with a playing card in the inside pocket (Ours just happened to be vintage pin-up too). When you go in to design your piece the guys show you fabric boards and other blazers to help you choose your style. But honestly they are there to guide and fit you. The idea is to design something yourself that fits your personality.
Beltran and Link met as custom shoppers for J.Crew. They were inspired there to create versatile menswear that would fit better than your average mainstream brand. We can safely say that they are on their way. And the price range is pretty reasonable for a custom piece. They run you about $400 (close to what you'd pay at Club Monaco). For now, they are keeping it by appointment only with an online retail site on the way. Check them out on Instagram at @freeordienyc. And if you're interested in taking a stab at your own piece contact Briams and Ryan directly at contact@freeordieclothing.com
Editors' Recommendations