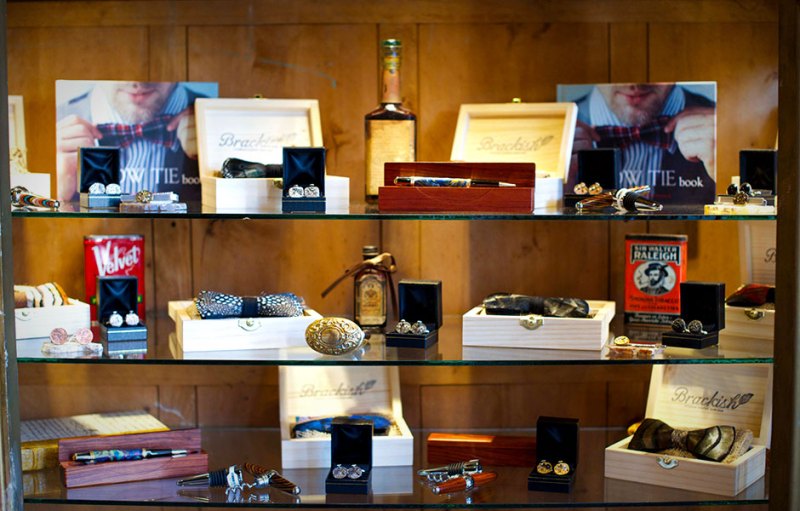 The name definitely fits: Désirant. It means "to desire," and we know you'll be desiring the exquisite assortment of men's accessories they've hand picked to showcase in the new store in Asheville, N.C. The 7,000 square foot space wraps around the Windsor Boutique Hotel on Broadway in the center of downtown.
When you walk in the front door of this French-inspired gallery, there's an antique chest to the right that holds a bevy of men's items. We were immediately drawn to Brackish bowties made from feathers, but there are also stylish cufflinks, clever corkscrews, designer pens, and other items. We also honed in on a separate display of clever antique clocks crafted by a local artist. Each clock features a feather for a long hand.
While the owners of the Windsor Boutique Hotel and Désirant are from Miami, the staff take pride in showcasing local art, crafts, and one-of-a-kind items linked with local entrepreneurs and designers. They created the retail concept to offer a one-stop shop for apparel, accessories, art, gifts, and items for the home and decor.
A seated cafe bar adds to the rustic, comfortable charm with espresso and local baked goods available to snack on. There are so many unique items in this shop that it requires spending time in each area more than once to fully appreciate the inventory. Every department intertwines throughout and complements each other, while fully illustrating the store's motto: See Beauty in Everything.
Store hours: Monday – Thursday 10 a.m. – 6 p.m., Friday – Saturday 10 a.m. – 9 p.m., Sunday noon – 6 p.m.