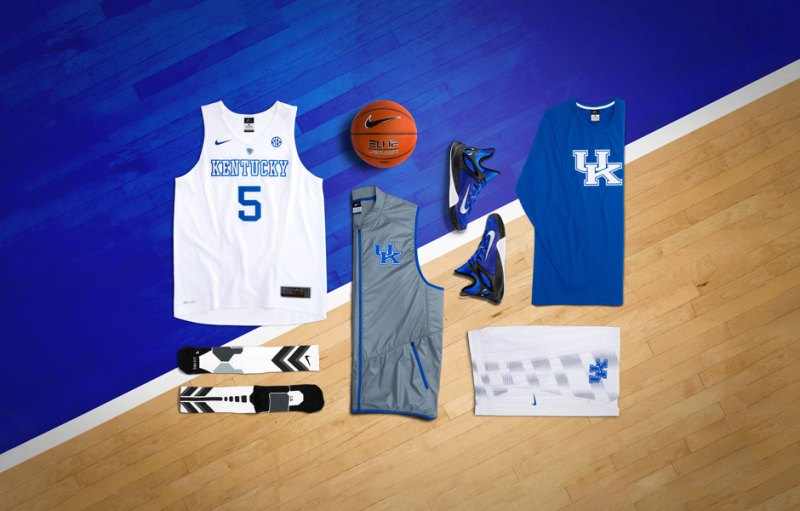 NCAA March Madness is just a few short weeks away. That means you're going to have to get ready for the office bracket competition, save a sick day or two so you can catch all the action during the opening week, and perhaps alienate a loved one or two as you attempt to watch approximately 100 hours of basketball in eleven days.
It also means that Nike is unveiling their Hyper Elite uniforms in preparation of the 2015 NCAA Tournament. Now, sometimes, special edition college basketball jerseys can turn out a little, let's say dicey—but that is not the case with Nike's Hyper Elite line. These uniforms are simple and refined (yes, this writer certainly does think a college basketball jersey can be refined!).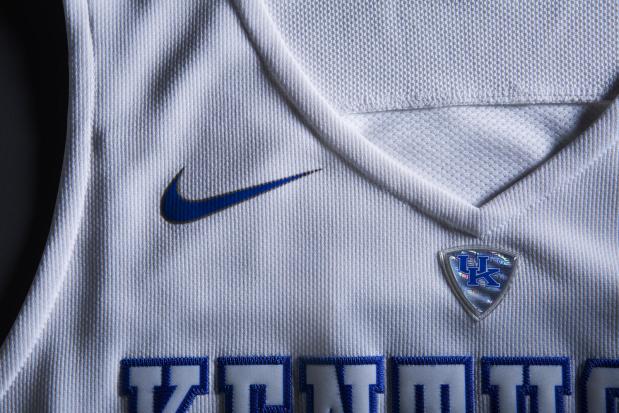 The home jerseys for each team features a solid white base with the school-specific colors and the iconic logo across the side of each short. The angle of each school's graphic is set at 26 degrees, which was inspired by the chevron on the classic Nike Windrunner track jacket that debuted in 1978. That fact, and the overall clean design, gives this year's Hyper Elite collection a timeless look. But these jerseys aren't throwbacks—the V-neck design is a departure from the old-school rounded collar and armholes. There is a flocked lining inside the neck that makes for quick and easy sweat removal. The ultra-lightweight stretch mesh in the jerseys back aids in temperature regulation along the spine, which is where athletes tend to heat up the most. Plus, Nike has redeveloped the lightweight sphere fabric in the front of the jersey to further maintain a comfortable body temperature by wicking moisture while eliminating cling from excess sweat.
Related: Talking March Madness with Villanova's Jay Wright
This year, the Hyper Elite men's collection includes the University of Kentucky (the favorites to win the tournament), Duke University (the team expected to give Kentucky the biggest challenge), University of Arizona (another possible contender), Syracuse University, University of Florida, and University of Oregon (right in Nike's backyard). The women's collection includes perennial powerhouses Baylor University and the University of Connecticut, so those of you out there with a Lady Bear or Lady Huskie in your life can pick up a jersey for your girl.
March is the most wonderful time of year for college sports fans. Whether you're a proud alumnus or just looking for a little extra good luck in your bracket, get into the spirit of March Madness with Nike Hyper Elite college basketball jerseys.
Photos courtesy of Nike.