Looking for something that looks classic, but feels modern? Cole Haan's new GrandPrø Tennis Shoes might be just the ticket. It's inspired by vintage tennis shoes, with a functional design that fits in much better in the technology-fueled sneaker world. The GrandPrø's main feature is its lightweight design, a result of its unique heritage.
The GrandPrø Tennis Shoe is the newest release based on Cole Haan's Grand.ØS platform. When a shoe carries that moniker, it carries with it certain benefits. In the case of the GrandPrø, it means impressively light construction – just 8.8 ounces. It means a specially designed motion outsole that helps flex and bend naturally as your feet do, with an energy returning foam built right in. It also means a deceptively breathable upper, to help keep cool as the summer rolls in.
"There's one thing we want to convey about this product: try it on." commented Cole Haan chief marketing officer David Maddocks, "It is shockingly light in weight and remarkable in cushioning and comfort. This sneaker will blow your mind."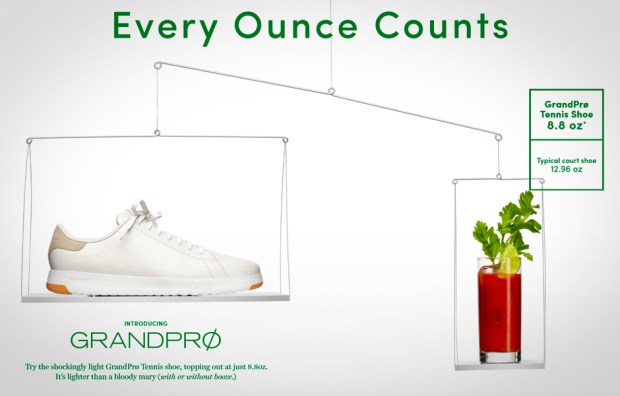 But it's hard to imagine 8.8 ounces on its own, so Cole Haan has provided a handy visual comparison to show just how little the GrandPrø Tennis Shoe weighs. Creating a sneaker that weighs less than a bloody mary is definitely an impressive feat, especially for a company that falls more on the lifestyle side of the sneaker world.
The Cole Haan GrandPrø Tennis Shoe is available now on Cole Haan's store page, in a variety of colors. The optic white, silverfox, and black pairs cost $130, while the Woodbury Handstain and Blazer Blue Handstained versions will cost you $150. They're available in women's sizes too, with silver, optic white, black, dusk blue, and blossom, plus a Roccia snake print for a unique twist.
Editors' Recommendations