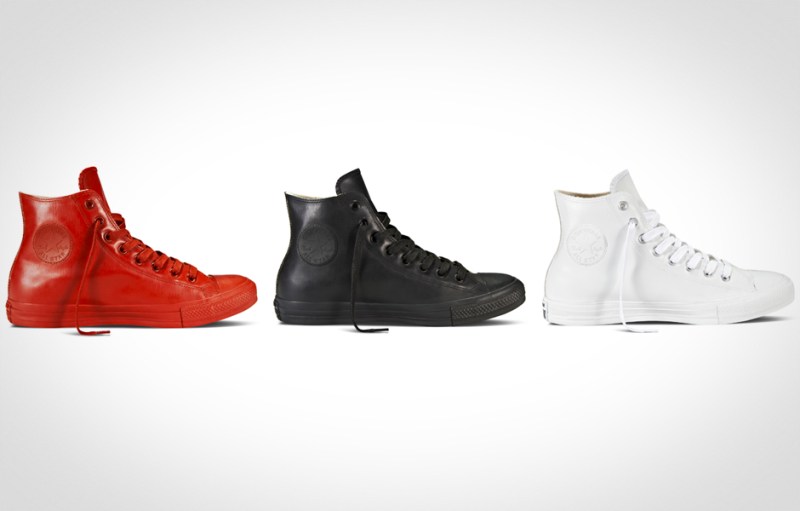 Converse Chuck Taylor All Star's are the go-to sneaker for almost everybody from prepsters to hipsters and most everyone in between. We've seen them distressed and lace-less, coated in paint, and of course as classic as classic gets – the iconic black canvas shoe with a white rubber toe. Converse All Star's are available in an array of colors, and these sneakers are perfect for everyday use – unless you step in a puddle. Now there is a solution for those rainy fall days.
Converse has released their fall 2014 Chuck Taylor All Star Rubber Collection, and the sleek, monochromatic styles which went on sale last week are already flying off shelves. This collection of water resistant sneeks features a fleece lining to keep your toes extra toasty, something completely unexpected from the casual brand.
The shape is the same one you're used to, complete with a gusseted tongue and brass eyelets, these All Star's will protect your feet during those muddy commutes to work, so leave the loafers at the office.
Converse was established in 1908, and the brand has built a reputation as "America's Original Sports Company" and has a rich heritage and reputation with their legendary sneakers, including the Jack Purcell and the One Star. Converse doesn't only sell the canvas sneakers, they've expanded into leather-wear as well and can be found in over 160 countries and 87 company owned retail locations in the United States.
Back to the rubber shoes that have us shoe nerds pumped – there are seven bold colors to choose from: black, purple, green, blue, red, yellow and a special monochromatic white version sold exclusively at Converse stores nation-wide and the companies website converse.com.
Finally, we can look forward to a little bad weather.
Check out the full collection here at Converse's website.
Editors' Recommendations