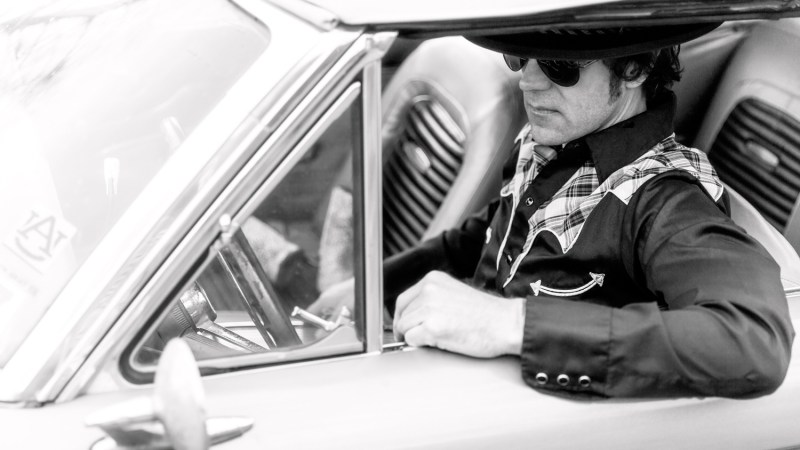 For this week's Worn Out Wednesday we speak with singer/songwriter Boo Ray about his transition from craps table to Nashville and his own personal style.
Howdy, I'm Boo Ray. I'm a full-time troubadour and Nashville Tennessee is home. I grew up in the mountains of western North Carolina around a bunch of ornery ol' flat-pickers and a couple of good blues players. At about 12-years-old I heard "The Highwayman" by The Highwaymen and knew I had to be a songwriter. I had my first working band at about 16 years old; Bass, Drums & Guitar. Bass Player sang good harmony. I've vagabonded around the South doing troubadour work for a few years and wandered out West in '05.
I started coming to Nashville in '07 after I met a couple guys at a craps table in Las Vegas and we all hit the table for about 14 thousand dollars. We had become good friends by the time we were done throwing dice and we're still good friends today. Turns out those guys had a publishing company and started flying me to Nashville for a week or so at a time for songwriting appointments…
Along the way, I got kinda stranded in Georgia and wound up moving to Nashville full-time in 2012 with a girl so she could join The Nashville Rollergirls. The girl split, but I got a good publishing deal and things started to workout. I released the "Six Weeks In A Motel" album in 2012, sang on the Opry with Marshall Chapman in 2013, recorded "Sea Of Lights" album 2015, released it 2016 and just finished recording a new album set to release 2017.
I'm busy playing dates in support of the "Redneck Rock & Roll" single which just hit radio. There's a cool video coming out for that too. And we're working on the release of the new album. I'm looking forward to seeing y'all in a honky-tonk near you sometime soon.
When I was a kid, I wore boots and jeans and snap-shirts and trucker hats and once I saw Smokey and The Bandit my style direction was pretty much set in stone. My dad was a cowboy and contractor, operated heavy equipment and drove trucks. So yeah, I've been dressing the same way since I was 12-years old.
Jeans: Levis 527, 517
My Dad was an old school California cowboy and wore Levis 517's. I remember one pair he said he'd had since college. They were bootcut button fly and had copper buttons and rivets. I haven't figured out what model number they were, but the closest thing I've found to my memory of 'em is the Levi's Skinner 517. It's a bootcut button fly. I get the rigid denim. They're tough and stay in good shape for a long time.
Shirts: H Bar C
My Grandfather wore H Bar C shirts and began giving me a shirt every now and then once I was full grown.
Pants: Wrangler Polyester Wrancher Pants
Troubadour Suits: Ellie Monster
Ellie Monster is a western wear designer in East Nashville. She's got a real fresh take on the classic designs. Ellie does excellent piping, great embroidery, rhinestones, whip-stitching and her stuff has a great rockabilly look.
Business Suits: Billy Reid
Billy Reid's an Alabama Gulf Coast hero. His clothes are great & he's cooler -n- a mint julep.
Accessories:
Knife – Been carrying a Benchmade since I was 16.
Horseshoe & Skull Ring – My good buddy Rich Sandomeno is a cutting edge designer and silversmith. Rich is rockabilly as hell, drives an old Duce Coupe, rides a kick start bike and probably has his hair slicked back and a cuff in his jeans right now. Rich made my horseshoe ring and my skull hat pin.
Shoes:
Olathe Boot Company – I'm real proud to be an official Olathe Boot Company endorser alongside Turnpike Troubadours and 22 time world champion bronc rider Shawn Minor. Olathe's made excellent handmade cowboy boots in the US since 1875. Wearing a pair of Olathe Boots is a particular high quality experience. My Olathe Boots are as important to me as my old flat-top Gibson guitar.
Converse Chuck Taylor Allstar – If you're not gonna wear boots there's just no other choice than a pair of Chucks.
Accessories: HatWrks Nashville
Giggi at Hatwrks in Nashville is an excellent hatter. If you get a hat from Giggi you won't see anybody else wearing a hat like yours. She uses the best felt hat blanks, has the coolest colors, blocks her own hats, makes great custom hatbands, and does pencil curls and bound brims.
Outerwear: Live True Vintage
I have pretty good polyester western wear collection. I like the Levi's and Lee western leisure jackets a lot.
Favorite cologne: Glockengasse 4711
4711 is an old school drugstore cologne. JFK wore 4711 and I think Colin Farrell wears it.
Favorite app: iFart App
iFart was damned funny for a minute… but then I'm a sucker for the classics.
Favorite piece of technology: Vinyl Records
This year I'm releasing a couple of 12″ vinyl records and a couple of 7″ singles. Kindercore Vinyl in Athens Georgia is a new cutting edge vinyl manufacturer that's pressing all my records.
Next style/gear purchase: Some new vinyl or a mesh-back cap from an Alabama truck stop.