You might notice something odd about the Black Manufacturing website — everything is sold out. If you see something in stock and you want it, act fast, because you never know when there will be more. When Adam Fous started Black Manufacturing, he didn't set out to create an ever-expanding brand or revolutionize streetwear. Black Manufacturing is what he makes of it, and not what it demands of him. The time and enthusiasm spent on design is immediately noticeable, and the clothing all has a spartan, concrete style to it. Every product is born out of natural inspiration, the kind you can only find when you aren't trying to please investors or expand into new markets. "We do what we want, we make shit if we feel like it," says Fous, "It's done very well when we do."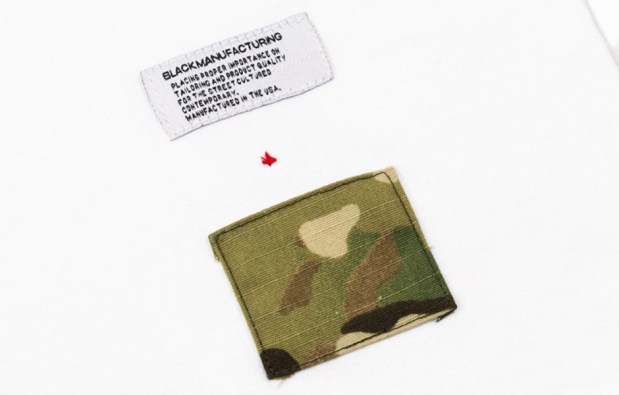 Every time Black Manufacturing releases a new line, there isn't much of it to go around. The products are all locally sourced and constructed from the highest quality materials, and small batches ensure the company can check quality again and again by hand. Once you've seen the products, you'll be watching the website for the next release, too. Clean lines, tiger-stripe camo, deep blacks, and slate grays all offer their own simple charm, providing a classic base for hats, shirts, and pants.
Every piece in the Black Manufacturing line is made in Portland, Oregon, using local materials and manufacturers to ensure everything is perfect. That doesn't just mean guaranteeing that everything is put together and no stitches are missed, but also that the shirts hang just right, the fit on the hats is perfectly comfortable, and every color is exactly as consistent as it's supposed to be. The logos and decorations are few and far between, adorning the products with the kind of details that make a simple shirt really pop.
Fous focuses on the product rather than profits, brand growth, and marketing reach. He's set out to craft a brand with a singular focus, evoking a mood that he personally guides. There's no calendar or press releases to let you know when something new is coming, just an Instagram post, if you're lucky. Your best bet is to add the Black Manufacturing website to your bookmarks toolbar and check it often until you can get your hands on a camo pocket shirt, or a blacked-out snapback with a mere X stitched into the front — the closest this understated brands comes to having a logo.
Fous noted there might be a traditional store in the future, but it will be the only brick-and mortar-spot you can get your hands on some of his fresh streetwear. Make sure to take the time to enjoy every detail if you do manage to get an article of this coveted attire, but please, no selfies.
The Black Manufacturing website is the only place to get a hold of this limited gear. You can also check the company's Instagram account for additional updates and new additions to its line.