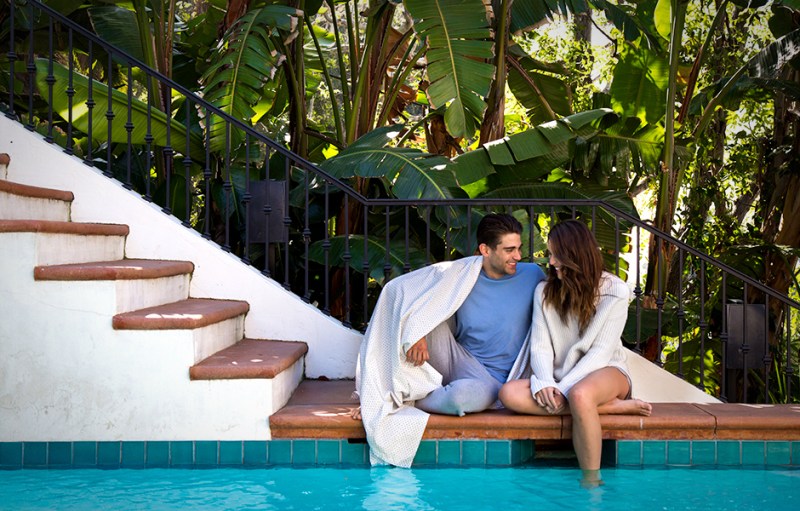 The ever-upticking menswear boom has seen recent sales outpace both computers and beers and managed to stretch its reach through to grooming. The just-launched debut collection from Thread Experiment hopes to extend that growth into a new category: Home bedding.
Bedding dedicated entirely to men? Pause your head-scratch for a moment and allow creative director Justin Mikita (husband to Modern Family actor Jesse Tyler Ferguson) to explain: "Bedding is largely designed with women in mind, and because no one has been brave enough to design and market to men. Men have never been taught to care about their bedding. So we wanted to change that, we want men to care."
Related: STUMPTOWN NITRO COLD BREW: IT'S LIKE GUINNESS, BUT COFFEE
For Thread Experiment's debut SS15 line, Mikita, along with co-founders Greg Shugar and Greg Winner, included 16 original-designed duvet/comforter and sham sets, including an array of solid and print sheet and pillow sets ranging from nautical and geometric shapes to paisley and tartan prints.
"I wanted to capture traditional menswear patterns that continue to make statements within the menswear market (houndstooth, herringbone, chevron, plaids…) but I also wanted to take traditional bedding conventions and flip them on their head and make them masculine."
Included in that: A no pink policy.
"As men, don't we want to be catered to? Don't we want to have a little bit of TLC in making us feel like our products are made for us? That's what we wanted to do here. And, hopefully, we are."
There's also a charitable component to their efforts: With any purchase of a full bedding set from its collection, Thread Experiment will donate a full set of bedding to a homeless shelter or qualifying housing charity in need.
Prices for Thread Experiment bedding collection start at just $99 for sheets, $138 for duvets, and $168 for comforters, and can be purchased at www.threadex.com.
Editors' Recommendations