If you've explored alternatives to cable TV in any depth, you're likely aware that Sling TV is one of the most interesting options out there. What you may not be aware of, though, is that there are some Sling TV channels that you can access without paying any subscription fees at all. Sling's Freestream service offers a wide array of channels that you can watch completely for free, and they've just added 16 new channels to that lineup.
These new channels include ones focused on history, science, and true crime, as well as several Spanish-language options that add to Sling's already robust lineup of Spanish-language channels. Here's a full rundown of all the new channels that Sling is offering, along with descriptions of the channels directly from Sling:
MagellanTV Now – A linear streaming offering of global documentary streaming service MagellanTV. Explore the rich and dramatic stories of real life, from the discoveries of science that shape our lives to the majesty of nature, and the people and events that shaped history.
True Crime Now – From global documentary streamer MagellanTV, True Crime Now features hundreds of hours of true-crime documentary films and series, with thrilling new content added weekly. On True Crime Now, the dark side of human nature meets the quest for justice in stories of notorious serial killers, criminal psychology, organized crime, the paranormal and more.
Space Science Now – Space Science Now features a deep collection of premium space and science documentaries and series carefully curated by MagellanTV's team of award-winning filmmakers. The channel's robust catalog explores everything from black holes to dark matter and beyond.
History & Warfare Now – Offers an array of content sourced from MagellanTV's vast collection of historical and modern-era war and military feature documentaries and docuseries.
Wild Nature Now – From global documentary streaming service MagellanTV, Wild Nature Now explores the Earth as it once was, where predators and prey enact the ancient rituals of survival, and the pulse of life molds ecosystems as rich and majestic as the creatures that inhabit them.
Forensic Files – Sit down with experts and look through evidence to solve real crimes, disease outbreaks, and accidents around the world.
Unsolved Mysteries – Hosted by Robert Stack, this series uses reenactments and interviews to retell the circumstances of mysteries that remain unsolved. Covering crimes, tales of lost love, unexplained history, and paranormal events.
FilmRise True Crime – Classic true crime shows from the mysterious to the ridiculous with acclaimed series like Unsolved Mysteries and Forensic Files.
Hell's Kitchen / Kitchen Nightmares – Get your fill of cutthroat contests, culinary cookalongs, and delicious drama from shows like Hell's Kitchen and Kitchen Nightmares.
FilmRise Western – Saddle up and head West to watch acclaimed series like The Rifleman and The Real McCoys, plus iconic Westerns features starring talent like Tony Todd and the late Christopher Reeve.
Heartland – Visit the Heartland ranch and its close-knit multi-generational family in Canada's longest-running hour-long drama series.
Miamivelas – Explore Miami through different productions that will take you on a tour of exciting locations.
¿Que Pasa, USA? – What is the experience of leaving your country for one you don't know? Find out together with the Peña family.
Una Familia Con Suerte – A good deed completely changes Pancho's life. Do you want to witness this stroke of luck?
Vevo Iconos Latinos – Videos and performances from Latin music's most legendary artists.
Vevo Regional Mexicano – From mariachi to banda, videos, and performances that define the genre.
These new channels include four focused on true crime, as well as a number of others dedicated to offering educational content or classic Americana. With the four new Spanish-language channels now available on the service, Sling now offers over 80 different channels in that language.
How to watch Sling TV's Freestream offerings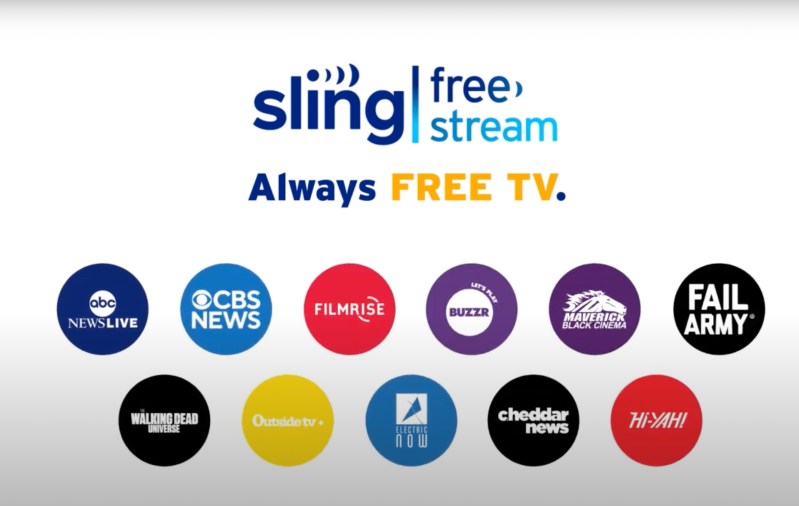 If you're interested in checking out any of these new channels yourself, or you want to check out any of the more than 200 channels that were already on the service, it's available on a wide array of different platforms. Freestream is available through the Sling app on Roku, Amazon Firestick, Xbox, Playstation, as well as most smart TVs. Of course, Sling TV also offers a paid subscription that gives you access to additional channels. With Freestream, though, you can watch plenty of the stuff that you're interested in for no charge at all.
Editors' Recommendations