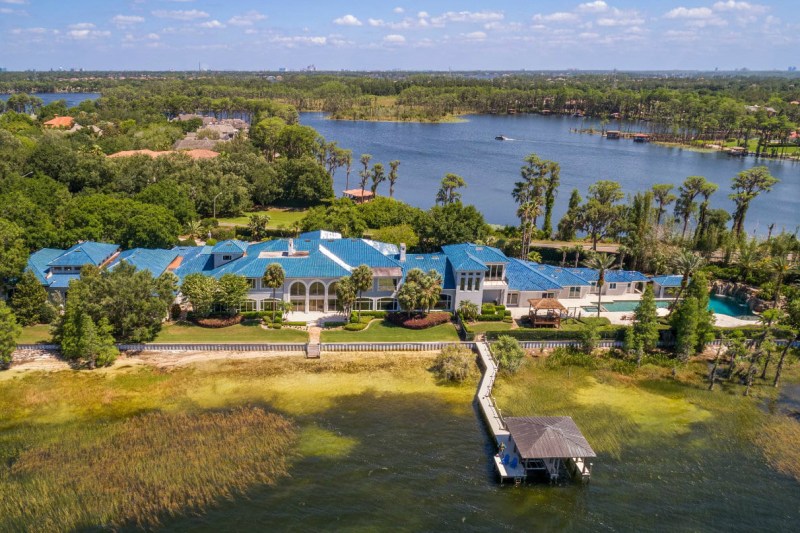 NBA legend Shaquille Rashaun O'Neal, better known as "Shaq," listed his Neo-colonial Florida mansion to the tune of $28 million back in May 2018. Sad face for the 7'1" athlete, because roughly seven months later, the multi-million-dollar home still has a "For Sale" sign staked in the grass.
Shaq dropped the price to $21.99 million in December, joining a slew of celebrities who slashed the asking number of their mansions, including Serena Williams for her Bel Air estate, Birdman's luxe Miami Beach crib, Scottie Pippen's suburban mansion, and Selena Gomez's Texas retreat. Not to mention the iconic "Scarface" mansion that dipped from $35 million to $17.9 million.
Shaq was probably tired of hearing about money, money, money… he just wants to play, drink Pepsi, and wear Reebok, after all.
The Big Shamrock's former 31,000-square-foot, 12-bedroom home still sits in a high bracket (Can you imagine the air conditioning bill?), but that's because it houses an Egyptian-themed aquarium room with saltwater triangular fish tank, a 17-car showroom garage, a fitness center, a massive 6,000-square-foot indoor basketball gym, and 2,100-square-foot dance studio. (Dance?)
And that's just the beginning. So what's it like to live in this Florida mansion?
Living like Shaq at 9927 Giffin Court means reigning over three acres overlooking Lake Butler and being a stone's throw from one of the most prestigious private golf communities in the world, Isleworth.
Inside the home, there's a Shaq-sized, two-story great room with elegant marble fireplace and glass walls, plus a 16-seat dining room featuring hand-crafted wood paneling. You'll want to eat like Shaq too, so bring your personal chef and they'll get to use a private kitchen. During the week, meal prep in solitude with the Viking six-burner gas range, griddle, and Wolf steamers. There are also two Sub-Zero refrigerators, because Shaq. That means more IPA for you and your friends.
The sound-proof home theater room (yes, there's a bar in there) is cool, but we're stoked over the gentleman's room equipped with game tables and wet bar. Not feeling hard booze? Scamper down to the temperature-controlled cedar humidor and wine storage.
Dive into the 15-feet-deep pool with custom waterfall or soak in the massive sunken hot tub. Shaq's tiki-style cabana overlooks the beach of the lake so booze up (responsibly) before heading out on your private boat dock. Might I suggest the Lexus LY 650 yacht?
You'll probably be exhausted after traversing the property, so sleep like a king in the master retreat, which takes up a full wing of the estate. That's 900-square-feet of sleeping area, which is more room than our entire apartment.
Hopefully, Shaq will find a buyer soon – otherwise, he'll be left with a giant-sized home for a giant-sized star – which, when you think about it, isn't that bad…
Editors' Recommendations