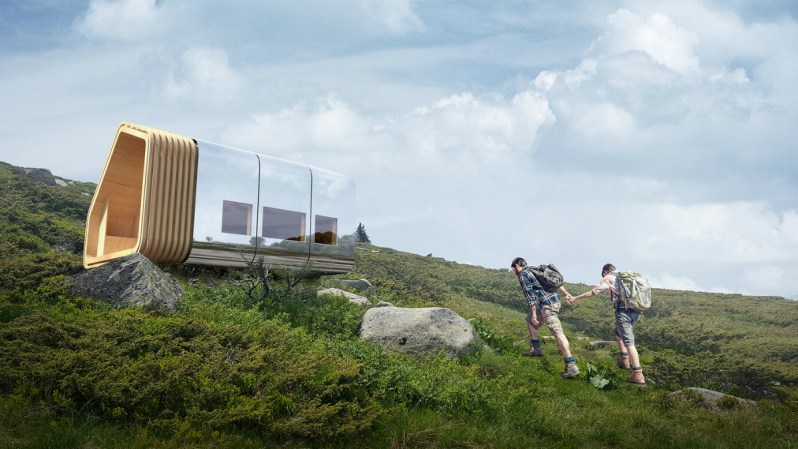 A helicopter thwapping overhead lands in a remote mountain range and drops off four aluminum-clad pieces: Module A through D.
These are the minimalist building blocks of modular mountain shelters, designed by Bulgarian architects Lusio Architects with Krassimir Krumov and Ivanka Ivanova. Deliverable just about anywhere, these piece are put together to form modern "hiking huts" that have traditionally been built in alpine landscapes for decades, providing safe havens for explorers faced with nasty weather.
Many old mountain shelters are seeing their final days as weather and wear does its damage. However, these new modular huts promise simple delivery and assembly. So expertly designed are these structures that their proposal walked away the winner of the "Architecture of 2050" competition.
Combining sustainability and technology to address the critical problem of mountain safety huts, Lusio's modular mountain shelters were crafted to appear hidden in the landscape during normal weather and become beacons during extreme shifts and dense fog. Lights and sound draw hikers to the shelters, where a direct video connection with a near mountain rescue team activates automatically as you walk in.
The floor heating system is run by solar and wind energy. One of the four chunks of the building has an outside rain collection and filtration system. Those seeking shelter will also find hanging hammocks along the walls to act as resting places. Even this hammock design takes into account four different modes: the "lone survivor"mode (aka one person in the hut), "surviving family" (four people), "group of seven casually surviving," and a final "crowd of 15 struggling for survival."
This shelter won't rely on outside rescue alone to help you survive. Depending on the weather condition, the shelter adapts to three other "modes" that ensure greater safety:
"Find Me Mode" activates external fog lights as capsule sensors detect changes in the humidity, pressure, and wind speed, signaling for for these lights to become more visible.
"Rescue Me Mode" is set off when the module detects drops in the outside pressure, fog thickness, and wind speed. Fog lights turn on and a siren blares. Once a person steps into the shelter, the smart hut says "let's get toasty" and warms the floor. Weight sensors judge how many people are inside and active ventilation flaps accordingly. By now the video screen has come on connecting those inside with rescue teams, as well as providing real-time weather updates and a forecast for the next 24 hours.
"Relax Me Mode" is like a frog when it blends into a tree and doesn't want to be seen. When the weather is peachy, the capsule disguises itself into its surroundings via mirrored walls. Hikers are still welcome to come in for a moment of rest and shade, where video control is activated in case of emergencies.
Before you pack your hiking bag and set off to parts unknown giddy to find a new modern mountain shelter, know these digs aren't set up quite yet. The design prototype is being delivered fall 2018 and, if found successful, a shelter will be set up in Antarctica by the Bulgarian Antarctic Institute.
Who's down for an epic expedition across in Antarctica!
Editors' Recommendations