We know we've been bombarding you with a heap of Star Wars content recently, but this life-size model of a TIE fighter was just too good not to share.

British YouTuber, inventor, and all-around badass Colin Furze has built a number of cool contraptions over the years, including a video game-accessible microwave, a homemade hoverbike, and a jet-powered Go-Kart, to name a few. He even holds a number of Guinness Book World Records (fastest scooter, longest motorcycle, largest bonfire, etc.).

In celebration of the newest intergalactic installment, Star Wars Episode VIII: The Last Jedi, Furze constructed a life-sized remake of Kylo Ren's TIE silencer spacecraft that is so cool, even a non-Star Wars fan can appreciate it. (OK, so it's technically a TIE silencer, not fighter … but you get the idea.)

Furze was behind a similar project last year that coincided with the release of Rogue One: A Star Wars Story — a life-sized AT-ACT Walker. Whether you believe it or not, Furze purchased all of his materials from eBay, who aided in the building of both the TIE silencer and the AT-ACT models.

One week before the The Last Jedi debut (which is December 15, by the way), Furze shared a "making of" video of his new TIE silencer so we could see how everything came together in just six weeks. First, Furze bought a toy model of the TIE in order to bring his life-sized replica to full-scale proportions.

This project was so big that Furze was forced to move locations, obtain heavy-lifting equipment, and a few helping hands for the building process. Because of the size of the model, the team welded steel beams and floor grating for much of the TIE silencer frame, wings, and cockpit. The video then shows highlights of some of the more challenging and visually pleasing parts of the process.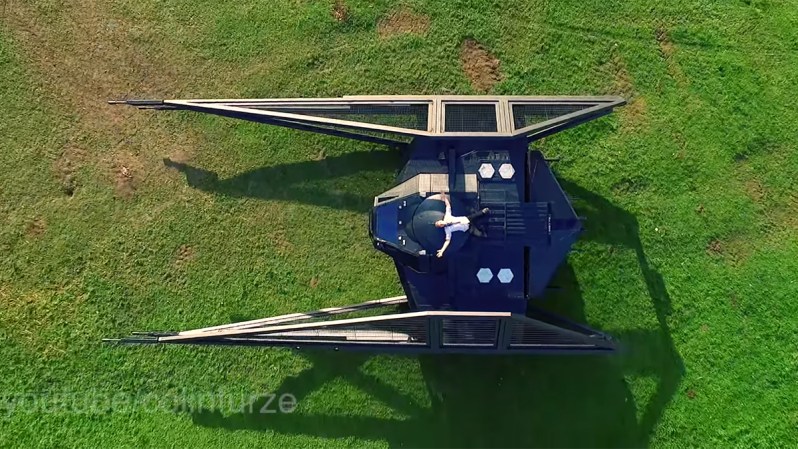 Furze acknowledged that each little touch was meticulously designed to make things perfect, and that took just as long as piecing together the frame itself. That's right. Each side pod, pretend weapon, and hatch was built to match the ships that are seen seen in the new movie.
To check out some of Colin's other projects, head over to his YouTube channel or website. For some last minute holiday present ideas, our Star Wars gift guide is worth a look.
Editors' Recommendations