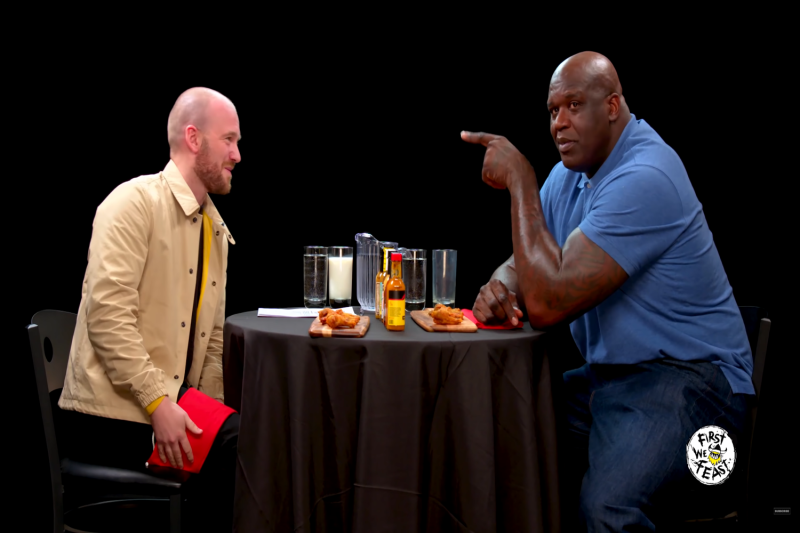 It's hard to argue there's a better celebrity interview show in existence right now that can beat the Hot Ones. Host Sean Evans interviews celebrities over a tray of increasingly spicy chicken wings, but the concept is only part of the fun. Evans is a deft interviewer with immense skill. The questions he poses to guests are often much more personal, wacky, or even humanistic than the typical fare on a late-night talk show or another interview series. The combination of hot sauce insanity and personalized questions make it unlike any other online show.
With 20 seasons so far, Hot Ones has become something of a YouTube sensation. Like Between Two Ferns or some of the best episodes of Seinfeld, the show derives its comic gold from seemingly nothing at all. There's spontaneity, surprisingly interesting small talk, and an occasional revelation or two, all set to the requisite watering eyes and nose-blowing that come with eating hot wings. Guests routinely forget the questions that are posited, thrown off completely by the intensity of the hot sauces.
With such a foolproof foundation, there really are no bad Hot Ones episodes. But because it's so dependent on guests, certain shows stand high above the crowd. Here are the best Hot Ones episodes so far.
10. Justin Timberlake
Most people find JT quite likable and this episode fully solidifies that. Timberlake is candid and charming and even rates his own albums after a few bites of some spicier chicken. Watching him try to hold it together toward the end is what Hot Ones is all about.
9. Will Ferrell
It's tough not to throw Will Ferrell in any list involving laughter. While this episode starts out a bit cagey, it really opens up a few wings in. Ultimately, Ferrell is his freewheeling self and clearly can't cope with some of the spicier wings, sipping milk often. "I'm glad I've already had all three of my children," Ferrell says before patting some XXX sauce on a wing. "Because this will render you impotent."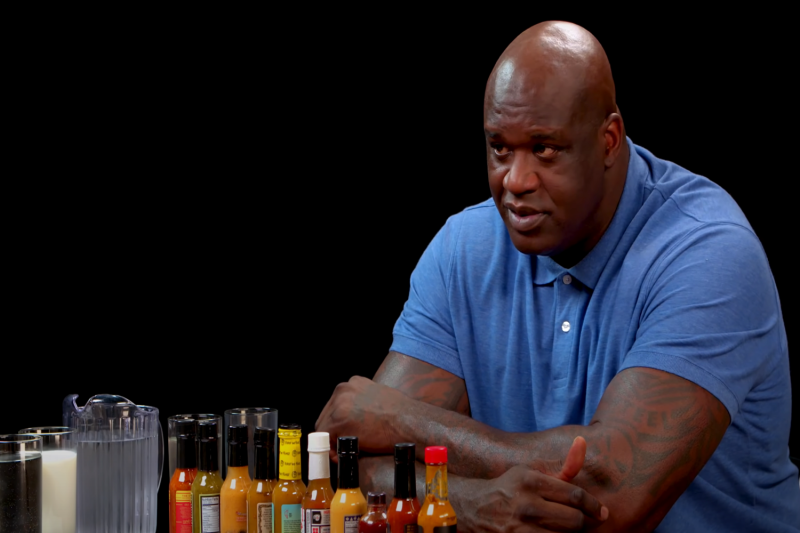 8. Shaq
In fairness, Shaquille O'Neal would probably be funny even if he was just sitting in front of a camera reading Chaucer. Regardless, this episode from season eight is fantastic, fit with Shaq packing his own gallon of milk onto the set. The former basketball star's face while devouring the chicken is priceless, and the guy is clearly a well-trained ham, built for the camera. Sadly, the big fella can't get through all 10 wings, which places him on the show's hall of shame list.
7. Millie Bobby Brown
There aren't many young TV stars with more electricity surrounding them than Millie Bobby Brown. The biggest name from Netflix's sci-fi hit Stranger Things, Brown has been in the spotlight since she was a preteen. Now heading into adulthood, the actress was able to let her hair down a little while needing a heaping glass of milkshake to make it through the spicy hot wings. a shoutout goes to her co-star Noah Schnapp, who makes a random appearance at the beginning of the interview, adding even more levity to the video!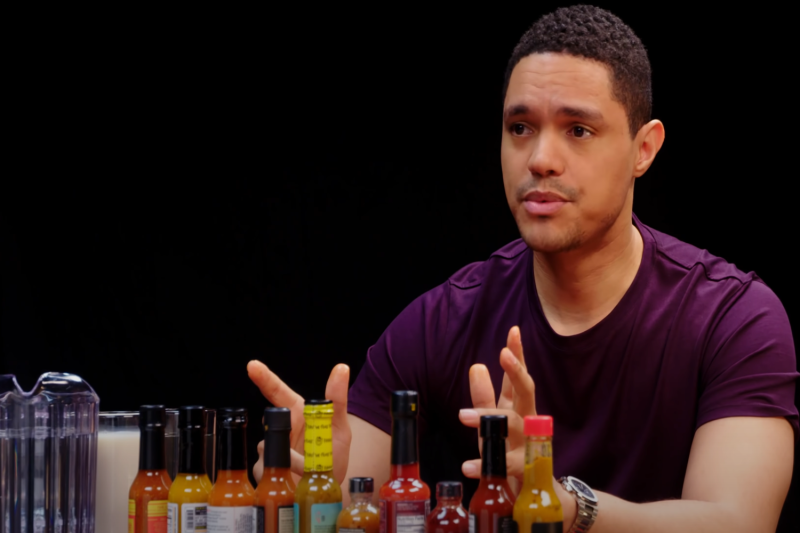 6. Trevor Noah
It's nice to see Trevor Noah in the hot seat, as the former The Daily Show host is usually the one doing the interviewing. Noah drops some serious knowledge — and opinions — trash-talking beef jerky, championing political satire, and encounters with Chrissy Teigen. There's even a great anecdote about being stuck on a rollercoaster. Oh, and he admits that his favorite kind of spicy food is the kind that dances across his tongue like Fred Astaire.
5. Bryan Cranston
If you've watched any good TV in the last three decades, it's more than likely Bryan Cranston has gotten your attention. The living legend who has played antiheroes and goofy dads alike is also one of the most interesting people in Hollywood. Sean Evans gets Cranston to open up about his passion for acting, which still burns into his late 60s along with his nostalgia for Los Angeles Dodgers baseball. Cranston goes through the gauntlet with relative ease, but we wouldn't expect any less from Heisenberg. Say his name!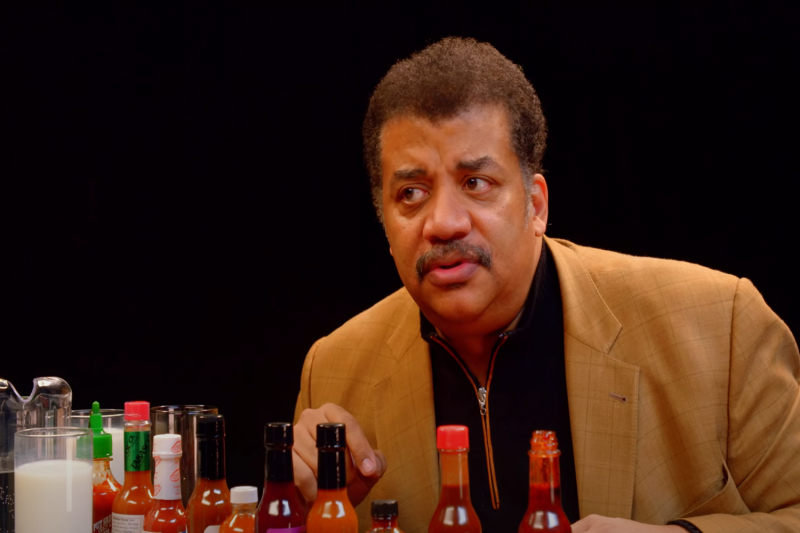 4. Neil deGrasse Tyson
Astrophysicist Neil deGrasse Tyson is a tremendous Hot Ones guest. As you'd expect, there's plenty of space talk, set to funny quips about the various sauces. Tyson is as convivial as they come, chatting about fine wine and dropping some glorious science en route. Never would you expect the guy to say something like, "I took two bites, bitch!"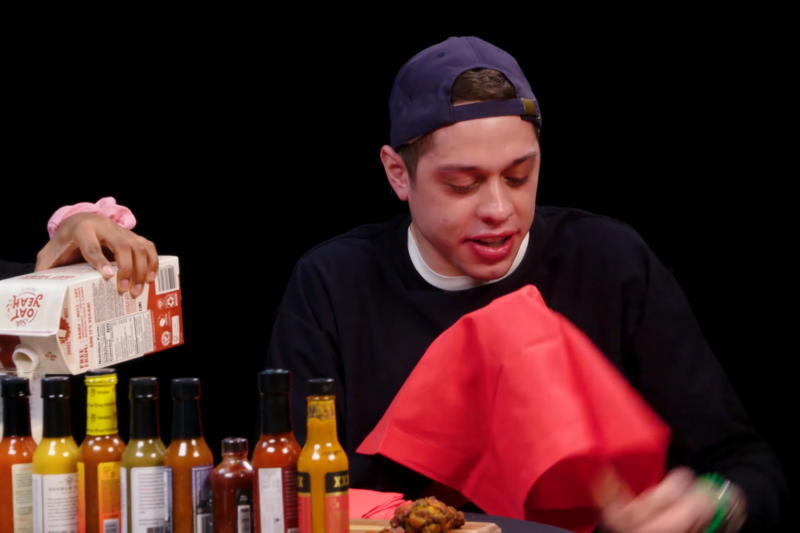 3. Pete Davidson
Comedian Pete Davidson admits right from the get-go that he's not cut out for spicy food. The wings deliver one blow after another, between riffs about Keanu Reeves, paparazzi, weed, and baseball. By the end, Davidson is clearly struggling, in knee-slapping fashion.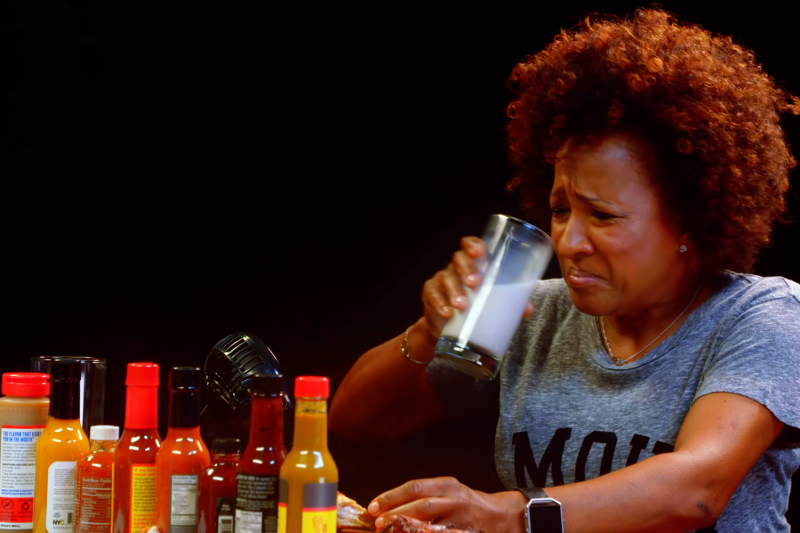 2. Wanda Sykes
Comedian Wanda Sykes has a brilliant strategy for getting through the wings, cooling herself with a small fan. You learn a lot about the guest's background, including her former stint as a government employee. The wings tend to sneak up on Sykes, and the way she deals is so relatable (you can practically taste it as she soldiers through) and so watchable.
1. Gordon Ramsay
Over four years after its initial airing, the interview with Gordon Ramsay remains a gem of Hot Ones. The feisty celebrity chef talks about his children wanting him to go on the series, and Evans was thrilled to add him to the lineup of guests. Ramsay's signature swearing and ability to retort on a whim are intact here, and the video remains the most viewed interview in the series' history.
Editors' Recommendations