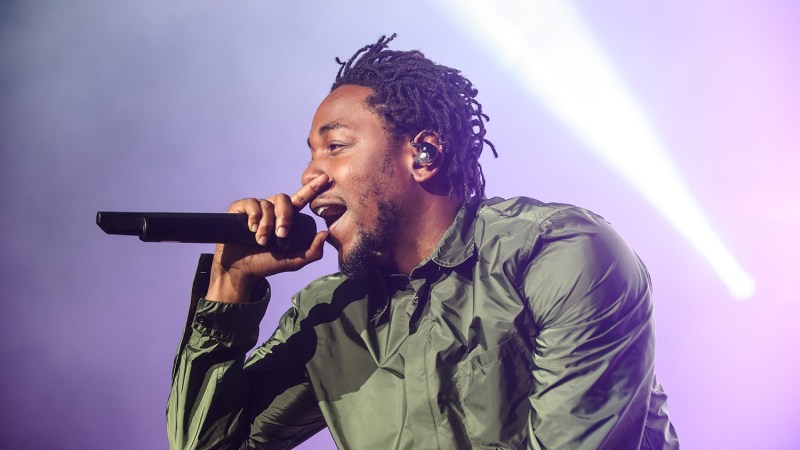 As 2017 comes to a close, we're taking a moment to look back at the standout records released over the year. Here are The Manual's best albums of 2017.
Big Thief – Capacity
Released barely a year after the group's debut album, Big Thief's Capacity is filled with intimate folk songs that explore dark sides of life with resounding empathy. Songwriter Adrianne Lenker describes lead single "Mythological Beauty" as a "conversation between parent and child; between child and child; the child within the parent and the child within the child; the parent within the child and the parent within the parent." The song, which reflects on Lenker's near-death experience as a five-year-old, focuses on her mother's life and experiences filtered through the songwriter's mind. (Saddle Creek)
Destroyer – ken
Destroyer is the main project of Dan Bejar. The Canadian musician has been recording under the Destroyer moniker for over 20 years, and he is also a member of The New Pornographers, Swan Lake, and Hello, Blue Roses. After Kaputt's (2011) smooth, sultry sound and Poison Season's (2015) expansive soundscape, ken finds Destroyer reeling the sprawl back in for an intimate and often brooding album. "Sky's Grey," "Tinseltown Swimming in Blood," and a "A Light Travels Down the Catwalk" all standout among the brooding tracks, while "Cover From the Sun" is unusually peppy and straightforward. (Merge Records)
Fleet Foxes – Crack-Up
The release of Fleet Foxes' long-awaited third album followed a six year hiatus, during which time bandleader Robyn Pecknold moved to New York where he studied at Columbia University. The time off worked out well for the band, and Crack-Up finds Fleet Foxes moving in new, more abstract direction. Where the group's debut album was simultaneously nostalgic and innocent, Crack-Up is more jaded. The structures of the songs are more complex, and the lyrics express an existential and political confusion not found on the benign songs of Fleet Foxes or the angst of Helplessness Blues. Commenting on a Stereogum feature, singer-songwriter Robin Pecknold discussed the album's political relevance, describing "Cassius, -" as "explicitly about participating in protests following the murders of Alton Sterlin and Philando Castile." (Nonesuch Records)
Juana Molina – Halo
Argentine comedian-turned-musician Juana Molina has been releasing her unique and delicate take on indie pop for over 20 years now. Molina's music has become progressively more experimental, and Halo is no exception. Ominous strings open "Cosoco," but quickly give way to a catchy guitar riff, while the eerie opening track "Paraguaya" comes across almost as a mission statement for the album. Its hypnotic beat ticks like a clock and draws the listener in even as the song becomes more unsettling. The capricious narrator tells the story of seducing a lover with a magic potion. The song's accompanying music video is appropriately Lynchian, featuring a mug of viscous liquid stirred with a bone, ceramic heads, and a morphed image of the artist's face singing. (Crammed Discs)
Kendrick Lamar – DAMN.
DAMN., Kendrick Lamar's proper follow up to To Pimp a Butterfly, finds the rapper trimming down the winding avant jazz accompaniment featured heavily on the 2015 album. That is not to say that DAMN. is any less potent than Lamar's earlier work. On the other hand, its shorter run time and more accessible sound mean the album is denser, packed with Lamar's thoughts on violence, America, and suffering. Highlights include "DNA.," "HUMBLE.," and "XXX.," which features U2. (Aftermath/Interscope; Top Dawg Entertainment)
Lorde – Melodrama
Lorde is a New Zealand singer-songwriter whose breakout single "Royals" hit the top of Billboard's Hot 100 and launched her into superstardom. "Royals" focuses on the distance between the singer's life and that of the song's titular figures. Thanks to the song's success, Lorde now finds herself part of that class, and Melodrama finds her dealing with that experience. The structure of opening track "Green Light" is incredible. It begins slowly, with a piano hitting quarter notes and Lorde ranting at her ex-lover. The song begins to pick up energy around 30 seconds in and builds from there until the chorus arrives 45 seconds later. As the title suggests, many of the emotions and lyrics on the album are melodramatic, dissecting a failed relationship. Lorde, however, is able to shape the experience into an unbelievably well made album. (Universal Music)
The National – Sleep Well Beast
Sleep Well Beast marks a 14-year, five-album streak of brilliant, melancholy indie rock records from The National. The new album's sonic template is hardly a sea change from the weighty, slow-moving songs and gravelly vocals the band is known for, but synthesizers, electronic sounds, and pianos accent the songs, helping to create the feeling of isolation so present on the album. "Walk It Back" opens with nothing more than a pair of synthesizers beeping out a rhythm before vocalist Matt Beringer's voice enters. The song, like many on Sleep Well Beast, seems to center on a failing relationship. (4AD)
Sharon Jones & The Dap-Kings – Soul of a Woman*
Sharon Jones & The Dap-Kings recorded Soul of a Woman during Jones' final year between tour dates and the singer's chemotherapy treatments. The group would often enter the studio after a show, and the energy they brought with them is palpable. The album's first half is filled with upbeat tracks, including a tribute to the Golden Rule in the form of the horn-filled "Sail On!" Tempted to refuse to help someone who once refused to help her, the narrator is struck by a realization toward the song's end: "If I do to you what you did to me / Tell me, tell me, where would we be? / Two people stranded, without a helping hand." Jones died of pancreatic cancer in late 2016, and Soul of a Woman is the group's final album. Recorded over the course of a lengthy tour and in-between chemo sessions, the album is a display of and a tribute to Sharon's inimitable personal strength and power as a singer. (Daptone Records)
Spoon – Hot Thoughts
Known for incremental changes in sound between albums, the Austin, Texas-based quarter switched things up for its latest album, Hot Thoughts. The record is danceable in a way Spoon's music has not historically been and incorporates synthesizers more prominently than on previous records. Be sure to listen to "Do I Have to Talk You Into It?" and "Shotgun." Both tracks emphasize their rhythm early on. Like the rest of Spoon's catalog, Hot Thoughts is an artfully-crafted, catchy indie rock album. (Matador Records)
St. Vincent – Masseduction
St. Vincent's follow-up to 2015's Grammy Award-winning, self-titled album is an emotive, self-aware gem. Titled Masseduction, the record has more pop flourish than any previous St. Vincent album. Single "Pills'" bouncy beat is more prominent than anything else in the song, and the chorus is chipper. It belies a darkness in the lyrics. The chorus repeats, "Pills to wake, pills to sleep / pills, pills, pills, every day of the week / pills to walk, pills to think / pills pills pills for the family." On the other end of the spectrum, is "New York." While the former is ebullient and tongue-in-cheek, the latter is a mid-tempo lament for a ex-lover. St. Vincent's sound has evolved in new directions on each album, and Masseduction is no exception. The album is an intense collision of pop hooks and Clark's equally impressive guitar and vocal abilities. (Loma Vista)
Featured image courtesy of The Washington Post/Getty Images.
*Writer's Note: In addition to contributing to The Manual, I work at a music promotion company, Distiller Promo, that is currently promoting or promoted earlier in 2017 any album marked with an asterisk.
Editors' Recommendations