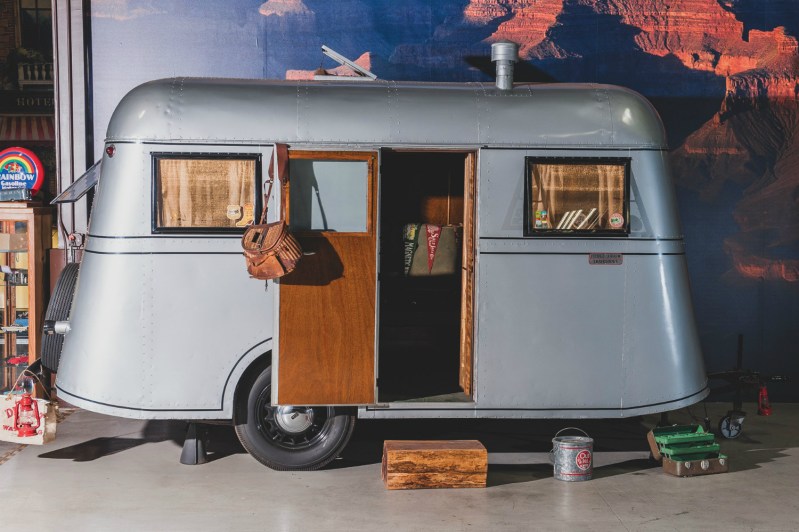 Travelers today are a pretty spoiled bunch. Modern trailers have every creature comfort we could possibly need, from cozy beds to bathrooms and even air conditioning. Tow-alongs today are so comfortable, many are choosing to live in them fulltime, turning their camper into their home. But this wasn't always the case. Stepping inside a Pierce-Arrow Travelodge from 1937 shows us that even the most luxurious trailers of the classic era would be considered "roughing it" today.
With RM Sotheby's auctioning off an authentic, beautifully preserved Pierce-Arrow Model C Travelodge, there was a chance to see what luxury travel looked like in the 1930s. With the Great Depression still going on, few people were heading out on extended trips by car. Those who could afford it looked to travel trailer makers like Pierce-Arrow to ensure maximum comfort on the road.
Pierce-Arrow, a car manufacturer from 1901-1938, created the Travelodge to accompany their line of high-end vehicles. Considered the most luxurious trailer of the time, the Travelodge had all of the latest comforts of home. The built-in dinette with booth seating folds down into a bed. There is an insulated icebox and a camp-stove for storing food and preparing meals. Travelers can even enjoy fresh water thanks to a sink equipped with a hand-pump that can be hooked up to a water source once at the campsite. An extra touch of luxury is the inclusion of a wood stove for keeping warm on chilly nights.
At 13.5 feet long, the Model C was the smallest trailer in the Travelodge line. Back in 1937, it sold for a whopping $784.
And now in 2019, that same trailer sold at auction for a cool $44,800.
The Model C sold by Sotheby's has many of the original high-end finishes it came with, keeping the authentic, historic look intact. The exterior is covered in sheet aluminum riveted to a steel frame. Pierce-Arrow put as much thought into their trailers as their cars and the Travelodge includes hydraulic brakes and a fully independent suspension.
The wood-lined interior is done in birch and gum while the floors are linoleum. The owners who put the trailer up for auction included several period pieces to enhance the vintage vibe including blue speckled camping dishes, a three-piece set of leather luggage, and a Philco table radio. It all works together to take visitors back in time to the early days of the classic American road trip.
If you're in search of a modern, futuristic travel trailer, skip this vintage beauty and oopt instead for the Polydrop.
Editors' Recommendations