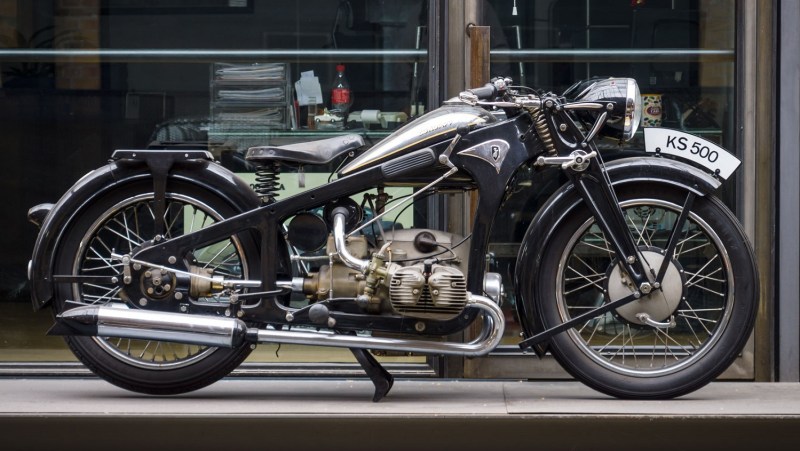 There are countless compilations of grade-A speed, design, and freedom between two tires. But not all are remembered like these vintage motorcycles.
Vintage motorcycles are one our favorite pastimes here at The Manual. There's nothing quite like seeing a historical machine and imagining the things, places, and people it has seen. Whether it was built for speed, for function, or for comfort, let each of these vintage motorcycles take you on a ride to the past.
Honda CX500
To kick things off we introduce a beautiful custom built Honda CX500 with some prime upgrades and vintage touches. When we think red, we think speed, and this Honda provides a surefire blast to the past.
Gillet Herstal 720 AB
Robert Frost — and no, not the poet — restored one of history's most cherished creations: a 1939 Gillet Herstal 720 AB. This two-stroke military motorcycle is savagely good-looking, boasting a robust military green and a "camouflaged" sidecar. (It's there, can't you see it?)
Brough Superior
Dubbed the Rolls-Royce of Motorcycles, the Brough Superior is one of the most versatile bikes of its time. This 1926 puppy stunts a stouthearted and slimming black and white color way, complemented by a brown seat.
Ace
Ace, later bought by Indian in 1927, was a predictable, yet dependable bike model for its five years of production. Essentially, only one model of the large four-cylinder motorcycle was ever fashioned, so it must've been a pretty darned good model if change never came to it. This vintage navy blue and orange motorcycle resides in the South Texas Motorcycle Museum and looks as good as new.
Brough Superior
The Brough Superior SS100 was a beautiful machine to say the least, so here we are again. The SS100 model happened to the first custom bike to use parts from various suppliers as opposed to only using one. Its complexities and appearance don't go unnoticed either.
You can't deny the genius behind this black and chrome colorway on a beast like this. Hell, these were so popular back in the day that vintage motorcycle enthusiast Mark Upham went ahead and brought the Brough Superior SS100 into the 21st Century, which is now available for purchase.
Brough Superior SS100
Now that you've seen a rebuild, check this out. Yes, it's another Brough Superior SS100, but this one is worth the double feature. This particular collector's edition was actually owned by the creator of Brough Superior, George Brough, and is still upholding its original condition.
Triumph
Now, finally a real view of a stellar sidecar. This Triumph Motorbike with a spacious sidecar isn't as vintage as its older relatives on the list — as Triumph was created in 1984 — but seeing as they're the largest British motorcycle manufacturer, it only seemed fitting to include. And the military green and brown accents make it seem like it could be older than it truly is.
Ural M-72
After acquiring the blueprints for BMW's R71 motorcycle model in the 1940s, Russia's IMZ-Ural released their own motorcycle and sidecar combination: the M-72, or Cossack motorbike. This vintage motorcycle screams comfort for long road-trips, with a little added Soviet beige.
Harley Davidson
This one is for all those chopper fans out there. The Jamesville '77 XL Sportster chopper is a stellar rebuild of one of America's finest bikes, the Harley Davidson XL Sportster. If you think this red and chrome frame makes this bike pop, wait until you hear its engine.
BMW R100
We thought this particular BMW R100 custom motorcycle would be a good way to end things, as its vintage model and is still alive and well, but it has a clean, custom, and modern feel to it.