If you're looking for awesome cargo box and bag deals to help you store more stuff before heading out on your travels, Amazon is the place to look. At the moment, there are some deep discounts on a wide range of Thule rooftop cargo boxes so you can save big on the best forms of storage for your situation. Whether you're planning on a day-long hike or keen to go camping for the next few days, a Thule rooftop cargo box is a great way to store all your equipment for the journey. Here's what's on sale right now.
Thule Outbound Cargo Bag — $135, was $170
The Thule Outbound Cargo Bag is a water-resistant rooftop cargo bag that offers 13 cubic feet of storage space. There's easy access to all your gear thanks to its coated 3-sided zipper. There are also large storm flaps for keeping your gear dry during loading and unloading, even if the weather is bad. It also has twin compression straps for securing the cargo cutting down on friction and noise. It's a good enclosed solution for anyone already considering one of the best roof racks.
Thule Interstate Rooftop Cargo Carrier Bag — $239, was $300
The Thule Interstate Rooftop Cargo Carrier Bag offers a little more storage space with 16 cubic feet of storage space inside. Again, there's easy access to your stuff thanks to the coated 3-sided zipper, while the large storm flaps are great for loading and unloading. Besides the size difference, the Thule Interstate Rooftop Cargo Carrier Bag also has a padded base compared to the standard Outbound option.
Thule SideKick Rooftop Cargo Box — $399, was $500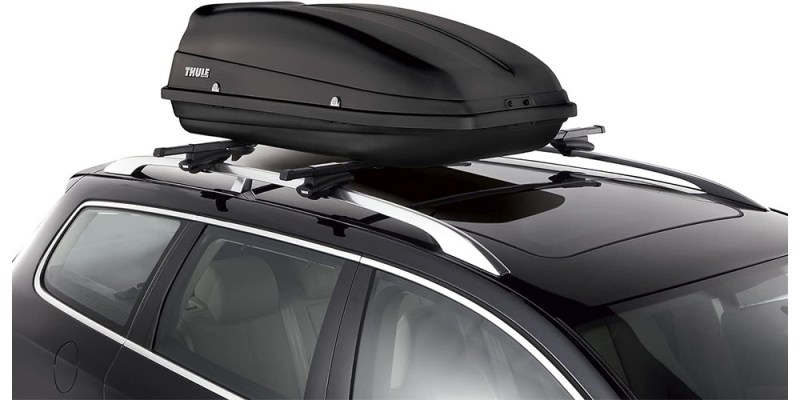 The Thule SideKick Rooftop Cargo Box is a compact roof box that's perfect for small loads when camping or even for loading your golf clubs. It has a volume capacity of eight cubic feet of storage space with a load capacity of 75 pounds. Sturdy U-bolts with reinforcement plates and adjustable brackets help keep the box secure to your roof rack while it's compact enough to leave room for other roof-mounted accessories. There's a passenger-side opening for easier loading and unloading.
Thule Pulse Rack — $479, was $600
The Thule Pulse Rack is ideal for storing the best camping gear you've just purchased. It offers 14 cubic feet of storage space with a rugged and durable design that keeps it safe at all times. A FastGrip quick-mount system ensures it takes minutes to assemble while there's a central locking system for maximum safety. The Thule Comfort Key can only be removed when all locking points are securely closed so you can't go wrong here. Thanks to its length, it'll fit 3-5 snowboards too for those hitting the slopes.