Monterey Car Week is one of the most prestigious gatherings on the motoring calendar, showcasing the best of automotive engineering and design traced through the ages. Auto shows, historic races and auctions are all part of the week's agenda, yet apart from the Councours D'Elegance, The Quail is the most exciting event. Contemporary and vintage cars are arranged at The Quail Lodge in Carmel, CA for the attendees' drooling pleasure while luxury automakers offer test drives in their best new models.
In anticipation for this August's event, here's a preview of some of the vehicular highlights.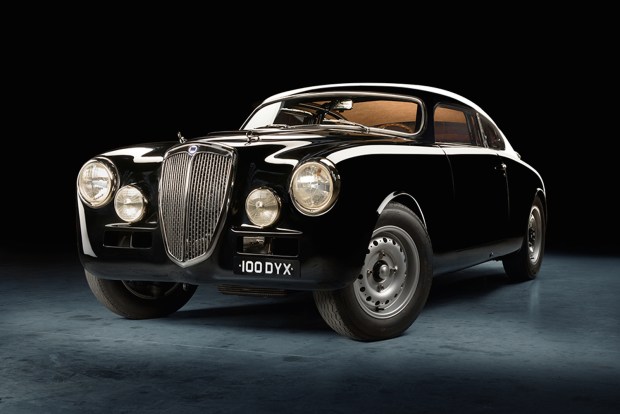 1957 Lancia Aurelia B20 'Outlaw' Coupe
William E. (Chip) Connor – Hong Kong
The Lancia Aurelia B20, introduced in 1951, represented near unprecedented engineering excellence. It was the proverbial "giant killer." In 1951, a modified B20 Aurelia, driven by Giovani Bracco, won its class at the 24 Hours of Le Mans by a full lap and finished second overall in the Mille Miglia. In 2013, Chip Connor commissioned a restoration of a 1957 Lancia Aurelia B20 Coupe in the style of the Bracco B20. Utilizing a 2.8 liter Lancia Flaminia drive train, coupled with a lightened and chopped B20 Coupe body, this 1957 Lancia Aurelia B20 "Outlaw" Coupe expresses what might have been the ultimate evolution of the B20.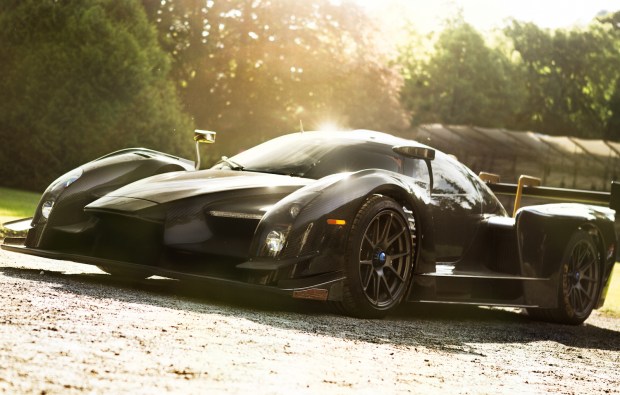 2016 Scuderia Cameron Glickenhaus
James M. Glickenhaus – New York
Scuderia Cameron Glickenhaus' SCG 003CS was first shown at the 2015 Geneva Auto Show.
Shortly thereafter, it raced successfully at the 2015 24 Hours of Nurburgring where it finished first in class. The weekend after the race it was driven from Turin to Como and displayed at Villa d' Este. It continued to race at The Ring in 2015 and will race again at the 2016 Hours of Nurburgring. SCG 003CS is truly a race car for the road.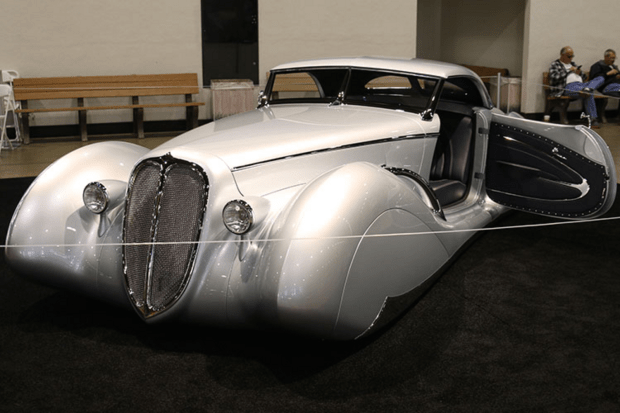 1934 Packard Chassis Coachbuilt Body
James Hetfield – California

It all began with a stack of sheet aluminum and an idea to inject some American custom car swagger into classic coach-building design ideology. The result is "Aquarius," a completely original, hand- formed coachbuilt custom for the ages. For those familiar with the work of French coachbuilders Figoni and Falaschi, their influence—and specifically that of the 1938 Delahaye 165 cabriolet-is apparent. But equally at play is the sinister elegance born from American customizer of the 1940s and early 1950s. Long and low, the roadster has a familiar silhouette that's all its own. The flowing teardrop body is complemented by aggressive details like the beautifully scalloped side pipes. Enclosed pontoon fenders carry chrome rearward while the ornate DuVall-style windshield and lift- off hardtop exude early hot rod spirit. It's a delicate balance with undeniable rhythm and flow, masterfully executed by some of the most gifted hands in metal shaping. Styled and built by Rick Dore Kustoms, Metal shaping by Marcels.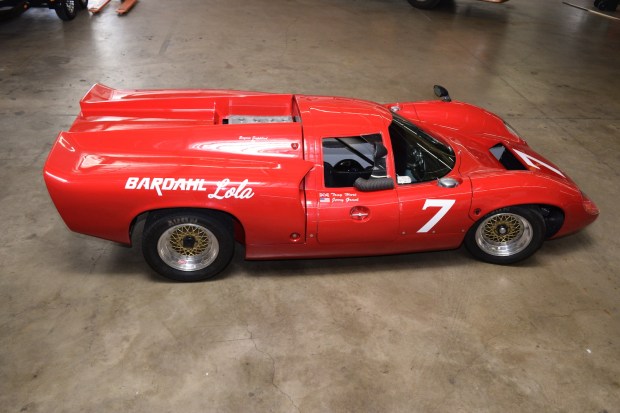 1966 Lola Mk2 T70 Can-Am
Tony & Laureen Hart – California
When the car left the Lola Factory in London in 1966 as a roadster it competed in many Can-Am races. SL71/46 competed in the Can-Am series in 1967 at Bridgehampton, Laguna Seca, Riverside, and Las Vegas. The American driver, Jerry Grant, drove the car with considerable success at race tracks across the United States. In more recent years, the car underwent a body change and became a Coupe. It has gone on to compete in many vintage race events across the country since then.
1955 Porsche 550 Spyder 
Don & Carol Murray – California

This 1955 Porsche 550 Spyder was the Paris Show Car in 1955 and many vintage photographs are available. It was race by Sonauto including Le Mans in 1956, the 1,000km Monza and many other races through 1958. It finished first overall once, fifth overall twice and has seven class placings. It was later sold to a race car driver, Jean Behra and documented in a number of magazines. 550-0067 is mostly original enamel paint, all original tube frame and the Murray's went through a great deal of effort to preserve the car's originality. This car was "The Most Significant Porsche Class Winner" in 2008 at Amelia Island.
Editors' Recommendations