The Isle of Man is a 221 square-mile plot of earth residing between the Irish and English nations. To a small population, it's known as home, but to most, it's known as the stage for one of the most dangerous races in the world. For over a century, motorcycle riders have risked life and limb traversing a 37.5-mile loop (large enough to fit dozens of the world's most famous race circuits within it) at maximum speeds. The Tourist Trophy (TT) is certainly the most important event of the year for residents, both as a historical point of unity, and a flood of tourism capital.
While many of the best international tracks share real estate between motorbikes and cars, the Isle of Man is exclusively a two-wheeled affair…or rather it was. In 2011, Subaru entered the picture, becoming a title sponsor for the TT races and sending a stock 2010 WRX STi around the loop in just under 20 minutes to break the previous vehicle lap record. While many spectators enjoyed seeing a Subi rip around the course at the hands of IOM resident Mark Higgins, other "traditionalists" were not pleased with the four-wheeled intruder.
Since 2011, Subaru has returned to set faster records in stock STi's but has always been an afterthought for race coordinators, often being delayed or completely booted from the two-week program's time slots. This year, Subaru returned with a dedicated rally car and set a new record of 17 minutes 35 seconds, just 31 seconds off the pace of the fastest-ever lap (set by a bike). Despite Subaru's financial and intangible contributions to the TT, it still receives resistance from some fans and officials. Hurdles be damned, the Japanese automaker continues to support the race as the vast majority of spectators offer waves and raised thumbs to Mark Higgins as he flings stock and modified cars around the track with incredible precision.
I joined Subaru on the small, proud Isle for this year's TT events in an effort to understand how the company is winning the hearts of moto faithful, and to experience the Higgins factor for myself.
Operation super subie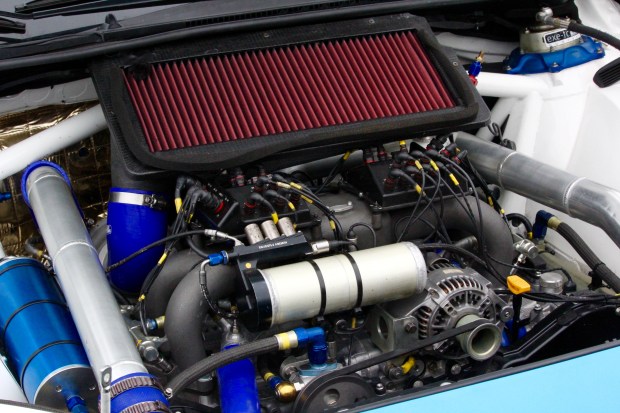 The latest Subaru WRX STi is one seriously quick automobile. With 305 horsepower drawn from a 2.5-liter turbocharged four-cylinder motor, the STi can rocket to 60 mph in under 5.0 seconds and on to a top speed of 159 mph. While those numbers are impressive, much of the Isle of Man TT circuit is a flat-out affair, meaning there were literally minutes left on the table without higher-output modifications being made to the STI's powertrain.
Instead of simply increasing the diameter of the turbocharger and calling it a day, Subaru turned to some of the best minds in motorsports: Prodrive. The UK-based tuning house has designed and developed vehicles across a range of competitive segments and enlists top engineering talent to extract maximum performance. I was personally convinced of Prodrive's talent and attention to detail approximately 30 seconds into an engineer's one-hour download on pressure rings that sense when they're lifting the cylinder heads (he could have continued for another three days provided sufficient food and water). Prodrive set about transforming a stock WRX STi into a rally car tailor-made for the IOM circuit.
By the time they were finished, the modified STi developed 600hp and 590 pound-feet of torque from a Garrett turbocharged 2.0-liter engine. At a lightened curb weight of just 2,600 lbs and mated to a six-speed sequential gearbox, the rally car could top out at 180 mph. The suspension system was overhauled to mimic World Rally Championship (WRC) specifications, the front and rear axles incorporated limited-slip differentials, a full FIA-spec roll cage was added, active aerodynamics were installed, and six-piston ventilated disc brakes with massive 355mm calipers were applied. Mark Higgins now had a tenacious vehicle to match his oversized balls.
Last, but not least, the Isle of Man officials demanded that riders and spectators could hear the car coming, so Prodrive made the STi absurdly loud. Just listen to this thing:
Mark Higgins mastery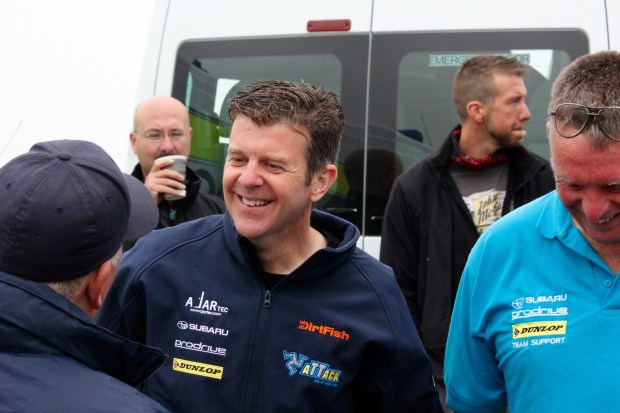 If you aren't familiar with Mr. Higgins, you should do two things: first, watch this video of him recovering from a loss of traction at over 100 mph on the IOM in 2011, and then check out his British Rally Championship record (he's won the series three times). My introduction to the IOM native (Manxman)'s skill behind the wheel was during a lap of the 200-plus turn course in the backseat of a stock 2016 Subaru WRX STi.
Vocalizing what was most certainly hardwired into his memory banks, Higgins talked through each curve of the circuit at speeds approximately double what I'd assume were possible. When he wasn't fiddling with the A/C or chatting with track officials on the radio while his right foot was pressed flat to the floor, Higgins was waving at spectators mid-drift. "You're going to be full on through this section…and this one…actually, you're pretty much flat the entire time save for a few corners," Higgins noted. This was a man who felt completely comfortable at the limit.
I was later (voluntarily) strapped into the passenger seat of a mildly modified Subaru BRZ, once again at the mercy of Mr. Higgins. As the Manxman hurtled up a narrow road along the Barbary Coast, sliding the rear wheels around each corner, I peered out from the passenger window down hundreds of feet to the violently crashing waves. Somehow, I felt perfectly at ease. As a bit of a control freak, the only explanation for my calm is that Higgins has such mastery of his machines that the thought of error is too remote to imagine. Doubtlessly, no one could propel a vehicle around the IOM quicker than he.
The struggle for respect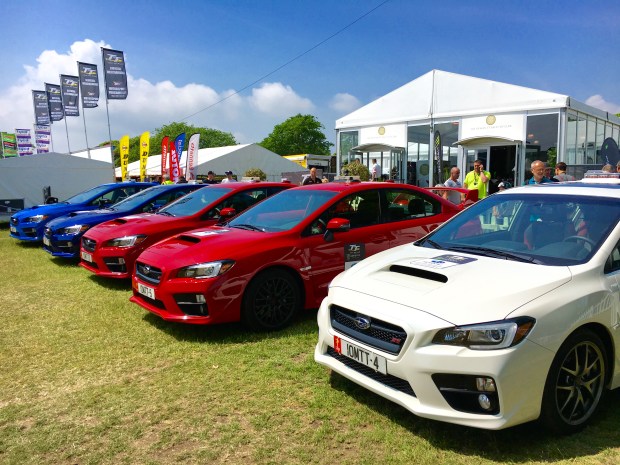 After spending a week on the Isle of Man, one thing was infinitely clear: life happens on two wheels. Race week or not, IOM culture centers around the TT and around the freedoms of riding. Even attempting to count the number of motorcycles on a given street, or in a parking lot is foolish from the onset.
Though my courage would never propel me to tear through village roads at 190 mph, I now understand why TT racers do it. Residents view these competitors as heroes, perhaps even demi-gods. And it's worth noting that spectators are almost as brave as the riders themselves. Fearlessly, they drape arms and legs over low stone walls on the outside of corners. 99 percent of the time, the bikes howl by, but every year something goes wrong and news headlines announce rider and spectator casualties. This year was particularly brutal, with two rider and five spectator casualties.
Why am I telling you all this? Because it's with this frame of reference that you understand how residents view Subaru's attempts to open passage for vehicular time trials. The Tourist Trophy is sacred, and even though Subaru is a friend of the competition, employing one of the IOM's own to pilot its rally car, not everyone is sold. During my laps with Higgins, I saw hundreds of spectator smiles and waves, but I also saw frowns and a few middle fingers sent our way.
So when Subaru prepared to break its new record just two days after it had been set, I was warned that any weather or technical delays would penalize the automaker above all. And of course that's precisely what happened. On the final day of the TT races, a thick fog clung to the hillsides, prohibiting rescue helicopters from spotting emergency situations. The schedule was delayed, but instead of pushing every event back in order, Subaru was bumped from its 11am time slot to a 5:30pm position, after every moto-themed race had concluded. There was still hope, however, that Higgins and Subaru could make a run in near-perfect cool weather conditions.
But the record attempt never happened. A fatal crash on the last lap of the Seniors GP race closed down the circuit. "It's stressful and disheartening," Higgins had told me earlier that day. "When you mentally prepare to set a record but have the opportunity snatched from you just before your turn." Obviously, the loss-of-life conditions surrounding the final delay were nothing to complain about, but the real issue affecting Subaru, Prodrive, and Higgins was the knowledge that their efforts were somehow seen as less valuable than the other teams that had toiled for greatness here.
Ultimately, the Tourist Trophy is a motorcycle race. Neither Subaru nor any other automaker will attempt to change that out of respect for the historic display of courage and engineering. Sadly, though, efforts by automotive brands to support the competition stage and expand the TT's fan base have yet to receive equal backing from TT officials and enthusiasts. The door has been opened, but it may take quite a long time to step through the portal.