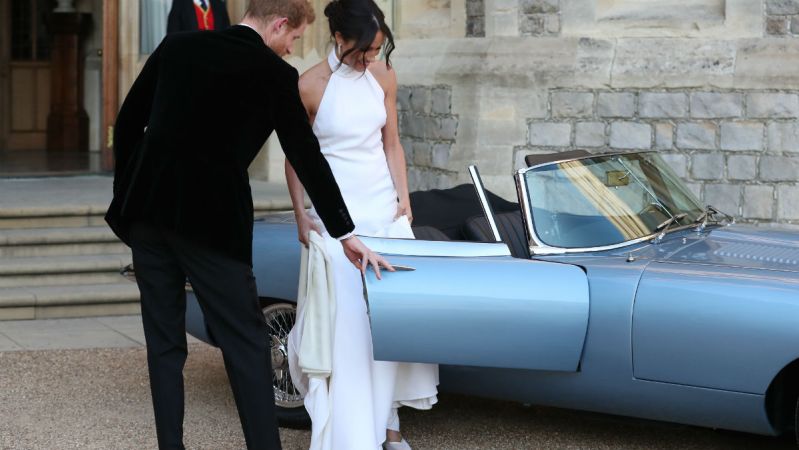 The wedding industry is frightfully complicated and equally expensive — and that's just for us plebeians. When it comes to planning a royal wedding, however, the standard checklist (and price) balloons substantially.
For this reason, the new Duke and Duchess of Sussex, Prince Harry and Meghan Markle, couldn't simply leave their wedding ceremony in a Kia Optima. The two needed the perfect vehicle to match their grandeur. A Jaguar E-Type seemed the perfect fit — and not some run-of-the-mill classic. The ice blue convertible in question was once a standard 1968 Jaguar E-Type, but has now been converted into a zero-emission, all-electric marvel.
The E-Type Concept Zero is the product of Jaguar Land Rover's Classic Works department in England. Replacing the sports car's straight six-cylinder engine is a 295-horsepower electric motor and 40 kWh battery pack. The electric setup is wedged in the same place as the original engine, but weighs 100 pounds less (including the transmission). Highlights of the E-Type Zero include a 0-60 mph sprint of 5.5 seconds and a range of 170 miles.
The only real exterior styling distinction between an original '68 E-Type and the Zero is the lack of chrome tipped exhaust ports. Instead, the electric vehicle features a charge port under the fuel filler flap in the rear fender. Of course, the Zero made no noise as it left the Windsor Castle following the wedding ceremony, which was no doubt a welcome silence for the present media and attendees.
Inside, the Concept Zero gets a complete re-skin with a carbon fiber dashboard and a touchscreen where the classic E-Type's row of toggle switches once sat. Jaguar also pulled the center stack and gear selector from contemporary Jaguar interiors. As a finishing touch for the monarch couple, the Zero in question featured bespoke license plates with the royal wedding date for numbers (E190518).
We support the newlyweds' choice of vehicle emphatically. A modern drivetrain and classic styling represents the next age of British rule. We haven't a clue what the whole wedding ceremony cost (it was a lot), but the E-Type Zero conversion by Jaguar retails for $470,000. Something tells us the royal family can foot the bill.
Editors' Recommendations