Southern California is like an environmental glitch. World-class beaches, towering mountains, and vast deserts – this intersection of geographic extremes is almost completely devoid of seasonal change. There is, however, a price to be paid for unyielding sunshine.
Ignorance robs California of its rightful awe. Temperate perfection creates expectation, and with expectation comes disregard for natural splendor. Residents seem to look right through the sky's gorgeous blue eyes as they ponder mundane tasks. The beach is just a social gathering, the mountains merely a backdrop for urban living.
I was part of the sprawl, floating from one day to the next while my home state begged for recognition due. Then I took a drive down the southernmost stretch of California's coastline – in a car that brought my surroundings to life.
It seems strange that something as decadent as the Rolls-Royce Dawn could highlight the world outside it, but it's precisely the vehicle's handcrafted brilliance that gave me such joie de vie. You see, the Dawn has more in common with coastal ambiance than you might expect.
The British luxury manufacturer's latest model, a two-door convertible with near limitless personalization potential, ferries me from Newport Beach to La Jolla, casting its Iguazu blue silhouette on the glass windows of shops along the way. Onlookers sputter at the ornate sight. An artist stops painting yachts to trace the Dawn's wake – at least in my imagination.
Between scattered clouds, the sun illuminates the Dawn's cream-colored cabin, warming my hands as they grip the leather-wrapped steering wheel. Gliding from one town to the next, I melt into the plush, ventilated seats. I may as well be lounging at a resort – piña colada in hand.
Easter weekend draws inland visitors to gaze across the Pacific and doze in the sand. Veteran surfers, meanwhile, dart in both directions across the Pacific Coast Highway, their wetsuits glittering with water. An hour into my journey, I pause at a particularly beautiful overlook.
Navigating over 17 feet of precious metal through a beachfront car park is no easy task, but the Dawn's light, responsive steering facilitates precision parking. With a bit of effort, I prop open the trademark rear-hinged door and slide from the cockpit, grazing my foot along the Lambswool floor as I exit. Perched above a stunning cove, I soak in the jagged cliff faces and rippling cobalt water. Winter's long-awaited rainstorms have ignited nearby hillsides with color. It's a view people travel thousands of miles to see – I've barely left my county.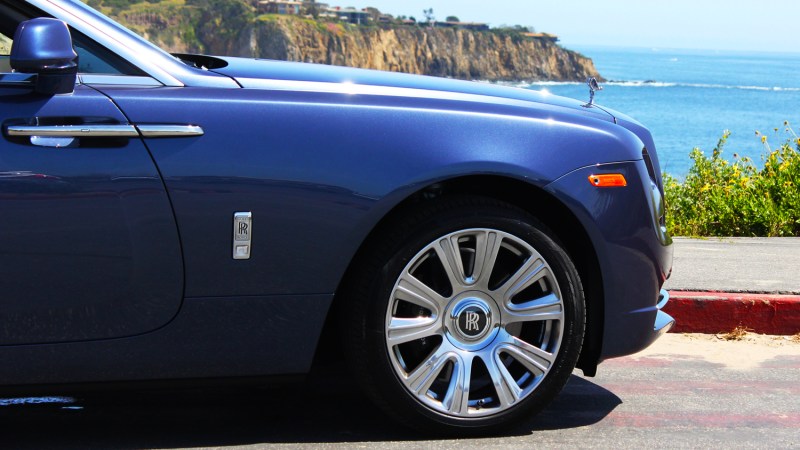 As I gaze back at the Dawn, I'm swept into a new moment of awe. It's as if I'm meeting California's vehicular soul mate. Canadal wood paneling cocoons passengers in natural beauty. Cobalto blue contrast stitching matches the sky's dazzling hue. Soft, ivory leather is as welcoming as white sand. Forged 21-inch wheels sparkle like the sunlight on peaking waves. It's a good thing I brought my camera.
Before my coastal metaphor has been exhausted, I'm reminded of the Dawn's engine. A prodigious twin-turbocharged V12 lurks beneath an endless bonnet, delivering force to rival the ocean's current. Back en route, the Dawn silently surges forward, inviting the wind to whip through my hair and cool the beading sweat on my neck.
The sun is plunging towards the horizon – evidently I've been lost in sensory delight for quite a while. Before night falls and the refreshing air turns frigid, I breathe in my revelation of California's winsome, and exhale my apathy. The Dawn is truly an exquisite creation, rivaled only by nature itself.
Editors' Recommendations