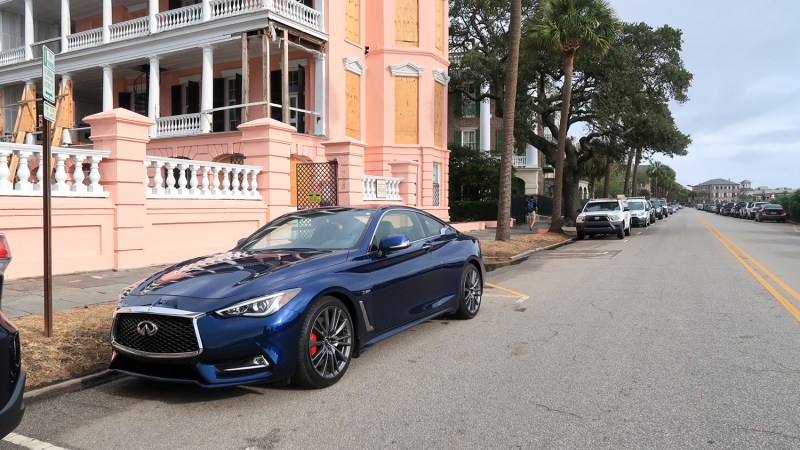 Infiniti is one of those brands that really never sparked an emotion with me. My best friend's parents had an old Qx4 as a daily driver and a '94 J30 sedan that left the garage maybe once a month. Both were solid cars, both were that seminal '90s opaque tan, and both got you from point A to point B with not much beyond a whimper.
So when a 2017 Infiniti Q60 came up as an option for a recent trek through Tennessee, Georgia, and the Carolinas, I'll admit that my initial reaction was one of curiosity.
How far had Nissan's luxury brand come in all those years? The answer is somewhere between a little and a lot, depending on your point of view.
From the outside, my Infiniti Q60 tester in the 3.0T trim was a beauty and came draped in Iridium Blue with curvy lines and a fluidity more reserved for a Mercedes E400 or BMW 6 Series coupe. When I picked it up from the Nashville airport, it was downright sparkling — only 7,500 miles on the odometer and ready for seemingly anything.
From my first tap on the throttle, it was clear Infiniti has made leaps and bounds under the hood. All 400 horses of turbocharged steel go straight to the accelerator. Every green light offers a slight hit of G-force, like a gentle upper that gets very addictive, very quickly.
On the open road, it's damn near impossible to keep it under 80 mph. Throttle response is exceptional and a mere tap of the pedal runs it at the speed limit. On the curvy section of I-40 between Knoxville, Tennessee and Asheville, North Carolina, the summer performance tires stuck nicely to the asphalt and the car blended into every turn with ease.
Perhaps it's best that Infiniti poured this coupe's appeal into the engine first. While it would be unfair to call this Q60's interior and control panel bland, it's really a shame that a palette of grays and dark blues offset the juggernaut underneath the hood. The rather simplistic InTouch infotainment system has two screens for reasons beyond this writer, and phone connectivity is basic at best. With a $52,000-plus price tag, it's not unreasonable to expect more gadgetry and oomph compared to its European and American competition.
The flip side of that equation is classic Infiniti. The Q60's unassuming charm means that this car that will fit in to just about any setting. Whether on The Battery in Charleston or the country roads of Tennessee, it doesn't demand attention. It simply invites you in for a closer look without much menace or fanfare.
If you prefer to disguise your high-tier horsepower from your co-workers, friends, or family, you could do much worse than the Q60. Solely from a driver's point of view, it's a blast. It shattered everything I remembered about Infiniti into little pieces and left it behind in the dust on I-26 through South Carolina. Ideally, you'll be too busy enjoying the torque underneath your feet to consider the interior's needed updating.
When you pull up next to an Audi A5 or Fod Mustang GT, the opposing driver may scoff, but you'll know you're covered whether heading to the country club or for an evening out. The Q60 definitely opened this driver's eyes up, but he'll be focusing on the road ahead, not the dash.