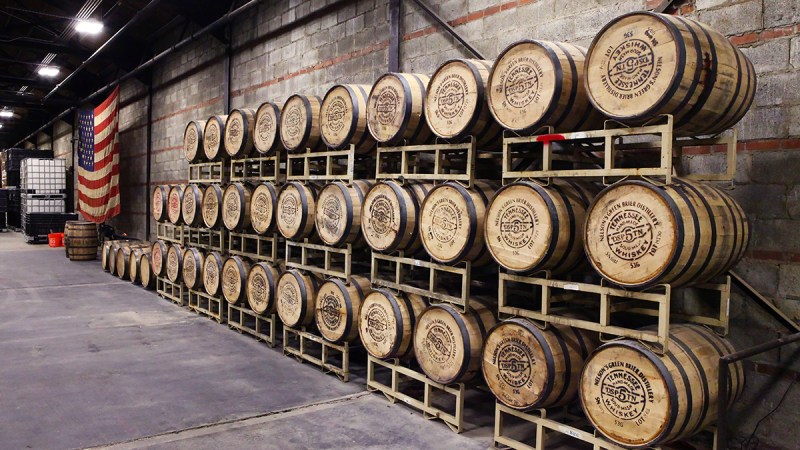 There's nothing quite as fun as finding a few buds, piling into a car, and hitting the open road. Blasting classic rock while cruising down the highway, it is the essence of the good life. There is a new road trip available, and it's one we think you're going to love—the Tennessee Whiskey Trail.
Sure, by now everyone who is reading this has probably heard of/been on/ been on multiple times the Kentucky Bourbon Trail. It is an American classic. You get to see the heritage of American alcohol while traveling across the Bluegrass State. Just a few hours south, though, the Tennessee Distillers Guild has officially launched their own whiskey trail, highlighting twenty-five distilleries across the state.
In a statement about the launch, President of the Tennessee Distillers Guild (TDG) Kris Tatum called the trail a "joint effort by all of our Guild members to feature Tennessee whiskey and moonshine, as well as the craftsmen and women that make them."
From visiting whiskey giant Jack Daniels in Lynchburg to smaller operations like George Dickel in nearby Tullahoma to even smaller craft operations like Knox Whiskey Works or Post Modern Distilling in Knoxville, whiskey drinkers are sure to find something they enjoy. (If they think they won't, then they're pretty much designating themselves as DD, which makes this a win-win situation regardless.)
To help those looking to visit all of the distilleries in one trip—and, let's be real, it's not that big of a state, so why wouldn't you?—the TDG put together a ten-day itinerary, taking you to each and every distillery on the trail. For this trip, you start in Nashville before heading to Knoxville and other points before ending the trip in the birthplace of rock and roll, Memphis.
If you're not planning to do the full ten-day tour (or at least not all at once), you can pick up a free Tennessee Whiskey Trail booklet on their website. For each distillery you visit, you'll get a stamp in your passport. When you've collected all twenty-five stamps, you'll be rewarded with a sweet gift commemorating your whiskey knowledge and determination.